Argentina-Mt. Aconcagua Adventure
On Monday, March 19th Jin Fei Bao and his brother, Fei Biao, returned to Kunming from Beijing where they had received a prestigious outdoor sporting award.That same day Fei Bao's Mt. Aconcagua-Argentina adventure began. His reports are below (translated by Frank Guo in Kunming):

March 20
Yesterday morning, the embassy in Beijing has finally issued my Argentina visa, so, I will go to South America to climb Mt. Aconcagua (6962 m high) immediately, because the climbing season will end soon.

This evening, I will take a flight from Kunming to Beijing. Tomorrow morning, I will take a flight to depart Frankfort, Germany. I will stay in Frankfort airport for about 8 hours, then fly to Buenos Aires, Argentina. I will take a taxi from the international airport to the domestic airport, where I will take a flight to Mendoza, Argentina. A local tour guide from the Inka Expediciones will meet me at Mendoza airport and transfer me to my hotel. I will climb Mt. Aconcagua from March 23 to April 3. I should arrive back in Beijing on April 5.

March 23
After more than 40 hours flight, I covered about 18,000 km, and arrived safely in Mendoza at 6:40 pm on March 22 (Mendoza local time).

I stepped out of the airport, saw a local tour guide from the Inka Expediciones holding up a board with my name Jin Fei Bao on it -- my heart felt very warm. To be welcomed by somebody in such a far away place is surely a kind of happiness.

On the way to my hotel, looking out of the window of the car, my first impression of Mendoza is a little bit different from my imagination. This city is very clean, and the air is very fresh, maybe it is because now is the rainy season here, and it rained a while today but the rain has stopped when my flight landed. So I feel the air is really fresh.

On the both sides of the streets, there are many big trees with stretching branches which provide dense shadows, plus many Spanish-style ancient buildings, which give this city some mysterious and aristocratic atmospheres.

Most cars running in the streets are very old. The guide told me that most local people drive only economic cars, because the Argentinean government levied a 'luxury tax' to all the cars with an engine above 2.0L. I think this is really a good way to control the energy consumption.

When I reached my hotel, they introduced me to my mountain guide, Alexia, who is a strong man, about 40 years old. He has worked as a professional mountain guide for 15 years, and has climbed to the top of Mt. Aconcagua numerous times.

I can feel clearly that these people are very warm-hearted and open-armed. Their
hospitality is like their samba and tango dances -- hard to resist. After putting my luggage in my hotel rome, they took me to a famous restaurant to taste the world-known Argentinean barbecue. I ate a lot of roast beef, drank several glasses of made-in-Mendoza red wine. It is really delicious. I would like to recommend it to all of you.

Tomorrow, we will drive to Penitentes, a ski center in the mountain, about 2700 m above sea level. Now, I am going to hit the bed. Today is really a happy start for my Aconcagua adventure.

March 24
Today, three of us (I and my mountain guide Alexia and one staff of the Inka Expediciones) drove out of Mendoza city and headed west to the Andes Mountains. We followed #7 International Highway which can go all the way to Santiago, the capital city of Chile on the west side of the Andes, where I have been to not long ago on my trip to Antarctica.

On the way, I saw large areas of vineyard. Alexia told me that some of the wineries here have more than 100 years of history. No wonder the red wine we drank yesterday was so good.
After about 3 hours, we reached the Mountain Inn in Penitentes, I am surprised to find out that we are the only guests to stay in this hotel, which means the climbing season has really ended up, but the ski season has not arrived yet.
Penitentes is a ski resort well-known in all South America. It is 2750 m above sea level. I asked Alexia why we should stay overnight here. He said Mendoza city is only 680 m above sea level, so we need to stop here to acclimate to the high altitude. I told him that I will surely not experience any altitude sickness below 7000 m high. But he said we need to stay here to arrange the mules to carry our luggage up the mountain path.
So, today has been a very easy day for me. Here, they drink a very special beverage called Matte, which is served in a gourd and drank with a metal straw. The interesting part is, we will all drink from the same gourd and use the same metal straw, one by one. I am the first one to drink, then it's Alexia's turn, then it's another man's turn. They told me that the person to drink first is always the respected guest. The taste of the Matte is a bit like the Cudin (bitter) tea of Yunnan, but I am not sure if this is tea or not.

March 25
This morning, we drove 6 km from Penitentes to Puente de Inca. This is a little town with some hot spring resources. From there, we trekked up the mountain slope to Lake Horcones. It is a beautiful lake with some wild ducks. Standing by the lake, I got my first view of Mt. Aconcagua, although I could see only part of it, I could feel it's really huge and magnificant.

Beside the lake, is the entrance to Aconcagua National Park. I paid 120 USD entrance fee here, and the park staff checked my climbing permit which the local travel service has helped me to get in advance while in Mendoza. I saw a small helicopter parked nearby. Alexia told me this helicopter is used to rescue climbers in case of an emergency.
After entering the national park, we kept on trekking up. At noon time, we stopped to have a picnic lunch. While I was eating my bread, several small birds flew to us. I put some crumbles in my hand and stretched my hand out. The birds immediately flew to my hand and picked up the food from my palm. It's really fun. It showed the harmony between man and nature.
On the way, we also met some tourists inside the park, but they just came here for some sightseeing and hiking tours, not for climbing. It looks like I am the only person coming to climb Mt. Aconcagua at this time. Alexia told me, during his 15 years as a mountain guide, I am the first Chinese climber he has ever guided.
After about 4 hours trekking, we reached the Confluencia Camp which is about 3500 m above sea level. We unloaded our luggage from the mules. (The mules carried our luggage from Puente de Inca to here, but they didn't go the same route as we went, so we didn't see the mules on the way.)
When a staff member working in the camp heard that I was from China, he said that in Feruary of this year, there were 6 Chinese from Shenzhen city who came to climb Mt. Aconcagua, but for some reasons, they didn't reach the top.
The cook working in the camp prepared roast chicken and roast pumpkin for us as dinner, and wished me good luck.
Today is sunny, at noon time, it was 20C, now it is 9:00 pm, the temperature dropped to 5C andI'm starting to feel the cold. Alexia said it might be 30C below zero at the top of the mountain. Tomorrow, we will go up to the Base Camp, so I'd better to get some sleep now.

March 26, 2007
This morning, we started early from the Confluencia Camp, trekked up for about 8 hours and arrived in the Base Camp at 3:00 pm. Our luggage has also been taken up to here by the mules.
On the way, we trekked through a deserted but very windy valley. We were hit head-on by really strong wind. Walking in this valley is like walking inside a wind tunnel. Sometimes I felt it's difficult to hold my feet on the ground and I saw some small rocks were blown down by the strong wind. Alexia told me that this valley is always windy, and he has seen some big rocks falling down, so walking through this valley is not only difficult, but also dangerous. No wonder there are some ruins of the camps in this valley. Alexia said there are about 60 tombs of the climbers at the foot of this mountain.
After a quick picnic lunch of bread and ham, we slowly walked out of the valley, and started to climbing up a very rugged slope, following a very steep path. Finally, we reached the Plaza de Mulas, which is our Base Camp and it is about 4250 m above sea level.
We unloaded our luggage from the mules, and immediately set up our tents. Now, it is quite clear that I am the last climber of this climbing season, because there is nobody else at the Base Camp, only the sound of the wind accompanied us.
I went to use the toilet of the Base Camp, but when I finished the job, I could not open the door of the toilet, I was trapped inside! I had to knock on the door and shout "help!" loudly. Finally, Alexia heard my shouting and came to get me out. He said: "Sorry, I forgot to tell you, when you enter into the toilet, you need to take the door knob out, bring it with you, because you need this outter knob to open the door from inside when you come out. You are the lucky one, just trapped inside for 5 minutes, some climbers were trapped inside for one night." I was amazed by the special design of this toilet door. It's really an unexpected challenge for climbers.
Alexia cooked some local flavor food for us as dinner. He asked me if I had any headache. I said no, don't worry about me. So, tomorrow, we will go up to Camp I which is 4900 m above sea level.
Alexia also said that all our rubbish will be transported down the mountain by mules, so the mountain will be always clean. I said yes, all of us should care about the protection the environment.
Second Installment -- March 27,
Yesterday, we endured the strong wind and climbed for 3 and a half hours, reached Camp I at 4900 m.
The Inka Expediciones - the local travel service which I used, sent a lady to work as my assistant guide, her name is Bobbie. Now, I realize that she is the girlfriend of Alexia. So, while we are climbing, they are in fact
talking about love, and at night, the three of us stay in thesame tent. So, you can image, I have unexpectedly become the highest "light bulb" in South America ("light bulb" is the Chinese expression for the person who is standing between two lovers!). You know, the lovers always prefer some dark place to develop their intimacy. However, we are the only climbing team in this huge mountain at this moment, so I have not regarded myself as a foreigner to them, in fact, I am getting along well with them. I believe their love will grow deeper when we climb higher.

This morning, the good weather ended, the mountain was surrounded inside a snow storm, sometimes the visibility was only about 4 or 5 meters, however, we decided to push forward. So, we climbed up very slowly and very carefully. It took us about 10 hours to reach the Camp II at 5400 m.

On the way up, I realized that it was too difficult for them to take all our luggage in such bad weather, so, I volunteered to help them take some of the luggage, just like I helped the man from Boston to taking his luggage
on our way to the South Pole. I fully understand that teamwork is the key to success in climbing.

On the way up, sometimes the wind was so strong that we had to use "4 legs" - 2 real legs and 2 climbing poles - to hold tightly on the snow ground, otherwise, we would be blown off the mountain.

The good thing about the Camp II is: there is a haven built for climbers to use in case of an emergency like today. So we don't need to set up our tent We can stay overnight inside this haven. It is about 8 square meters
big, with some foods and liquid gas tanks inside. Alexia told me that there are another two havens like this in higher places, one is at 6000 m, another is at 6300 m. This is really very good news for me. It shows that Aconcagua climbings are really well-managed. This management method is really worth China to learn from.

Maybe it's because I have not rested well, maybe it's because I have ascended too fast, but after we got to the haven of Camp II, I started to feel a headache, and I also had a little fever. Bobbie gave me a tablet of
painkiller. She said this medicine is specially used for Aconcagua climbers and that it is very effective. Then she contacted the base camp through radio. The information she got from the base camp from the satellite map, and indicates that this snow storm might last for several days. So, we'd better stay here tomorrow, and wait for the snow storm to pass.

March 28, 2007
Today, the wind has weakened, and the snow has stopped, but the weather conditions are still not stable, so the base camp suggested we not try to go up to Camp III. They said the weather might be better tomorrow.

So, today, we just climbed up for about 100 meters, then came down to stay in the same haven. Now, my headache and my low fever have finally gone away, so my spirit is much higher than in the last two days.

One good thing about this haven is that, there is enough food stored here. Today, I even found a bag of biscuits which was made in Taiwan 3 years ago, which means some foods have been stored here for at least 3 years.

In the afternoon, when the wind finally stopped, it suddenly became unusually quiet up here, I said:"It's so quiet !", Alexia immediately whispered to me:"Don't speak loudly, otherwise the Mountain God will be angry, then he will start to blow the wind again." I followed his advice, shut up my mouth immediately. From what he said, I could understand that without the help of the Mountain God, it would be impossible for anybody to climb to the summit. In fact, besides the Mountain God, a goddess also plays a very important role in the Aconcagua climbings. I remember when we reached the Base Camp, I saw a statue of the Holy Mary in the camp, both Alexia and Bobbie went there to pray their homage to the goddess, I also followed them and wished the Holy Mary could bring us good luck.

Now, I am praying that the weather will be good tomorrow, so we can go up to Camp III (6000 m high).

March 29, 2007
Today, the snow storm has finally passed, we saw the blue sky again, but there are still some clouds hanging up there. The temperature is about 20C below zero.
We started early from Camp II (5400 m high),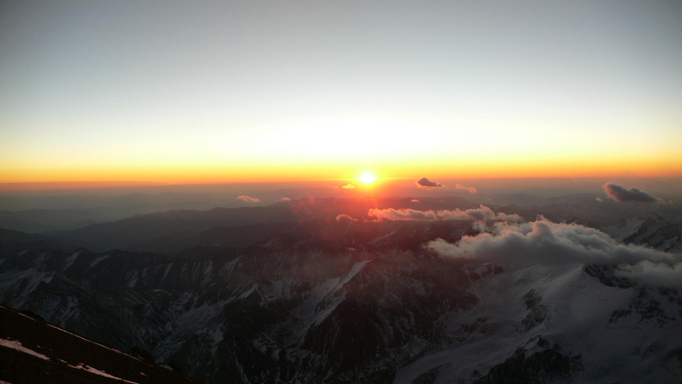 climbed up a long and very steep snow slope, successfully reached Camp III (6000 m high) in the afternoon. I feel very tired.
Now, we are standing at the shoulder of Aconcagua. Looking down, we can see many other snow peaks of the Andes mountain range. The view is truly magnificent. Looking around, the rocks here are in strange shapes. Alexia said the rocks are sculpted into these strange shapes by the strong wind.
In 1998, a local travel service built several log cabins in Camp III, so we don't need to set up our tent, we can stay in the log cabin, which is really a kind of luxury in such a high and cold and windy place.
Mt. Aconcagua is the highest dead volcano in the world, so the rocks here are lava, on the way up, we saw some traces of the magma's movement. We also saw small crystal pieces in several places. I guess there might be a big crystal mine in this mountain. If I were a geologist, this mountain would be like a paradise.
Tomorrow, if the weather is not bad, we will go up to the 6500 m camp.
March 30, 2007

This morning, Bobbie stayed in the 6000 m camp. Alexia and I started at 5:00 am, climbed up for about 4 hours, reached 6500 m. From there we could not see the summit; it was covered in clouds. It looks like the snow storm will come back again soon.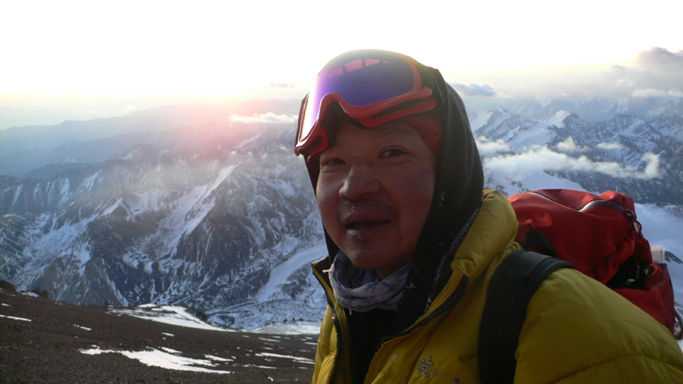 So, we didn't rest, we didn't eat anything, we pushed forward, but this section was really windy, and the wind was not coming from one direction stably. So we had to use our 4 legs (2 legs plus 2 climbing poles) to hold tightly on the snow ground and trekked very slowly. Alexia told me this place is called "the Door of the Wind" -- it is always windy here, even on good weather days.
Finally, we passed the very windy section, started to climb up the last ridge which leads to the summit. At this place, the snow was about one meter deep, so we could not push forwad fast, and it was very cloudy. We could not see the summit because of the clouds.
In the late afternoon, Alexia told me that we had to go back, because the weather was really not good, and the snow storm could come at any time. At that moment, I took out my GPS to check and foundout that we had already reached a place which is only 100 meters below the summit (6962 m). But we still could not see the summit, and the time was not enough for us to continue going up, otherwise, even if we could reach the summit, we could not come down.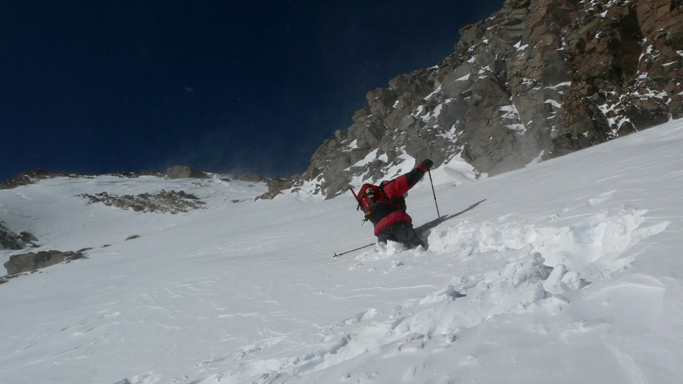 So, we had no choice, we had to come down. On the way down, I thought, we could try the summit again tomorrow. At about 9:00 pm, we safely reached back to the 6000 m camp, extremely tired and extremely hungry (because we had no time to eat in the whole day).
But Bobbie gave us bad news --: the base camp informed her by radio that the snow storm was coming, and this snow storm is not a small one. It is too dangerous to even stay in such a high camp, let alone going up, so, the base camp ordered us to come down tomorrow.
So, this is the fact I have to face: I have to give up the climbing after I have reached the place which is only 100 meters below the summit. What a pity !
April 2, 2007
I reached Fei Bao on his cellphone. He said "In Buenos Aires Airport. Go to Frankfort. Aconcagua -- No -- Snow -- Wind. Say hello to Ann and Krystal and everybody. Bye Bye."
April 5, 2007 (from Frank Guo in Kunming)
This morning we met Fei Bao at the Kunming airport. Hhis face is sunburned, especially his nose. But he has not lost weight, he said the Argentinean roast beef and red wine are really good. He enjoyed the food very much. He said that Argentina is a very beautiful country, and he will go back to climb Mt. Aconcagua again this November.