Into the Back-Country of Yunnan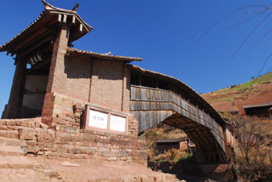 Dear Gregg and Ann,
During the Chinese New Year holiday, Li Jia and I, with my parents and Li Jia's parents and Li Jia's sister,drove 2 cars for 180 km on paved roads, then drove another 20 km on dirt roads, to a village named Daheishan, where my mother was born.
Daheishan means Big Black Mountain. It got the name because the color of the mountain body is black. This village is about 200 km to the southeast of Kunming and is about 2,300 meters above sea level. Eighty years ago, my mother was born in this village. When she was 18 years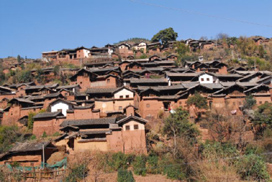 old, she could no longer tolerate the poor and isolated life in this remote mountain village, so she decided to go out of the big mountain to see the outside world. She cooked several big pancakes and took them on her back, in a cloth bag, and walked along the old Hanoi-Kunming railway for 7 days until she reached Kunming happily and safely. She looked for jobs everywhere in Kunming, and luckily, she was recruited by the Yunnan Weaving Factory as a worker, so she settled down in Kunming. Today, looking back, I appreciate my Mom's courageous 1-person, 7-day hiking that changed her life and my life forever.
When I was 5 years old, mom took me back to her home village for the first time. We took the train for a half day, then walked 2 days following a mountain path, climbing higher and higher to the village. Now, I can not remember any of it, but my mom told me she understood why I am so interested in mountain climbing.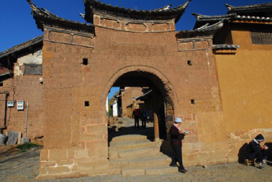 After my mom settled down in Kunming, she started to help her relatives still living in the village. She always took something, such as candies, old clothes, old shoes, old radios, old books, even old TV sets, back to the village each time when she visited her relatives in the village. This time, she brought 2 brand new color TV sets to give to her relatives. Each one is 21 inches big. Mom told me, up to now, about 20 families in the village are watching TVs given out by her as gifts. Mom is such a good-hearted and generous lady !
She not only often brought gifts back, but also often brought some villagers to Kunming. Now, I still remember when I was still a student, there were always some relatives from the village living in our home. Mom always tried her best to help these poor relatives find some simple jobs (such as washing dishes in restaurant) in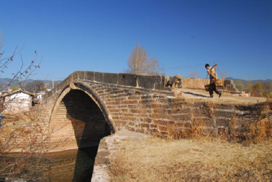 Kunming. Before they could find jobs, Mom taught them some skills, such as cooking, using different electronic appliances, etc., so, our home was like a hostel and training center for many of our relatives from the village. Mom said, up to now, about 30 villagers have settled down in Kunming through her help. For me, Mom is like a miracle creator!
Today, there are still many of my Mom's relatives living in this village.When we got there, they warmly invited us to join their dinners in their homes, so we tasted several families' Festival Dinners. It is clear that the villagers are still very poor, my mom said the village still looked like before, and the villagers' lives have not changed much. Gregg has been to the Miao village, so Gregg knows what a poor village is like in Yunnan. My Mom's home village is a Han village (not a minority village), but it is as poor as the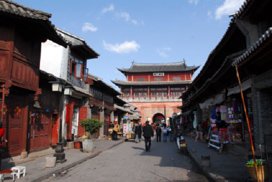 Miao village. Some of the elder villagers have never been to Huaning – the nearest town - in their lifetimes, let alone to Kunming, and no foreigner has ever been to this village. Next time, when you visit Kunming, I will take you to this village, so you will become the first foreigner to visit it.
We stayed in the village for one night and gave out all the gifts we took with us. After lunch, on the next day, we drove back to Kunming. We rested one day in Kunming, then, Li Jia and I, with Li Jia's sister and mother, took another tour to western Yunnan and I drove my new Honda Odyssey.
Because the holiday was a peak tour time, everywhere was overcrowded with Chinese tourists. So, I chose a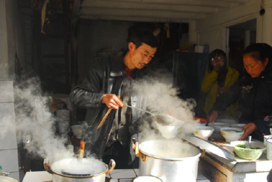 less traveled tour destination – Weishan. It is an old town, with about 1200 years of history, located about 45 minutes driving to the south from Dali old town. When we reached there, we found the old town very charming, with a laid-back life pace, very relaxing and we tasted the famous local snack – Ersi. It is like the rice noodle you have tasted in Kunming, but the shape and flavor is different. Not far away from the Weishan old town, is the well-known Taoist mountain, Weibaoshan. After visiting this holy land of Taoism, we continue to drive to the west to Yunlong town. On the way, I saw 4 beautiful old bridges with roofs crossing over the Bi River. I have never seen them before, which means there are still many hidden treasures in Yunnan, not known by the outside world.
We arrived at a Bai village called Dengnuocun, which has about 200 families. In the village, there is an old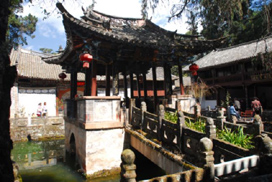 saltmine, so the villagers have been making salt for many generations, maybe more than 1,000 years. Because Yunnan is far away from the sea, in ancient times, salt was a precious commodity, so this village is much richer than my Mom's home village in Huaning county. Here, the villagers use the salt to make very high quality ham and pickled pork. Some of them have been preserved for more than one year, so the taste is superb. Of course we bought a lot and really wish you were here to share it with us.
After the feast in Dengnuocun village, we drove north, passed Dali old town, to the Siden Street of Shaxi town in Jianchuan county. This was a booming trade center in Qing Dynasty, about 300 year ago. The traders took their teas on horseback from the south part of Yunnan to here, to do business with traders from Tibet and the northwest part of Yunnan. Later, when the car road opened, the tea-on-horseback trading gave way and gradually disappeared, so this trade center has been abandoned. Now, this street has been renovated and starting to become a new touist hot spot.
An interesting thing, during my tour, is that I have been recognized by many people. Some are tourists from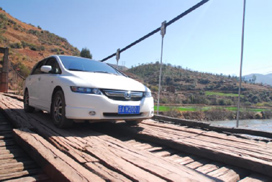 Kunming; some are local villagers. Most of them asked me to take photos with them and asked for my signature. Some even directly told me that I am their idol. I am feeling like a superstar and this makes me very happy. And I like my new Honda Odyssey very much. It is very comfortable to drive. So, this is really a good start for the Year of the Pig.
Happy New Year, Jin Fei Bao