Six Days in Buenos Aires
Monday, December 10, 2007
After an all night flight (10 hours) I find myself in Buenos Aires at 9am. According to the "Lonely Planet"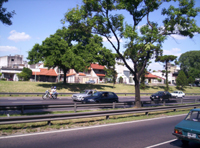 guidebook there are three ways to go the thirty miles from the International Airport to the center of Buenos Aires – taxi, express bus and local bus. I inquire; walk to the local bus stop; board bus #86; pay my 35 cents and off we go (this is the slow, cheap way). The bus parallels the expressway and circles through a small town, then another and another, then, a gated community with a Mormon tabernacle in the center, and then, along the edge of a gigantic Buenos Aires Central Market. The bus is not filling up as we approach Buenos Aires, rather, people are getting on and off the bus at every stop. After about an hour we enter a commercial/residential area – homes, shops, high-rise apartment buildings, parks and this pattern continues until we get near the center of town (the trip takes 2 hours – a bargain for what I'd call a $50 sightseeing tour).
I've come to Buenos Aires to meet my Chinese friend, Jin Fei Bao.The day I left the USA he was camped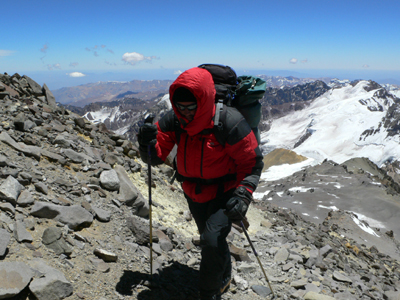 at 20,000 feet on Mt. Aconcagua (the tallest mountain in South America) waiting for a break in the weather to make his "attack" on the summit. It was his second attempt to climb this great mountain, and if he could succeed in this climb, he would complete his 7 + 2 adventure in celebration of the 2008 Beijing Olympic Games. He would be the eleventh person to achieve this feat of climbing the highest mountain on each continent and skiing to the north and south poles. If he's on schedule he will reaching the summit today and will fly from Mendoza to Buenos Aires on Thursday. My goal today is to find a cheap hotel or hostel and get my bearings. Then I'll let my one friend in Argentina, Erica, know where I am. When Jin Fei Bao comes off the mountain he will also call her, and that's our plan to get together in Buenos Aires.
The Spanish I learned in Nicaragua during the 70's is coming back and I'm enjoying a conversation with a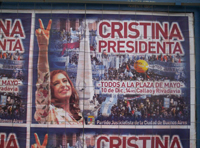 fellow bus passenger when he informs me that this is the closest the bus will get to the city center today because it's the inauguration of Argentina's new president – Christina de Kirchner. So I jump off the bus at the police barricades and ask a policeman the direction to the Avenida 9 de Julio. It's clear from a city map that the best central guidepost for Buenos Aires is the Avenida 9. It's eighteen lanes wide, with three medians, runs north and south paralleling the Rio De La Plata, and is some twenty blocks long. I walk for five blocks and arrive at this grand boulevard. I'm at the intersection of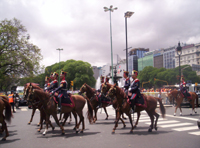 Avenida de Mayo and Avenida de 9. There is no traffic but a hundred soldiers on high-stepping horses parade by. Then come trade workers union waving banners and flags and they are followed by a group of men, women and children beating wildly on drums. What a day to arrive in Buenos Aires! Thousands of people are now moving toward the west on Avenida de Mayo and I join the throng. I'm traveling with a small backpack and I'll find a place to stay later.
Some six blocks and the crowd converges on a plaza in front of the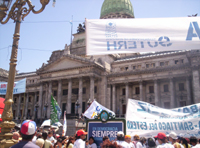 Argentine Congress Building. I sit down at a side street café and have a beer and watch the TV coverage of what's happening inside the Congress building – the dignitaries are gathering. Hours pass, without a dull moment with all the commotion, and finally Christina arrives and the speeches begin. The presidents of several South American Countries are there; Chavez from Venezuela is prominent on the TV and there is no sign of US dignitaries??? People on the street tell me that Christina and the parade will go from the Congress building, down the Avenida de Mayo, to the President's residence – the Pink (or rose) House.
The poor horses have been standing for hours, but finally, the limousines arrive, Christina emerges from the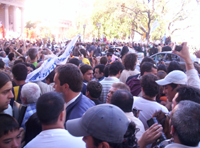 Congress Building and the parade to the Casa Rosada begins. Fireworks are going off and I think of bombs; the crowd presses in and I think of Ann (she doesn't like crowds); most men are smoking and I think of Ann again (she hates cigarettes). I can only think, "Sweetheart, glad you're not here!" I ask a fellow packed in next to me, "So what do you think of Christina your new Presidenta?" And he says, "More of the same." Another fellow jumps in and obviously challenges him and an intense exchange begins. It's all beyond my comprehension but when it ends they both give me a greeting to Buenos Aires and wish me well.
I work my way out of the crowd and ask if there's a cheap hotel nearby and get directions to the Hotel San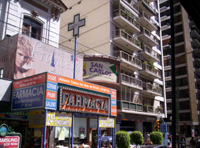 Roman at 1133 Moreno Street just one block west of Avenida 9. There I rent a room for $35, sleep for an hour, and call Erica. Erica tells me that Fei Bao has called. He has successfully climbed Mt. Aconcagua; has descended ahead of schedule; and will arrive at the domestic Buenos Aires airport this very evening at 9pm. I look at my watch; it's 7:30pm.
After a few inquiries, on the other side of Avenida 9, I catch bus #45, and thirty minutes later I arrive at the domestic airport. The 9 o'clock plane from Mendoza unloads with no sign of Jin Fei Bao. I wait for the midnight arrival from Mendoza and there he is – weather burned (but not as bad as after Everest or McKinley) and happy and surprised to see me waiting there. We hug, and high five, and thumbs up, and laugh. Fei Bao is accompanied by Professor Tongsheng Tian who climbed Aconcagua with him and Professor Tien's wife Yang who accompanied them as far as Mendoza. Yang speaks very good English.
I explain the cheap bus deal to Yang and she goes over to the airport desk and orders a deluxe taxi. We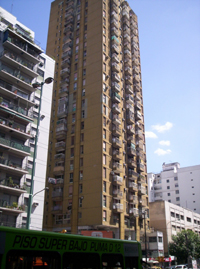 proceed back to the San Roman Hotel. Fei Bao joins me in the extra bed in my small room and calls his wife Li Jia in Kunming, China. We toast with a glass of Argentine Malbec wine and collapse. My first day in Buenos Aires has ended.
Tuesday, December 11, 2007
Yang is up early and says – "I'm going out to find a better hotel. Stay here until you hear from me." I go down the street, find an internet café, and let Ann know that I am alive and well. As I get back to the hotel, a limousine arrives to take us to the new hotel that Yang has found. Well it's not really a limousine, but it's an unmarked Audi 4-door sedan. We proceed to the Plaza San Martin Suites at 1092 Suipacha just one block west of Avenida 9. There we move into the penthouse on the 14th floor with wrap-around balcony, outdoor hot tub, large kitchen, dining room, living room, two master bedrooms and a beautiful view of the city. Yang says, "Don't worry, I made a deal with Fei Bao's travel agency – it's company business."
So for the next two days, on "company business" we had a tour and elegant lunch at the port area on the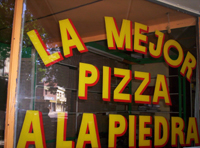 RiverPlata (Puerto Madero); went to an upscale dinner and tango show; took a boat tour of Tigre (city north of Buenos Aires which is comprised of thousands of islands); and took a train ride to San Isidro, a sleepy little suburb (which has an escalator from the train dock up to the tourist curio shopping center).
On one break from the tours I asked Fei Bao, who loves museums – "You, Me, Go Museum, Dead People?" He said "OK." So we walked two miles to the Cementerio de la Recoleta. He laughed when we arrived and we practiced a new word for his growing vocabulary -- "cemetery." To visualize the Recoleta Cemetery, imagine miniaturizing the city of old Rome and squeezing it into a city block. You walk through narrow streets among miniature temples, miniature churches, and beautiful sculptures. Each mausoleum has three below ground levels reaching thirty-three feet into the ground and each mausoleum holds an average of thirty caskets. Twenty-three Argentine presidents are here; five Argentine Nobel Laureates and EVITA! Although people are everywhere, the crowd and picture taking is at the Duarte Mausoleum.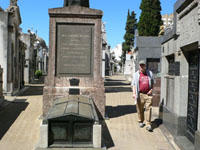 _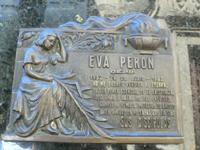 _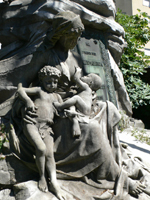 _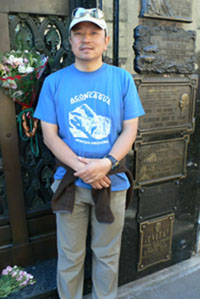 As we were leaving I noticed well-dressed people arriving. I inquired and was told that, indeed, an army general was being interned. We waited. A military band arrived. Military officers arrived. The hearse arrived. A closed casket was carried into the entryway. Speeches were given; the band played the military funeral dirge; people wept openly (tears came to my eyes); and a procession followed the casket which was lowered into the depths of the family mausoleum.
Wednesday, December 12, 2007
Doing our tours. So far Buenos Aires seems to me like Rome, Paris and New York City wrapped into one bundle. At times it's like China because the streets are so crowded. I'm surprised at the heavy Italian influence – pizza everywhere. And the people do seem unusually beautiful – especially the women, who all seem to be between 18 and 35 -- slim; dark, flashing eyes; lots of cleavage and toned midriff; well-dressed with lots of make-up; walking, briskly, purposefully – inaccessible!
Thursday, December 13, 2007
After morning tours we had a Chinese buffet and now we're on our way to the International airport for Fei
Bao, Tien, and Yang's flight to Paris and on to Beijing. Fei Bao is happy to be going home; looking forward to being with his wife Li Jia; and expecting a hero's return in both Beijing and Kunming.
I bid them farewell and now I'm on bus #86 back to Buenos Aires. Today is hot and muggy and I'm going back to back-pack territory.
Arriving back at Avenida 9, I walk one mile to the City Tango Hostel, which is in the San Telmo district, right in the center of town, and only one block away from Avenida 9. It's an older section of the center city, dark, but a restaurant on every corner. I check into a 3 bunk, six-man room ($13/night). My young roommates are from all over the world – Mexico, Germany, Denmark, Brazil, and England. They are getting ready to go out. It's nine o'clock and I'm off to bed. When I wake up at 6am, my roommates are all coming back from their night out. I get up; they go to bed. One of them says to me, "You're wasting your time seeing Buenos Aires during the day; all of the action is at night!"
Friday, December 14, 2007
I leave my five roommates sleeping and stow my backpack in the Hostel storage room. Now to call Erica to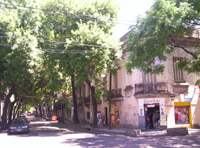 meet for lunch. "Sorry you cannot call a cell phone from here, you'll have to use the locutorio down the street." Two blocks down the street I find a small store with telephone booths inside. "Could you help me make a call?" "Of course," the lady replies. So I reach Erica. We set a time and place to meet, near the Plaza de Mayo, and I pay the telephone bill at the checkout counter – 25 cents.
I walk a mile and here I am back at square one, where I began my Buenos Aires adventure on Monday, back at the Plaza de Mayo. Today the streets are crowded with cars, taxis and buses. Hundreds of pigeons are still here and a bustle of tourists and fast-walking, mostly professional, people on their way to work. There goes a walker with ten leashed dogs, straining on the leashes, but in an orderly fashion. And there goes a stray, chasing a few pigeons, takes a walk through the water in the fountain and now walks to the edge of the one-way street with three lanes of traffic. Good grief, he looks both ways, waits for a break in the traffic, and calmly walks across the street looking only to the right at the oncoming traffic!
On my left is a pint-sized, indigenous-looking kiddo with his little sneakers and just learning to walk. He's trying to climb over the wall to get to the pigeons. There are now only two things in the world – his excitement and the pigeons. His mother is smiling and holding him back. Now a bigger kid comes over and shows the little fellow how to feed the pigeons. So now there are a hundred pigeons added to the excitement.
Now I scan the four sides of the Plaza. Spanning the whole east side is the Casa Rosada, colonial French-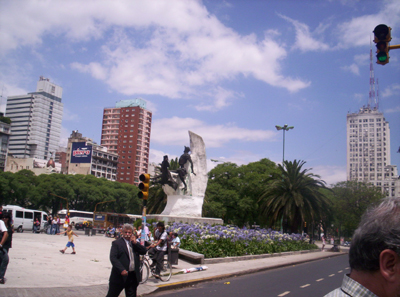 Roman style, with a Shanghai high-rise, with crane, rising in the background.
On the south side are eight connected buildings not unlike the rebuilt conglomerate of buildings on Schenectady's main street.
To the east are four streets funneling into the square with two distinct buildings – a white California style, monastery type church and a five-story office building with cupolas, statues, clock tower and TV towers. On the white walls of the church is bold red and black graffiti – Anarquia Ganismo (anarchy will triumph) and Matar al Capitalismo (death to Capitalism). In the distance is a skyscraper with a large three-ring cell tower and HSBC boldly identifying the structure.
And on the north side, a Romanesque type courthouse with a grand sculptured panorama of people on the triangular arch. Then, an ugly ten-story OTB type building adorned with an array of communications equipment and a slightly more interesting Romanesque building with a gray castle tower. Finally, I'd say, a plain Tudor office building and in the background are three shinning skyscrapers – one gold, one white, and one silver.
In the center of the Plaza is a statue of San Martin in celebration of Argentina's independence – "25 Mayo 1810." There's graffiti on the statue and a picture of Che Guevara.
I refocus on the ground in front of me – small square bricks separated by strips of concrete, pigeon and dog shit, cigarette butts, candy wrappers – this place is altogether ugly, interesting, and in a way, beautiful – teeming with life and diversity.
Four wandering Latin hippies go by – two boys, arm in arm and a boy and girl, arm in arm. They lay down in the grass, laughing and romping around. Oh, oh, here comes a squad of police. They surround the statue of San Martin. Then a brightly painted bus pulls up and nine people dressed as penguins get out and line up some distance from the police. Their signs say, "We support this government. We look for respect. Construction Worker's Union." After one-half hour they get back in the bus and drive away. The police move on. The hippies skip away.
After a lovely, late lunch with Erica, I move on to a new hostel, just for a change of scenery – the Obelisco Hostel at 830 Corrientes Avenue, which is one block east of Avenida 9. It is similar to the City Tango Hostel, with five different night owl roommates. Each hostel has a bar, lounge area and party room and includes breakfast and internet service with the $12 - $14 per night charge. If I were twenty, I'd go hostelling around the world. It is a wonderful way to meet interesting people from all over the world. Goggle "hostels" and "Hostelling International" to find out more.
After a rest at my new hostel I'm back on the street. I walk the pedestrian streets of Florida and La Valle.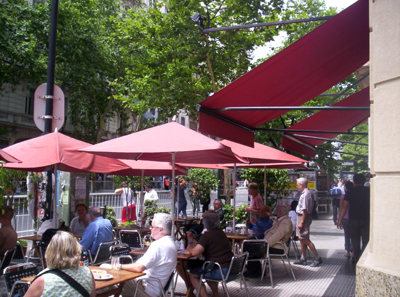 There are artists, dancers, mimes, 2 Charlie Chaplins, many street vendors and women hawking for a strip show. "You don't want to go to show, then how about a message, how about a night?" Next to the strip club is a Universalist Church, "Jesucristo es el Senior." It looks like a Las Vegas nightclub. Then there's a McDonalds; The Palace of Fried Potatoes, sports shop, candy store, bar/café, clothing store, ice cream shop, Hindu Indian food restaurant, video game palace, electronics store, 6-screen movie theater, luggage shop, bingo hall and the ever present newspaper and magazine stands with the major papers and erotic magazines side by side. And that's only two blocks of at least a mile of bright, lively, busy commerce. If you keep walking to the east about ten blocks you'll run into the very brown River Plata and a major riverfront development project. To the north, south and west you can walk for twenty miles and not reach the edge of the city. I believe there are at least eighty named districts within Buenos Aires, a city of over thirteen million people.
I ended my last night in Buenos Aires with a light dinner -- quart of beer, 2 empanadas with cheese and ham and a coffee espresso -- cost, $4. On the way back to the hostel I bought a bottle of water, 35 cents, and watched a family sorting trash. The women had a two-year old in tow and another four children, probably seven, eight, twelve and sixteen years old. Each worked rapidly as they sorted paper, cardboard, bottles and cans into giant burlap bags. When they finished, they loaded the bags, ten feet high, onto a cart. The boy pulled the cart and the three other children pushed from behind. The mother walked behind with the baby. I inquired. "Well, each person or family has their territory, each type of material has a certain value, and they take the sorted trash to local depositories."
Saturday, December 15, 2007
Breakfast at the hostel this morning is busy. I meet two lovely young people at my table. She is a fifth-year medical student from Brazil and he is a polymer scientist from England. We decide to go to La Boca together. That's the area of the city where Buenos Aires was first founded and it's where the tango originated.
We board bus #29 and fifteen minutes later we're at the famous tango district. Two converging streets, with bright, multicolored buildings, already have couples dancing for the tourists. For any small tip you can have a beautiful woman or handsome man wrap their leg around yours and give a stark tango pose for a photo. We wander the streets and tour the famous soccer stadium of La Boca Juniors, home of Diego Maradona, voted the best soccer player of the 20th century. We enjoy a lunch, a stilt mime, tango dancers and head back to center city. I bid my companions goodbye and switch to bus #86 for my two-hour trip back to the airport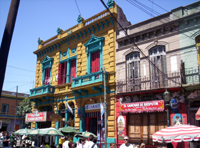 _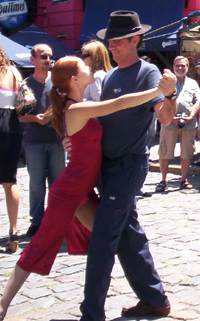 ._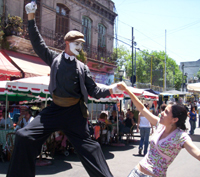 _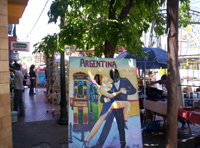 At the #86 bus, a couple kisses, giving me an appropriate farewell to my Buenos Aires adventure.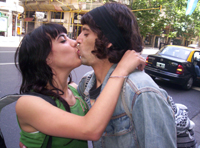 PS: I sneak through a major Northeast snowstorm and return safely to "home sweet home" in Schenectady, New York; Jin Fei Bao makes it safely back to China for a hero's return in both Beijing and Kunming, China.