Returning from an adventure
Updated: 6/12/2004 8:16 PM
By: Marisa Jacques, Capital News 9 Television
I cried -- right there in the middle of a bunch of people I saw these pictures," Gregg Millett of Niskayuna said.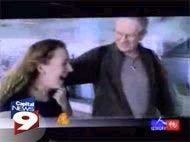 Millett described what happened when he saw his father's pictures on display at the Yunnan Provincial Museum in Kunming, China. His father was a doctor in the Army during World War II and took the pictures in 1944.

"The slides were always pretty too, but they were so big and so gorgeous -- tears came to my eyes," Millett said.

Gregg and his granddaughter, Krystal Garrison, recently came home from a trip to China. They had originally intended to go there to find the places Gregg's father had taken pictures of, and put on what they thought would be a small exhibition of the original photos.

"Jin Fae Bou wrote me back and said, 'You are holding a treasure for our city. Nothing like this exists -- our history has been lost,'" Millett said.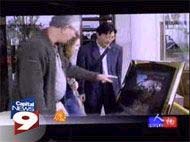 Millett and Garrison arrived in China in time for the exhibition to open, but never expected what was to come. After all, color photography didn't make it to China until 35 years after the pictures were taken.

Garrison said, "Well first thing, when we were getting off the airplane, my grandfather turned to me and said 'What do you think? Are there going to be reporters there?' And I said 'No, probably not.' And sure enough, there's about six cameras, camera crews, photographers, reporters."

Gregg and Krystal said they had no idea the exhibition would get the response it did. On the first day, 12,000 people came to see it. And each day after that, between 10,000 and 20,000 people came in.

"Actually the exhibit was supposed to run May 9 through May 29, and they extended it through June 9 so they could get a full month and half a million viewers in a month," Garrison said.

Millett said Chinese officials plan to feature the pictures at exhibits in Shanghai and Beijing. The photos will also be on display in November for a week-long festival. The entire Millett family will be going to China and organizers expect one million visitors to come.