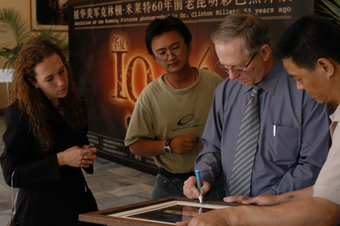 Famous in Kunming
by Gregg Millett and Krystal Garrison
We arrived in the Kunming airport in the late afternoon of May 6, 2004 where we were met by two television cameras, two photographers, two newspaper reporters and five dignitaries. We were then chauffeured to a four star resort-hotel -- at the entrance was a sign that read, "Warmly welcome Dr. Gregg Millett and Ms. Krystal Garrison to stay at Yijing Garden Resort and Spa Hotel Kunming." We were given separate suites and our interpreter, Frank Gau, had a suite down the hall. After a hot shower and a short rest, we joined the dignitaries and press for our first Chinese banquet. Krystal and I slipped easily into enjoying the delicious array of food and the frequent toasts with Yunnan red wine. After dinner and conversation we returned to our rooms to recover from our thirty hour trip from Albany, New York to Kunming China.
The next morning, after an early breakfast Krystal said, "Grandpa, do you know how to tell when you're famous in China?" "No," I said, "how do you tell?" Smiling, Krystal replied, "Well I think it's when you have a personal interpreter, a chauffer, you are on your way to a press conference and your picture is on the front page of the newspaper!" She held up the newspaper showing a picture of us coming out of the airport.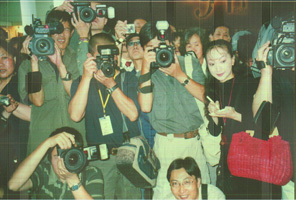 On our third day a red carpet was rolled out at the entrance to the museum and twenty-four beautiful minority people, dressed in traditional clothes representing the different nationality groups of Yunnan Province, formed a receiving line. We were in the front line of a dozen dignitaries. After the Huaxia bank president gave the opening remarks, Krystal and I stood in front of a few thousand people and gave a welcome speech, (translated from English to Chinese) for the opening of the museum exhibition. The opening day brought twelve thousand people to the exhibit and that Sunday over twenty thousand people came. We were asked to sign exhibit brochures, pieces of paper, books, napkins and t-shirts, we posed for tons of pictures, shook a thousand hands, and received a hundred hugs.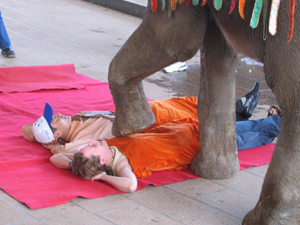 Fourth day - "Krystal," I asked, "Do you know how to tell when you're famous in China." "Yes I do," she replied, "You know you are famous in China when you get chosen out of crowd of a thousand spectators two different times to be a part of the elephant show!" (who would have ever thought I would go to China AND get stepped on by an elephant. Not only that, but I got a ride from two elephants at the same time, riding their entangled trunks like a swing). "Yep. Pretty amazing," I said. Earlier that day at the Yunnan Nationality village, we were toasted and treated to wonderful song, dance and food, (and an elephant show!).

Everyday we were reminded that, "You are V.I.P's, anything you want." Most everywhere we went we were followed by one or two vans of reporters. During our twelve day stay in Kunming we were in the newspapers, interviewed on the radio, and on television every day, and every night we were treated to banquets - by company presidents, financial supporters, artists, the Communist Party and by local government officials.
So who are we? How and why did this happen?
---------------------------------
In 1944-45 Dr. Clinton C. Millett, surgeon and executive officer with the 172nd General Hospital of the U.S. Army, was stationed in Kunming, China. Dr. Millett led the convoy, which took the hospital from Ledo, India to Kunming, China across the Ledo-Burma Road. In Kunming a convalescent camp and thousand-bed hospital were established to care for U.S. soldiers and U.S. prisoners of war. Dr. Millett wrote home daily about his perceptions of the lands and peoples he was experiencing and he also took numerous photographs of his journey. Dr. Millett died in 1964 at the age of 54. He is Gregg's father and Krystal's great grandfather.

In 2002, following his retirement, Gregg, with assistance from his granddaughter Krystal, typed all of the Letters Home to distribute to family members. Then in 2003, at a meeting of the US/China People's Friendship Association, it was announced that the young women playing music for the evening on the guzheng (an ancient Chinese instrument) was from Kunming. Gregg invited her and a few others to a home viewing of his father's old colored slides of Kunming. The impact of the slides was sufficient to generate an invitation to show them at a meeting of the US/China Peoples Friendship Association meeting. Eighty people came to this first public showing of the slides and the response to the slides was very intense. A vision was cast.

March, 2004: "Krystal, how would you like to go with me to Kunming and try to find the places my Dad photographed and maybe even do a slideshow there?" "Are you kidding," she answered, "When do we leave!" So on March 22nd we went to New York City and secured Chinese travel visas and on March 23rd we purchased two round trip tickets from New York City to Kunming, China.

On March 27th our Internet Kunming Travel search turned up www.TopTrip.cc and we inquired about staying with Chinese families during our twelve-days in Kunming and asked about the possibility of presenting a slideshow of the old-pictures.

March 29 -- First response: "Dear Gregg and Krystal, Thank you very much for bringing the 100 old pictures to Kunming, we are very glad to hear this good news, because most of us have no idea what Kunming looked like in 1944, so, everybody wants to see these old pictures. We will meet you and your granddaughter in Kunming airport at 3:45 pm on May.6/Thu., then transfer you to stay in a local family in Kunming. You will pay us the accommodation fee 36 usd/night x 12 nights = 432 usd when you arrive in Kunming, the fee has included your breakfasts and dinners. And we will arrange you to visit a local culture exchange center which is also a big cafe gallery, where you can play your 100 pictures slides to many Kunming citizens who are interested in World War II history. We believe there will be more than 200 people coming to your presentation. Could you send us some samples of your pictures? Jin Fei Bao, General Manager, China Adventure Travel."

We made digital images of a few of the slides and forwarded them to Mr. Jin Fei Bao. On March 30th his reply was as follows: "After talking to some of my friends about the old pictures you will bring to us, all of them are very excited, so, we have come to a new idea that is: we should let more local people seeing your pictures when you are still in Kunming, not after you left Kunming. Which means, we want to organize a Kunming 1944 Old Pictures Exhibition in Kunming for you when you visit Kunming, which can attract many more people to see these valuable pictures, not only 200 people as we thought before. So, your Kunming tour will become a very significant culture exchange activity, which will be reported by local newspapers or even TV news, and your tour will be remembered by all the people who have seen your pictures show. How do you think of our idea?"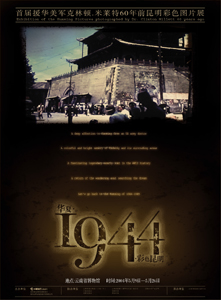 We replied that we though the idea was fantastic and then we began a series of daily e-mails exchanging information in preparation for the exhibition. High-resolution digital images of the slides were prepared and airmailed to Kunming. They were received twelve days before May 9th, the opening day of the exhibition.
Mr. Jin Fei Bao wrote that ten digital artists were working round-the-clock to enhance and enlarge the images for the exhibition and he sent me an image of a poster for the exhibition.
He wrote: "Now, we are busy to making the big pictures from your CDs, and are printing all the advertisement posters, and are sending invitation letters to local government officials and local celebrities. We have already erected a big advertisement board outside the Yunnan Provincial Museum. We have also printed many advertisement T-shirts. Everything is going on smoothly, just like your father's convalescent camp and hospital projects went on smoothly 60 years ago."

We were starting to wonder. Gregg was starting his days by getting up early to read the latest e-mails from Kunming and exclaiming to his wife, Ann, and calling Krystal with openings like "Listen to this!" and "You're not going to believe this;" and "Look at this!"

So we boarded a plane to Kunming, China and thanks to Dr. Clinton C. Millett and Mr. Jin Fei Bao, and his team in Kunming* (see below), we began our two weeks of fame.

Postscript: More important than a little notoriety.

We became part of a working team. We worked as hard as anyone, both before the exhibition, and during the exhibition -- preparing the slides, giving interviews to radio, TV and newspaper reporters and welcoming visitors to the exhibition. We also wanted success for the project and by the exhibition closing, more than 300,000 people had come to view the old images of Kunming.

The impact of the exhibition was intense and heart-warming. Before these 1944 photographs, the earliest known color photograph of Kunming was taken in 1979, 25 years later! The history had been lost; the memories had faded. Old people looking at the pictures were thrilled and often overcome with emotion. They were recapturing their past. Many sons and daughters found pictures of their parents hanging on the museum walls; others saw the shops their parents ran; others simply saw the city they knew as children. Many younger people came too, and children, just to see their history and some to see the photographs of their grandparents and great grandparents.

The fact that a U.S. Army doctor had taken these pictures, and that his descendants had brought them back to Kunming, was also celebrated. All of the old people knew that the Americans had been their friends during World War II and that they had fought and many died alongside the Chinese. This exhibition was indeed a friendship bridge between the USA and China.

The group that planned the 1944 Colorful Kunming Exhibition has expanded and is planning an end-of World War Two in Yunnan celebration in May, 2005. A search is being conducted for additional pictures, stories, and participants related to these tumultuous times. If you have any relevant information please send an e-mail to: Gregg Millett and Krystal Garrison.

An old Kunming cities project, adjacent to the Yunnan Nationalities Village, is also underway and is scheduled to open in May of 2006. The photographs of Dr. Millett will be on permanent display at this site and additional photographs would be much valued. If you know about the existence of such material please write to us.

You're invited to join us in building bridges of friendship and culture exchange with Kunming, China.
Gregg and Krystal

* Some of the important people in the Exhibition Group included:
Our interpreter Mr. Frank Guo and driver Mr. Lee Be Shu
Mr. Liang Guang Hui, President, Huaxia Bank, Kunming Branch
Mr. Liyi Fan, Director-In-General, Committee of National Tourism and Resort of Kunming Dianchi Lake
Mr. Xiao Jian Ming, Chairman of the Board, Yunnan Tin Company Ltd.
Mr. Wang Jian Yiu, vice leader of the Yunnan Daily News Group
Mr. Zhou Bao Shu, vice manager of the Kunming Old City Project