Return to China, 2008 -- Part III: North to Lijiang
After three relaxing days at Qing Lu, Gregg, Kim, Devin, Lily and Amy say goodbye to Mrs. Pei and her son Fuer and take one last look at beautiful Lake Erhai.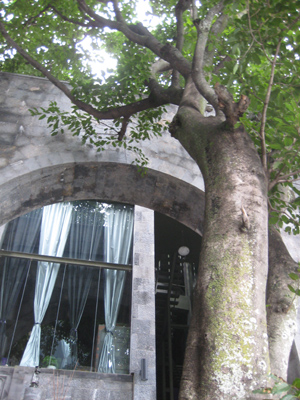 __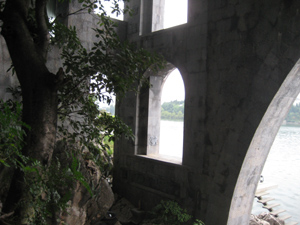 __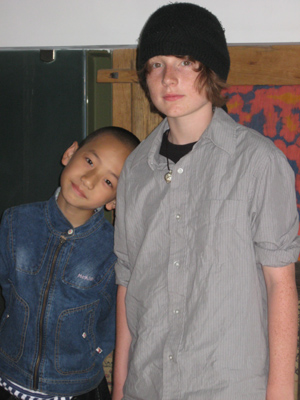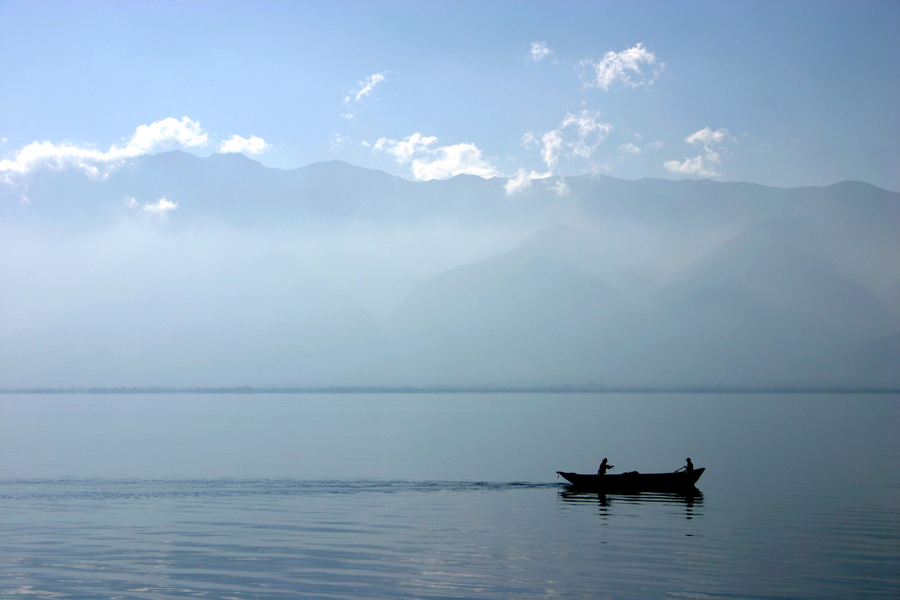 We drive three hours north; pick Fei Bao up at the Lijiang airport; and check into the Lijiang No 1 (government) Hotel. After settling in, we walk three blocks through the bustling city, and enter into another world -- Old Lijiang. Images of this wonderful old city are below with one glimpse of nearby Jade Mountain.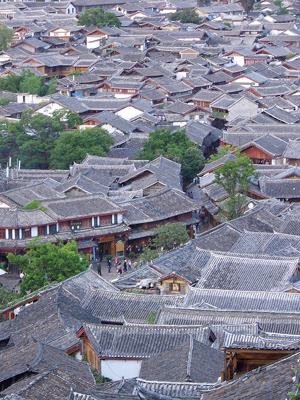 __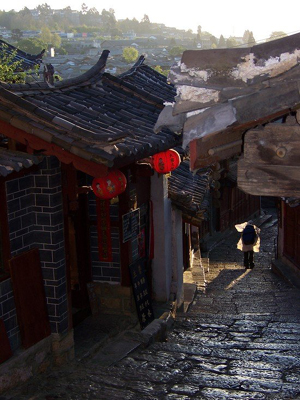 __
A rich tapestry of life is everywhere -- partly for the thousands of tourists and partly, just people carrying on with their daily lives.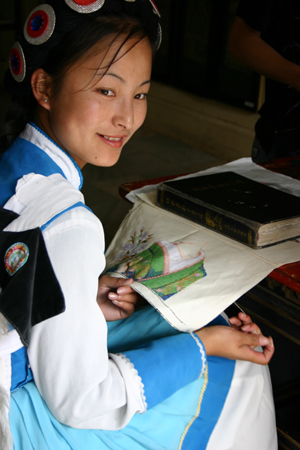 __
__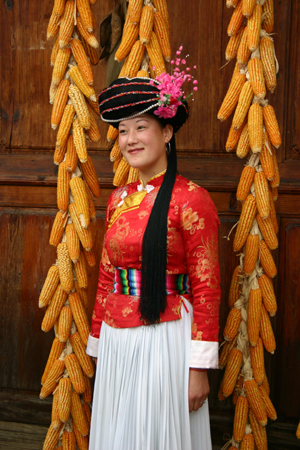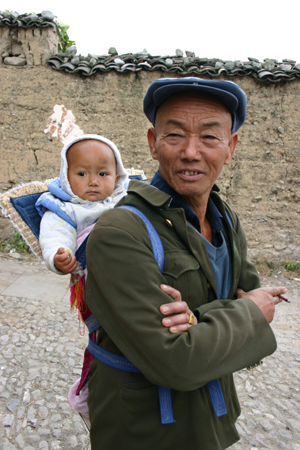 __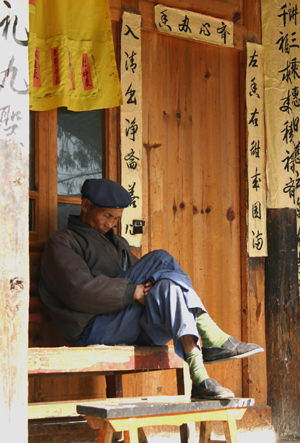 __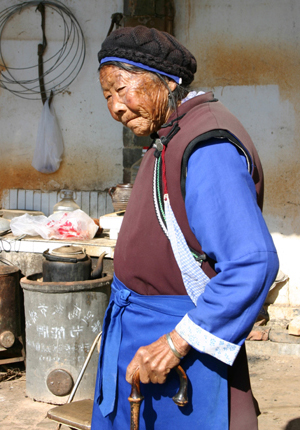 After our tour of Old Lijiang, we meet He Mei and her niece, Lucy, for dinner at a packed market restaurant. We had met He Mei back in Albany, New York in 2004 when she came to one of our "Old China Photo" presentations. She was of the Mosuo culture, from the town of La Bo in Yunnan, and was the first girl in her village to graduate from high school. After high school she went on to college in Kunming and then to the College of Saint Rose in Albany for her Master's degree! While in the U.S. He Mei and Li Jia gave a presentation on the minority cultures of China to a spellbound audience. Most questions following the presentation focused on the matriarchal Mosuo culture (which is a subset of the Naxi culture). In 2006 He Mei returned to her home area as a teacher and educational administrator. She is dedicated to seeing that many women in this remote area have greater opportunty for education. Pictured below are He Mei and her niece, He Mei's home in La Bo, and He Mei's grandmother on an overlook of the La Bo countyside.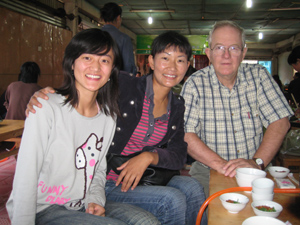 __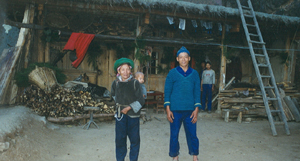 __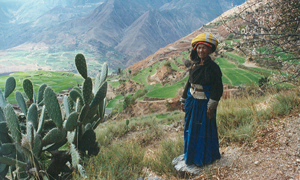 Below are photos of He Mei as a Mosuo woman and as a College of St. Rose student. To the right is a Dongba shaman or priest. Dongba is the religious tradition of the Naxi people. According to He Mei, only men are accepted as leaders of the Dongba religion, and no young boys are interested in this ancient tradition, however, she is interested! Therefore, in her spare time, she studies the Dongba religious traditions of the Naxi People.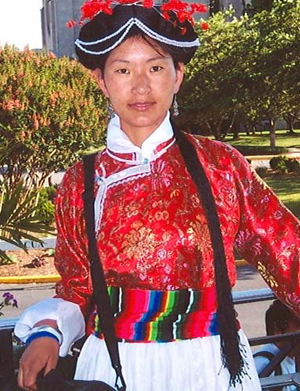 __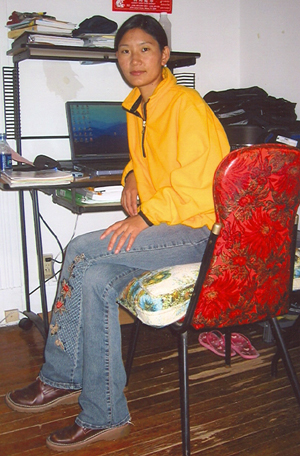 __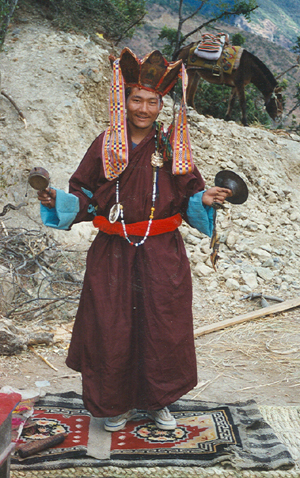 In the evening we attend a Naxi ancient music concert. According to the program -- The value of this ritual music lies partly in the miraculous preservation of several original poems of the Tang and Song Dynasties such as, "Waves Washing the Sands," "Sheep on the Hill," "Song of the Water Dragon" and many more. This music was handed down by way of the Dongba pictographic script and the members of the orchestra play on instuments from the Han, Tang, Song and Yuan Dynasties. The music was as strange to our ears as the Chinese language, complex, yet altogether very pleasant.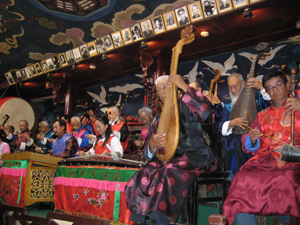 __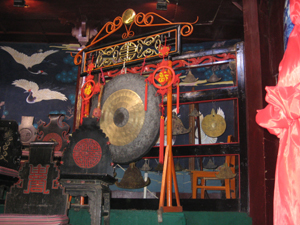 After the Naxi concert in Old Lijiang, we meet up with artist Mu Xinrong and his wife, Zhan Jun who are friends of Fei Bao and Li Jia. We tour their store and then go back to his studio tucked into one of the many dark alleyways in Old Lijiang. There we view Xinrong's masterful woodcarvings, eat sunflower seeds, and drink tea until midnight.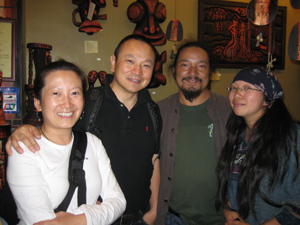 __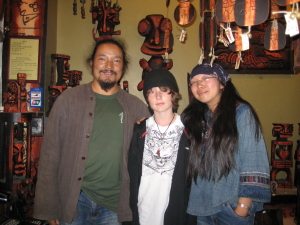 We have arrived at a very special day -- 08/08/08 -- the opening of the 29th Olympic Games! We begin the day at the CCTV studio in Lijiang but our interviews have nothing to do with the Olympics -- they are about our traveling on the Burma Road. Gregg tells the story of his Dad's crossing in 1945 with the 172nd U.S. Army Hospital Convoy and Fei Bao talks about the history, the landmarks, and our emotional reactions to exploring the route of Dr. Millett's journey.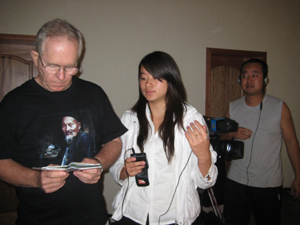 __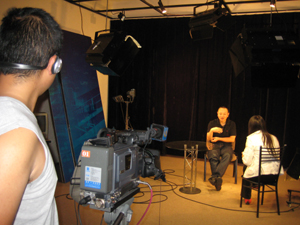 After the TV interviews we head out for a day in the Lijiang countryside with Mu Xinrong and Zhan Jun as our guides. Xinrong and Jun's 2-year old baby is with us as well as Jun's mother. We drive high into the mountains with spectactular views of small farming communities.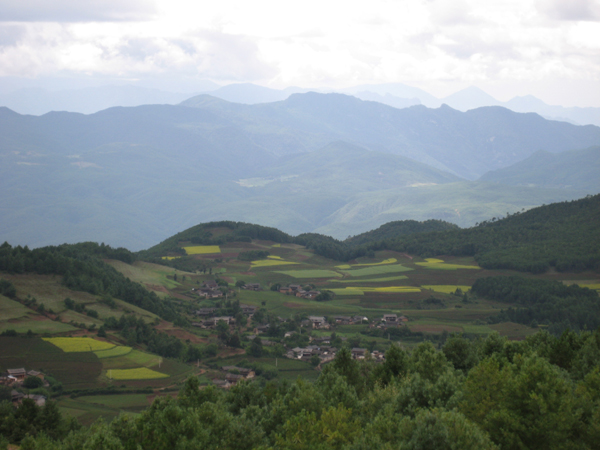 __
The mountain road ends at a small non-descript building and the people there jump into action to prepare us lunch. A chicken is killed and the fires are stoked. Vegetables are chopped and several varieties of wild mushrooms are cleaned. Before our eyes a hot pot lunch, fit for a king, is prepared and ready for us to eat. And after lunch we simply celebrate the beauty and fresh air!
__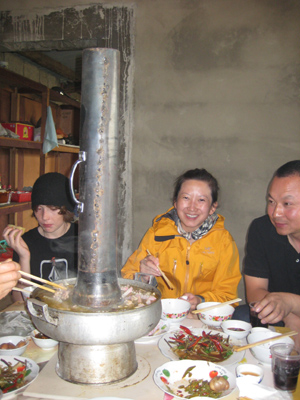 __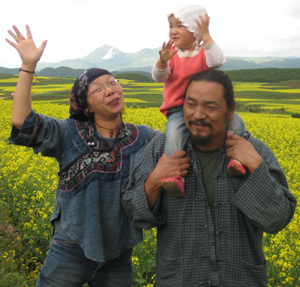 Fifty feet from the restaurant, where the road ends, is an iron gate and guardhouse. After lunch we walk over to the guard and inquire about what's on the other side of the gate. He informs us that the road leads to one of China's largest telescopes and that entry is possible only with special permision. Fei Bao makes a call on his cell phone and hands the phone to the guard. Presto -- the gate is opened and we proceed to the top of the mountain where we are met at the observatory door by a young engineer who gives us a guided-tour of the entire facility. So here we are, in China on the top of a mountain, eating a fresh-killed chicken and food from the nearby fields; taking bathroom breaks in the field out behind the restaurant; and now looking at microchips from MIT, lenses from England, and in the company of a young Ph.D.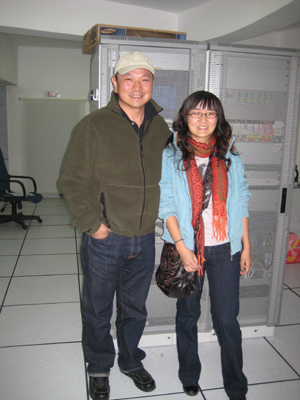 __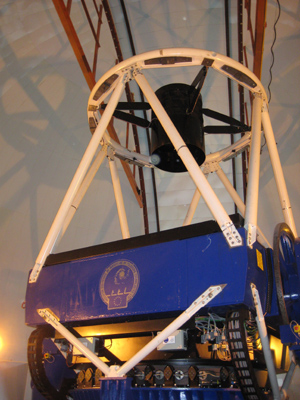 __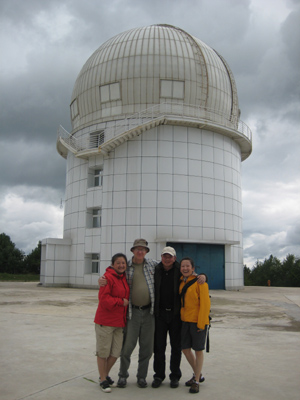 Wait, not enough mystery and magic for one day. On the way back to Lijiang we stop at the home/studio of one of Mu Xinrong's friends. Here we drink tea, explore the home/museum and play with the monkey.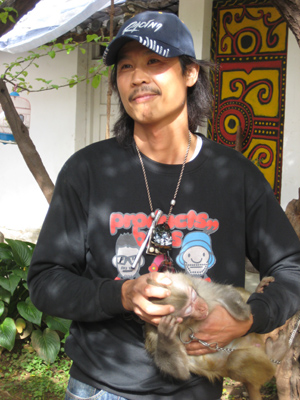 __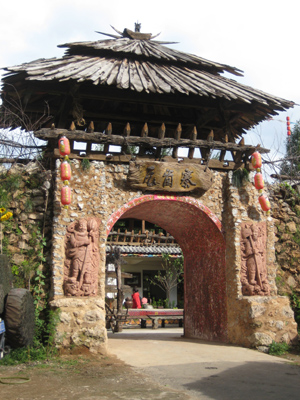 __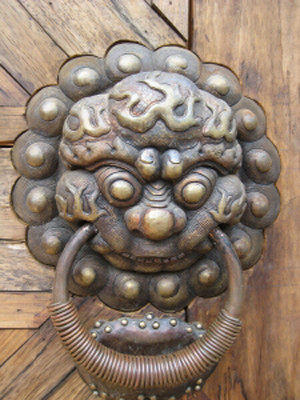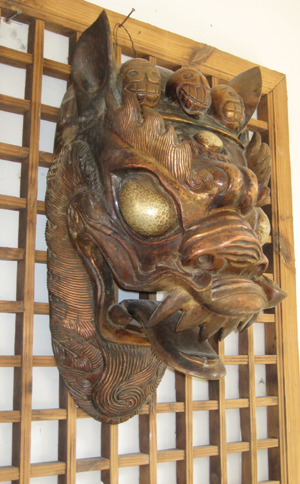 __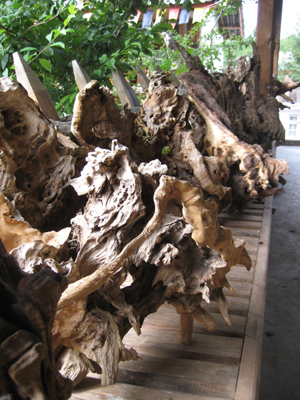 __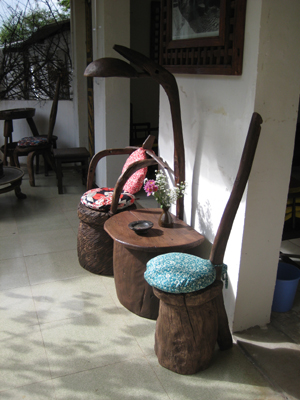 We arrive back in Lijiang at our appointed time for dinner with Yang Yiben, the Mayor of Lijiang. She is a Naxi woman who has traveled widely in China and around the world and has published two books on the "Travels of a Naxi Woman."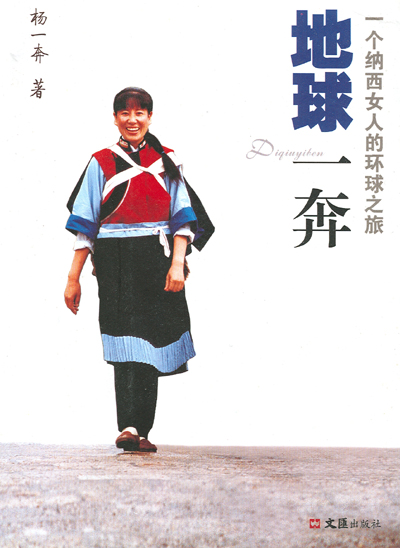 __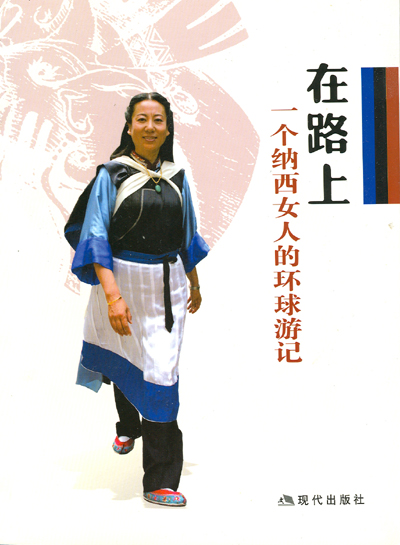 Mayor Yang Yiben confided to Gregg that the hardest part of being mayor was hosting VIP gatherings -- sometimes five or more a day. She patted Gregg's tummy and her own and we toasted to that! She laughed a lot, toasted Fei Bao on his great climbing accomplishments, kissed Devin and quizzed Kim about her impressions of China and her life in the USA. She seemed to be having a fine time with this little group of "VIPs" and suddenly out of nowhere, she held up her hand, high-five'd Gregg and said "Obama!"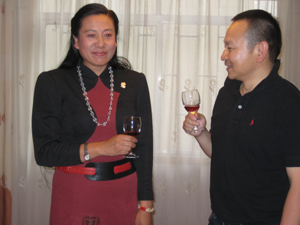 __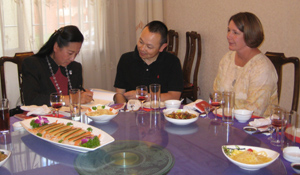 __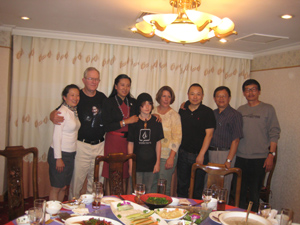 A surprise guest at the dinner was Professor Yang Fuquan -- and he was as surprised as we were. We had met Professor Yang at a lecutre on the Naxi people at Union College in Schenectady. And then he appeared as a guest on Ann Parillo's "Schenectady Today Show." He is President of the Association for Naxi Studies of China and an international lecturer. We had a fine time renewing our acquaintance. He had said in his Schenectady lecture something very interesting. He said that times were rather difficult in the backcountry of Naxi culture. "In these times, if you take five Naxi girls, one will go to work for an international company; the second will go to work in Beijing or Shanghai, the third will go to work in Kunming, the fourth will go to work in Lijiang, and only one will stay and work on the family farm and maintain the culture."
And now for the food. Our traditional Naxi banquet started with the presentation of a pig's head which had been slow-cooked all day long. The honored guest begins the meal by carving the pig's face in half. Devin was very glad that Grandpa Gregg was handed the knife!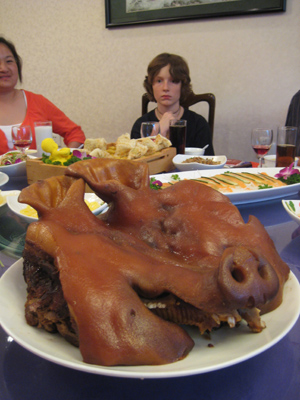 __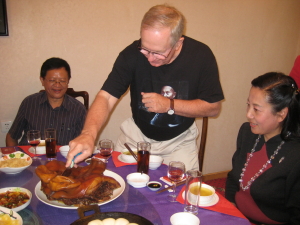 At the end of our wonderful meal, one more toast was offered -- to the opening of the Olympics! Mayor Yang Yiben and Jin Fei Bao -- each of them had been Olympic torch bearers! -- gave heartfelt speeches. Then Mayor Yang headed off to another VIP gathering and we ran through the crowded streets to get to our destination just as the drummers started their performance for the opening of the Olympic Games. We joined some twenty other people in an open-air garden in Old Lijiang with a large screen TV. We were guests of the artist that we had met that afternoon. There were dogs and cats and children and people coming and going and lots of wine. Gregg surprised everyone by toasting to the delegations from England, Canada, Mexico, Venezuela, Nicaragua, Honduras and Argentina. Then we stood up and toasted and cheered for the USA and all of the Chinese stood up and joined us! And then the Chinese athletes came marching in and there was general pandemonium! We weren't in Beijing but we were having a wonderful time!
It's a new day -- 08/09/08 -- and we're up early and driving out of town. We stop in the beautiful country side for a photo op and a goodbye to Fei Bao. He's going back to work in Kunming; we're headed north to Mosuo Country in the mountains of north Yunnan near the border of Sichuan.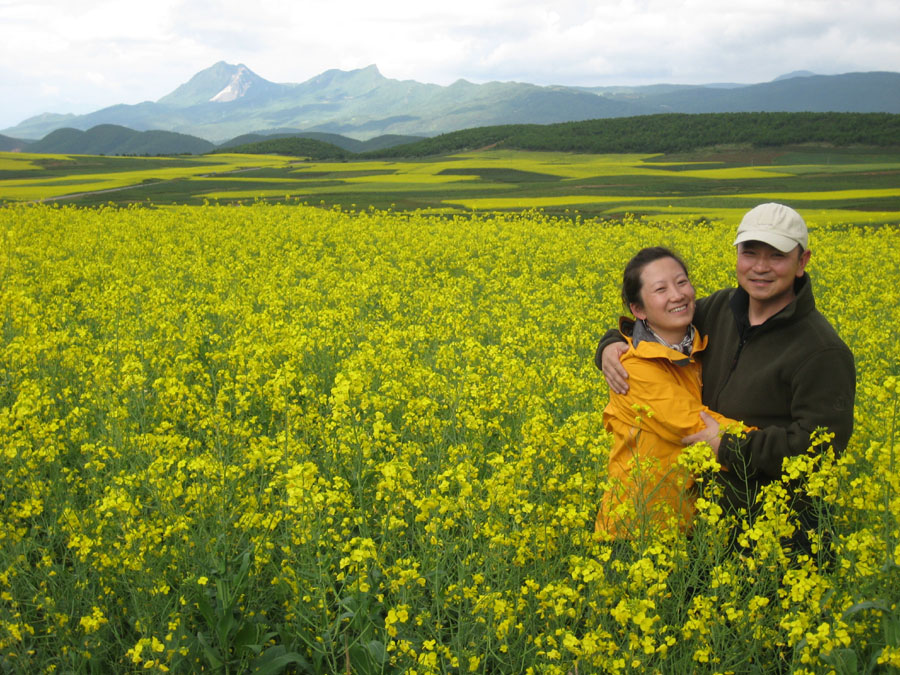 Click to go to -- Part IV: On to Lugu Lake and Mosuo Country