Kunming China Trip, 2013 -- Summary
Kunming Newspaper Article attached at the bottom -- In Chinese.

March 6 to March 17: Albany to Kunming, 38 hours (due to snow storm); return trip 28 hours. Highlighted text in this report are links to videos (with time shown).
______
March 8, Friday: Arrive Kunming and visit Li Jia and Little Marathon (45 seconds).
It's my understanding that a Chinese baby is given their permanent name after they grow a bit and develop some characteristics. How about "high fives" or "I've made it to the top." In 2005, on a visit to Harvard, Li Jia announced that she was going to have a baby who would attend Harvard! Way to go Li Jia. I'm a believer!
______
March 9, Saturday: "Flying Tiger" Conference, Auction and Dinner at the Flying Tiger Restaurant.
Jin Fei Bao partnered with a Europe/China MBA-Adventure group to hold a "Flying Tiger" Weekend. The events were to celebrate the US/China cooperation in World War II and especially the Chinese (Yunnan) Veterans of that war. My participation was based on the fact that my Dad was a "Flying Tiger" doctor who took care of the injured pilots and prisoners of war. His 1945 colored photographs of Kunming, on display at the Yunnan Provincial Museum in 2004, drew 300,000 visitors -- 10,000 a day for 30 days! It was Jin Fei Bao, who as an independent entrepreneur, organized that exhibition, and that was the beginning of our friendship and my family's VIP status in Kunming.
The conference began with a history of the Flying Tigers and the war in Yunnan and Burma. About 200 MBA's and 20 WWII veterans attended. The MBA's were successful entrepreneurs from all over China, They join their association with a four-day ordeal in the Gobi Desert and there was intense visible comaraderie amongst the members.
Just one-month before this trip, Ann and Hank Snow (Hank is a veteran pilot of WWII, Korea and Vietnam!), had put me in contact with an artist/historian, John Mollison. John collects the stories of pilots and draws their airplanes. He sent me three of his drawing, including one of Hank's airplanes, for the veterans" auction. John's three drawings sold for $5,000 US dollars! and Fei Bao had framed prints of two of my Dad's photographs, and they sold for $4,500 US dollars each.
That evening, at the Flying Tiger Restaurant in Kunming, red paper bags were given to the twenty veterans with gifts and the auction cash in the bags. A historical note -- most of these hero veteran's, served prison time (some up to 30 years!) for being anti-revolutionaries under the command of Chiang Kai-shek. Putting that aside, the Flying Tigers now represent the "shoulder to shoulder" effort of Americans and Chinese in World War II.
______
March 10, Sunday: Run at Wajiaba Airport and Visit to the Flying Tiger Museum.
Now the adventure continues for the MBA group (and about 100 local runners) with a 10-K run at the Wajiaba Airport where the Flying Tigers had their main base 70 years before. The new Kunming airport, 20 miles to the east, is the 5th largest in China and the Wajiaba Airport will soon be turned into housing and commercial space. It was Fei Bao's idea to take advantage of the current vacancy to celebrate this 70th Anniversary event. VIP? -- I shot the gun to start the race!
After the run we went to the Kunming Flying Tiger Museum for a tour and lunch. The drawings of John Mollison were donated, by the buyers, to the museum and twelve of my Dad's photographs were also donated. The director of the museum asked me to please find a P-40 airplane (those used by the Flying Tigers), and bring it to China! If you've got a lead, let me know.
______
March 11, Monday: Walk Around Green Lake Park (30 minutes!) and Visit Artist Lao Jianhua's Home.
I had my first good walkabout this morning on a slightly drizzly day, but that didn't stop the locals from coming out to enjoy their beautiful park in the center of Kunming. Many, probably tourists, were filming the seagulls and, at every turn, there were people dancing, singing, playing instruments or playing chess or mahjong. From my walkabouts on this trip I'll create several 30-minute "Near & Far" productions for our local public access TV channels, but the "Walk Around Green Lake Park" is the only long video that I will post in this report (to see others go to Flying Tiger Trip Videos).
Every time I go to China, this is my 6th trip over the past nine years, I go with Fei Bao to visit his artist friend, La Jianhua, and enjoy a drink, chat and out to dinner. His current artistic focus is on mountains. He has had several exhibitions in Scotland as well as all over China.
____
March 12, Tuesday: Visit to the Kunming Office of Foreign Affairs and to the Model Ship Builder's Studio plus a surprising discovery. (See more in Kunming Driveabout)
We start the day with a 20-mile drive to the east, to the new campus of the local government. The building you see above, on the left, is one of twelve on the campus. I deliver my letter of greeting from Schenectady Mayor Gary McCarthy. Zhang Qianqian, Chief of Sister City Relationships, stops by to accept Mayor McCarthy's letter and the Deputy Director, Xu Changming, suggests that we continue to look for opportunities for educational, business and cultural exchanges. They seem impressed with Fei Bao's idea to bike across America.
Next we drive ten miles back toward Kunming Center and then off the highway toward the north on winding two-lane, sometimes dirt roads. We weave into a one to seven story old-town area, park the car, and enter a dark hallway. Now the surprise. I hear some strange noises coming from the back, peek through the door, and see the activity pictured above on the right -- at least 100 boys playing video games! Then we go up the stairs, and again I hear the noise, peek again, and here on the second floor are another 100 boys packed into a second video room. I'm told that after school, the boys will spend every penny they can earn playing these games!
Now we reach our destination on the third floor -- the model ship builder's workshop. There's a 10-foot long model of the Titanic in the middle of the room and dozens of smaller replicas of a variety of ships all over the room. Fei Bao has formed an alliance with this artisan and plans to establish a permanent navigation exhibition in the near future. Fei Bao has already collected the world's largest collection of navigaton postage stamps (see below under trip to Jinning).
______
March 13, Wednesday: "Building Friendship Bridges and Bike Across America" Presentation at Kunming University.
Because Fei Bao is planning to bike across America, possibly this fall, I had put together a PowerPoint presentation capturing images of a sample trek from New York City to San Francisco, entitled "Bike Across America; Land of Many Cultures." Fei Bao booked us at Kunming University, but suggested we expand the presentation to put a slant on "Building Friendship Bridges." So I worked this morning, with my translator Cherry, adding images of how we met, Fei Bao's travels to America and other adventures, plus Cherry added Chinese subtitles!
We received a standing ovation by about 200 students at the University but the part I loved best was when Fei Bao paused and said, "I have a new idea. I will hold a contest and one of you can join my team in our bike across America!" He got a big applause. And then I added, "and you should choose one male and one female." That got an even bigger applause! To be continued ...
______
March 14, Thursday: A visit to the Wu Family and to the "Hive" home/studio of artist Luo Xu (30 minutes).
My deepest "Old Photos" connection is with Mrs. Wu and her family (pictured above on the left). She came to the 2004 exhibition and fainted when she saw her father's photograph, "The Shopkeeper," on the museum wall. That started the daily front-page newspaper coverage of the exhibition! On this trip's visit to the Wu Noodles shop, I discovered that Mr. Wu was in the hospital; her grandson doing well in college and her daughter served us the best noodles in town. Mine were "not hot" which made them just hot enough! "I hope you are back home soon Mrs. Wu and our love to you." Kunming Walkabout, Part II includes video of my visit to the Wu Family Restaurant
And then it's off to imagination land! Luo Xu is just back from an exhibition in Germany and my video clip may give you a peek at this man's amazing creative imagination and talent. Video (30 minutes)
______
March 15, Friday: Trip to Jinning, hometown of famous Chinese Navigator, Zheng He; Fei Bao Stamp Navigation Exhibition and Displacement of 10,000 villagers on Lake Dianchi.
Kunming is on the northeast end of Lake Dianchi, the 8th largest lake in China. Today we travel to the south end of the lake, about 25 miles, to the village of Jinning. Well, it turns out to be a city of 250,00 inhabitants, and we have lunch in a new 5-star hotel. Also, in every direction you look, new 30-story buildings are under construction. Between these buildings are hundreds of acres of intense cultivation under plastic.
Jinning is famous as the birthplace of the great Chinese Navigator Zheng He. As indicated on the map, he explored much of the world almost a century before Columbus. Here we visit a museum where Fei Bao has his collection of navigation stamps on display, along with a variety of ship models, including many of the ships of Zheng He.
Next we go to a several hundred-acre wetland nature preserve on the south shore of Lake Dianchi. We are told that two years before, 10,000 people occupied this land as fisherman and flower growers. Now these people are living with pensions in high-rise apartments nearby! Underway are great efforts to clean up the heavily polluted Lake Dianchi and these lakeside villagers were victims (or beneficiaries?) of these efforts. They were regularly flooded "and they used too much fertilizer."
______
March 16, Saturday: Walk in Green Lake Park.
I take a Saturday morning walk around Green Lake Park. It's a beautiful day and there are ten times more people in the park than there were on Monday -- including performances that are staged for on-lookers. However, the same everyday type people are doing their dancing, singing, playing instruments and gaming.
I have a wonderful end to his trip with a dinner with Fei Bao and his family including his mother, however, Li Jia is home tending to Little Marathon.
March 17, Sunday: To the Airport -- Reflections on Fashion, Transportation and the China Building Boom.
Fashion: Mao, your blue and grey is gone, gone, gone. On every street corner there's a clothes shop and I'd say there's a strong "strut your stuff" attitude.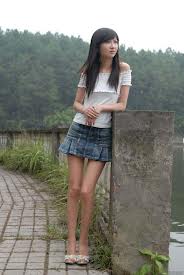 __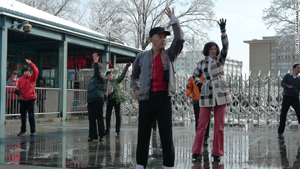 __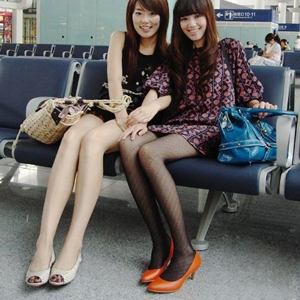 __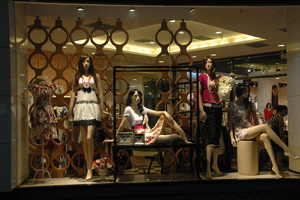 Transportation: So I Googled it: What percentage of Chinese own a car? Answer -- 6 percent. Americans? 89 percent. However, in the last three years, Chinese car ownership has increased by 300 percent. I'd say motor scooter ownership is triple that. And Kunming has a brand new massive subway system under construction that is 25 percent operating. Massive change!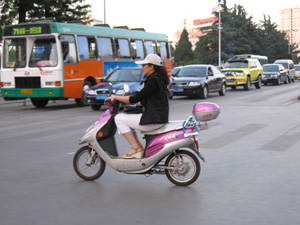 __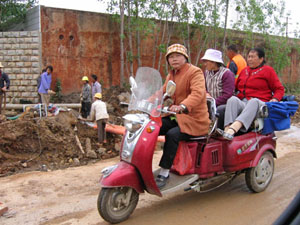 __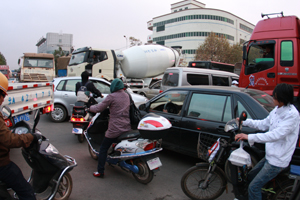 __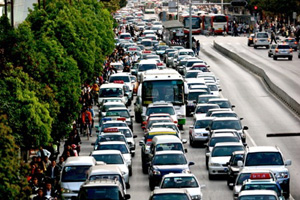 and the China Building Boom: OK, talk about massive! If you live in a one-story, or up to seven-story (no elevator) apartment building, it's going to be gone soon! The question in the minds of those living in these dwellings is, "How much am I going to get for it?" And "what will be my housing alternative?" Are "they" overbuilding? All I can say is that Fei Bao doesn't think so, and he's moving soon to a new building for his office with 3 times the space, and a new apartment, with three times the space. And his model shipbuilder friend is moving to a new building with five times the space.
______
To be continued ... ! but for now I'll close with a report from the Kunming Daily News: