E-Mails Received Relative to my Millett Family In America site:
January 2013
HELLO GREGG,
I CAME UPON YOUR MILLETT FAMILY HISTORY ON THE INTERNET. YOU HAVE DONE A MARVELOUS FAMILY SEARCH.
MY HUSBAND, RAY CHARLES MILLETT, IS OF THE MILLETT LINE, BUT IT SEEMS TO DIFFER FROM YOUR FAMILY LINE. I HAVE ONLY BEEN ABLE TO TRACE BACK A COUPLE OF GENERATIONS, AS I AM NOT A GENEOLOGY SCHOLAR. MY HUSBAND IS A JR., AS HIS FATHER WAS ALSO RAY CHARLES. HIS MOTHER WAS EDITH BLUE. RAY HAD ONE BROTHER, GLEN . RAY'S FATHER , MOTHER, AND BROTHER HAVE ALL PASSED AWAY. RAY WAS BORN MARCH 3, 1921, AND WILL BE 92 THIS YEAR. RAY SENIOR, FROM WHAT I HAVE BEEN ABLE TO FIND, WAS BORN IN MICHIGAN, IN EITHER 1892,93, OR 94. HE DIED IN DECEMBER 1974.
RAY'S GRANDFATHER WAS IRA MILLETT, BORN EITHER 1864 OR 65. AND DIED OCTOBER 10, 1940. HE MARRIED ROSE CARPENTER THEY HAD FOUR CHILDREN, RAY, IRA (CALLED BUD), IONE, AND CALLIE. BUD WAS A DRINKER, AND DIED AT AN EARLY AGE, 52. THE STORY WAS THAT HE WAS IN LOVE WITH A GIRL THAT HIS MOTHER DISAPROVED OF, AND HE DIDN'T MARRY. THAT SEEMED TO SPOIL THIS LIFE AND HE BECAME A HEAVY DRINKER.
IONE MARRIED A SECOND TIME TO ALFRED SHINN, AND THEY HAD TWO SONS. CLIFF AND (NAME LEAVES ME NOW). CLIFF JUST DIED THIS LAST AUGUST.
IONE DIED RATHER EARLY TOO. CALLIE HAD SEVERAL SONS, BUT I CAN'T NAME THEM. SOME OF THIS INFO IS COMING FROM MY 90-YEAR OLD BRAIN, AS I REMEMBER IT.
I WAS BETTY MARIE CENTONI, AN ONLY CHILD, AND I MARRIED RAY APRIL 11, 1942. WE HAD THREE SONS, JIM, TOM, AND BOB. WE LOST TOM IN 2005, AS THE RESULT OF A TIC BITE, WHICH EVOLVED INTO A BLOOD DESEASE, HE DIDN'T KNOW EXISTED, AND HIS IMMUNE SYSTEM FAILED.
I COULD GO ON TO THE NEXT GENERATION, BUT I'VE PROBABLY ALREADY GIVEN YOU MORE THAN IS OF INTEREST TO YOU.
HOW DID YOU MANAGE TO TRACE YOUR FAMILY SO WELL? WAS THE MILLETT NAME VERY COMMON, SO THAT THERE WOULD BE SO MANY DIFFERENT OFF SHOOTS ? I HAVE READ THAT THE NAME ORIGINATED IN ENGLAND FROM A MILLER OF WHEAT. THE FAMOUS ARTIST VINCENT MILLETT WAS FROM FRANCE.
I DON'T RECALL IF HIS NAME WAS SPELLED WITH ONE OR TWO "T'S". I WOULD BE VERY INTERESTED IN HEARING FROM YOU.
WITH BEST REGARDS,
BETTY
March 2012
I just read some of your commentary on the early history of the Millett's and enjoyed it.
I am a lay student of early New England history and I am familiar with the history of Thomas.  There is very interesting information available on the West Brookfield, Ma historical web site, and the story of why an old man in his 70's would leave a settled life in Gloucester, surrounded by his children is intriguing. It appears he became ill and left West Brookfield a month+ prior to the Indian attack. Most of the settlers had come for Essex (neighboring town to Gloucester), and as a Teaching Elder familiar with the families, possibly felt it his duty to fill in when a younger minister and family left (possibly fearing the Indian danger).
What I am most interested in finding is actual written notes or sermons from Thomas' time as a "teaching elder".  It appears that Gloucester around 1650 had trouble with a divisive minister who was brought in from Plymouth to lead the first church, and determined to not have an ordained minister for a while. This time period might correspond to when Thomas moved to Gloucester to possibly take a leading role in the young congregation, and as such, in the Essex museum in Gloucester, there may exist actual documents.
Interestingly, the next ordained minister Gloucester accepted was an Emerson in the 1660's, and it would be interesting if this co-worker with Thomas was an ancestor of Ralph Waldo Emerson. Possibly when the full time ordained minister was hired, Thomas had more time to minister in the community of Essex, from which the settlers of West Brookfield came beginning in 1665.
I live in Manchester, CT approximately 40 miles from West Brookfield, and I am of the branch that moved to New Gloucester and Minot, ME in the early Eighteenth century, and my family lived in southern Maine until 1969 when my dad and our family moved to Turkey with the Air Force.
Good luck with your work!
Peter Millett
Office 860.226.5326 | Cell 860.205.5875
Peter.Millett@cigna.com
January 2012
Craig Musick sent you this:

Beaufort Parish celebrates 300th anniversary

BEAUFORT — The second-oldest Episcopal parish in South Carolina is celebrating its 300th anniversary.
The Island Packet of Hilton Head reports (http://bit.ly/wqYkmd ) that members at the Parish Church of St. Helena in Beaufort held a series of events Sunday marking the founding of the parish in 1712. Hundreds turned out, including about a dozen in period dress.

A ceremonial bell was rung that was a gift to the parish in 1746 and that had been buried during the American revolution.
Sunday's sermon was delivered by the Lord Bishop of London Richard J.C. Chartres, who conducted last year's royal wedding. The Beaufort church was established under the spiritual guidance of the Bishop of London

Craig Musick attached this additional message:

This is the St. Helena Church where Stephen Caldwell Millett is burried,  And marker for his brother who a priest there.


October 2011
I wanted you to know how much I enjoy your website. It is really well done and very informative. Thanks for all the hard work!
I am a descendant of Nathaniel Woodbridge and Anne Millet (est DOB 1700, Salem, MA). Unfortunately I have been unable to determine her parents, though I suspect she descends from Thomas Millet in some way. I was hoping that you might know the answer, or perhaps steer me in the right direction.
Many thanks, Stu Whitehead
August 2011
From: stephen millett <sawcutmill2003@yahoo.com>

  Arrived at Salem, Feb.21,1823, brig "ANN", Charles
Millett,PuloPenang,142 days,122 from Acheen, with
pepper and tin to Capt Henry Barr.
  Captain Millett later made several voyages in the
"Ann", two to Sumatra,and to Captain Millett , in this
vessel, belongs the honor of opening the direct trade
between Salem and Zanzibar.
  The "Ann" , Captain Millett, left Salem March 12,
1826, for Mocha.Arriving there, he found a scarcity of
breadfruits , he left Mocha for Zanzibar and Lammo,
where he obtained a cargo of small grain and purchased
ivory for the homeward cargo.
  The foregoing is a digression from the Sumatra
trade,but the writer,would like to go further into
this subject, and speak of a notable experience of
Captain Millett in the "Ann" which has been handed
down from beneration to generation, from sire to son.
Furthermore, it is desired, as far as possible, to
make these articles something more than a dry
chronological statement of data, and give them a human
interest character.
  On August 9, 1827, Captain Millett sailed in the
"Ann" on a second voyage to Zanzibar from Salem.He
visited many new ports on the east coast of Africa,
and arrived home at Salem,April, 11, 1829.
  On February 22, 1829, latitude 38.30 south ,
longitude 66.4 west, while lying to, in a tremendous
gale from the westward, the "Ann" was struck by a sea,
which swept overboard the second mate, Mr. Hooper of
Salem, and two seamen, Henry Hill and William Smith,
who were lost, carried away the mainmast and all spars
attached, the foretopmast and foremast head,
trysailmast and boom, all of the bulwarks,the channels
and plankshire, broke in the main hatches, the deck
abreast the same, two deck beams, and completely swept
the deck of boats, spars, and every other article
except the pumps. At 9 am , another sea struck her in
the stern, stove in the dead lights, started the whole
stern frame, and badly shattered the rudder head; the
camboose was thrown from the main deck on to the
forecastle. Threw overboard 400 or 500 hides, the
chain cable, guns, etc.After clearing the wreck and
refitting the vessel as best could be done, Captain
Millett concluded to keep to the south and west as
much as possible,in hopes of reaching some southern
port, as the vessel leaked but little.In the afternoon
of the 24th the Gale began to abate, and the 25th
being clear an pleasant, the foreyard was secured and
foresail was set. On the 26th rigged the remains of
the foretopmast for a jury mainmast and kept to the
south an west. Found it extremely difficult getting to
the westward after the disaster, the wind blowing
strong from that quarter most of the time.On March
20th, the ship "De Witt Clinton" supplied the "Ann"
with small stores and water. The first news of the
"Ann": was brought to New York by the "De Witt
Clinton".
  In the Bay, the schooners, "Salus","General Jackson"
and the "John George", twentyfour hours from
marblehead for the Grand Banks, spoke the
"Ann".Captain Millett said that he could not too
highly commend the humanity and liberalityof the
Marblehead men. The "Salus"insisted upon supplying him
with some small stores of which the "Ann" was
destitute, and it was only by a determined
refusal(having a fair wind and being near Salem) that
the captain and crew were not more largely indebted to
their liberality. Both the other schooners evinced
their generosity towards the "Ann".
  The "Salem Register" and other papers of the day
state that the shattered condition of the brig
attracted great crowds to view her at the wharf, which
, the editor of the "Register", in 1878, at the time
of Captain Millett's death, told the writer that he
could personally attest, as he had a very vivid
recollection of her forelorn appearanve. her
preservation, was deemd most remarkable, and the
skilll and perserverance of Captain Millett and his
crew, in the means used for securing and refitting the
vessel and bringing her valuable cargo in safety to
her destined port, were highly commended by all. The
insurance companies,as asmall acknowledgement of their
high sense of the merit of Captain Millett and his
companions in their preserving and succesfull efforts
to bring the cargo safely home, presented the Captain
an elegant silver coffee and tea set,consisting of a
coffee and a tea pot, a cram pitcher, sugar bowl and
slopbowl; several other crew were also rewarded.
  Captain Millett died in Salem, June 6,1878, aged 85
years.He died in the house 31 Pleasant street, which
he built more than a half century ago, and in which
his daughter still resides. Besides sailing many
voyages in the Sumatra trade, he also engaged in the
trade to Madagascar, Muscat, Mocha, the FeeJee
Islands, new Holland, Canton, Manilla, and other
Pacific ports.He arrived Sydney, New South Wales, in
October 1832, in the ship "Tybee" of Salem, sailing
from this port May 2, 1832.This was the first direct
trading vessel from America to those colonies.
July 2011
I found treasure today in your writings about the Millett family. Thank you for doing that! Your life has been extraordinary, from singles to China. It would be great fun to meet you someday.
Do you recognize the portrait below? It is well-painted, a likeness of Daniel Caldwell Millett. I believe he is the Episcopal minister from Holmesburg, Pa. Apologies for sending an out-of-focus photo, but you get the idea. The painting hung in the Denver house of Daniel Appleton Millett, who married Ruth Dickson.
Hope to hear from you!
Katherine Millett -- Denver, 303-862-7022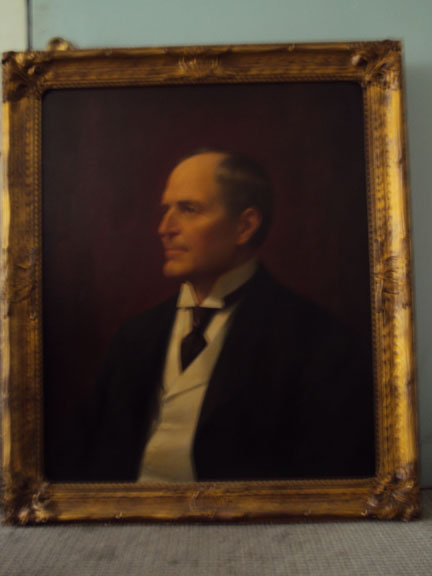 July 2011
My name is Stephen Caldwell Millett V.  I am the son of the same name, my father was the geneaologist whom collated most of the Millett material, he was born in
1907, I was born in Wash.,DC in 1961.
 I have all of my father's research papers,incl family Deeds dating from 940AD to 1160AD;.But it is all in secure Storage that I can't afford and can't access.I am trying to come up with a strategy to retrieve it.There are photos of family , letters, military,and death records too much to mention etc 1000's of important items that need to be documented.
 The reason I write, is b/c there is a typo regarding Anna Greenoway giving Birth in 1935 ! I believe it should read 1635.
 Thankyou for your time.
I live in RI, and my ph #401 954 8549.I have 2 children, S.C.Millett VI age 20, and a daughter Kaila Alexandra Millett age 18.
Sincerely, Stephen C Millett V
January 2011
I found your site on-line and am impressed with the amount of work you have put into the genealogical record of the Millett family. I was curious as to how you started your search and how I might find some information.

I was of the Millett family of upstate New York (Alexandria Bay N.Y.).  I don't see any mention of that area in your record.

Regards, Michael Robert Millett

Candidate for the Juris Doctor 2013
Stetson University College of Law
(813) 789-9707
January 2011
I have dug out some of the info I discovered at the British records Office in London  re the "first " Myllett / Millett who made it to England from France and who settled in Perrivale , Middlesex ca 1420-30 . Most of the Millets in the UK and later USA were descendents of that Jean (John ) Millett .

I will send you copies of some of this info , along with the translations from these old French /Latin documents .

Best regards , Harry
January 2011
While surfing the internet I came across your interesting website tracing the history of the Millett family in the US , and to a lesser extent , in the UK . My name is Harry Strang and my great , great grandmother was Elizabeth Mary Millett who was born in Phillack , Cornwall on Jan 4 1825  - - -  I actually have a color oil painting of her done in 1846 ! She married my great , great grandfather Dr. Fredick Edmonds in Phillack on Oct 21 , 1846.

My sister and I have done quite a bit of research on the early Myllett family in the UK and have actually visited St Mary's Church in Perrivale , Middlesex where Henry Myllett( died 1500) is buried in a tomb in the floor , marked by a brass plate ! I also spent a week at the British Records Office where I obtained copies of several old documents from 1416 -30 which show John (Johannes ) Myllett being sent to England from France as one of several ambassadors arranging the marriage of King Henry V to a French princess .

If you are still researching this family I would enjoy exchanging information with you . Please contact me at 913-851-2492 if you are interested .


Looking forward to hearing from you ,

Regards, Harry Strang
November 2010
I just came across your website, and I think we may be related, even though I cannot locate the exact 'lynchpin' to confirm. The names Millett and Appleton both are in my family tree - they have now become family middle names. The Milletts also hailed from Salem, MA.  However, the grand-patriach of our family was a Daniel Millett, based out of Arizona, and then Denver. Do you have any research that indicates a Daniel around the turn of the past century? Thank you,, Matthew Karl Gale
November 2010
My side of the MILLETT'S come from Lostwithiel Cornwall, that is where I have traced them from.  I know very little about them as William James MILLETT.  I have to go into my notes and give you a much larger background, however this WJ Millett went to India and was an Engineer on the Railways. I would love to know if there is possibly a link with the USA MILLETT family and those from Cornwall. Till later, Glynis MILLETT-CLAY South Africa. glynis@kwikmark.co.za
Here is a quick bit extract that I cut and pasted out of the novel I am writing on the MILLETT AND CLAY FAMILIES. It is rather long and not quite complete and needs to be verified on some dates. I am actually busy updating some information right now that I have recently received from England. Hope this is a bit of interesting reading.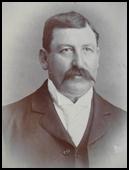 William James Millett
William James MILLETT  Jnr. (known as Jim) was born on 14 April 1857 in Lostwithiel Cornwall.  The son of William James MILLETT (Snr) and Mary Ann HILL  he went to Newcastle University where he obtained a degree in Civil Engineering.  When Jim's mother Mary Ann died, William James MILLETT (snr) decided to go to India.  There he met and married Mary GUTHERIE (formerly MILLAR).  This was about the time when Jim (his son) joined his father in Punjab.                                                

The Government of India at that time were building dams and irrigation canals in that province.                                                               
The Punjab is so called because it is the land of five rivers.  The Indus, the Jhelum, the Chunals, the Ravi and the Sutlej.  Panch in Hindi mean five.  The five rivers, plus the dams and irrigation channels made this huge territory virtually the "Bread Basket" of India in the days of the British Raj.
Following independence in 1947, greater India was partitioned into Pakistan and India, called Bharat by the Orthodox Indians.  The Punjab or land of the five rivers was also partitioned – half going to Pakistan and half to Bharat, however Pakistan got the richest, most arable part with all the rivers flowing through it while India only got the upper portions of the rivers which were narrow and in hilly country and nothing of the Indus, the largest river.
As a result of dams and irrigation channels, the Punjab was no longer dependant on the monsoon rains.  Several crops of wheat per annum could be reaped.   William and Jim MILLETT (father and son) played a part in this agricultural revolution.  They lived sometimes in Rawal Pindi (a Military station, now in Pakistan) or in the town of Jhelum (on the banks of the river Jhelum) and sometimes in Lahore, the largest city in the Punjap (now Pakistan).
Jim was a Bridge Inspector for the P.N.S.R. in Attock.  He was promoted to many ranks from Bridge Inspector in 1884 to becoming Honorary Assistant Engineer & Senior Bridge Inspector for the North Western Railway in Lahoar in 1917, 1918 and 1919.
William James (Jim) MILLETT and Annie CLAY (nee PHILLIPS) had two daughters.  Helen Gladys Phillips MILLETT born 28 August 1884.  She was christened 8 October 1884 in West Bengal India and their 2nd daughter was Annie Lucille MILLETT born 9 December 1885.  She was christened 27 December the same  year.
These two girls were half sisters to William George Richard CLAY.
Helen Gladys Phillips MILLETT married Joseph BRANDON at Jullundur on 24 February 1904.  The witnesses were W. MILLETT, Arthur Sly ANDERSON and Stella Maud MILLETT.  Helen suffered from depression.
They had 3 daughters.
Eileen BRANDON born ????? and who married a doctor ??????.  Not sure if they had children.
Sheila BRANDON born ???? and married an American Oil Man.  She was an Air Hostess for KLM and hers was the first American wedding after the war.  They had no children of their own.  Sheila went to Europe and adopted 2 children and then went back to America.
Margaret (Peggy) BRANDON married ????? and went to Australia. When Helen Gladys died, Lucille adopted Peggy and her name became NOLDA.
Lucille MILLETT  married Ozzie NOLDA.  He was a pastor in the 7th Day Adventist Church.  She was known as Sister NOLDA and was a Missionary in India.  She gave out bibles to local people when she moved to Boscoppa,
St. Austel in Cornwall.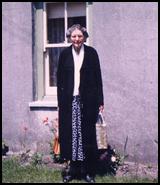 Lucille Nolda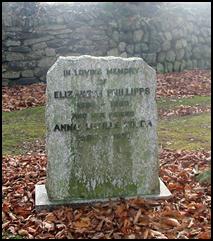 Lucille's aunt Elizabeth and uncle Phillip PHILLIPS lived  in the cottage which had a 2nd cottage attached to it called TY-VU She was    a diabetic and had very bad eye sight. Lucille died on 9 January 1981 aged 92 and is buried with her Aunt Elizabeth PHILLIPS who died in 1980 at Campsdown Cemetery in  Charleston, St. Austell.
Mr. Phillip PHILLIPS died on 28 August 1982 aged 86.
Grave stone of Elizabeth Phillips and Lucille Nolda               
On 12 August 1895, Annie MILLETT died in Jhelum of an Epileptic Seizure at the age of 34.  Now William G.R. CLAY was an orphan at the age of 15 so he continued to stay in Marazion with his PHILLIPS grandparents.  We have no idea why his CLAY grandparents in Mansfield had no influence in his life. Perhaps they did, but I have yet to find out.
Much of young William's life in Cornwall is not known.
William James MILLETT married his 2nd wife Stella Maud ANDERSON a spinster on 14 February 1900.  She was born on 20 September 1877 in Baroda, Madhya Pradesh, India.   
They had 3 daughters who were now Step sisters to William George  Richard CLAY.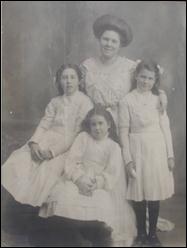 Stella Millett with Gwen, Mary & Phyllis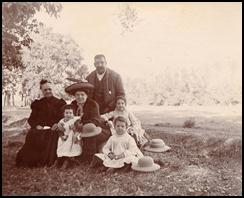 .

Stella & William Millett & daughters with her mother
During the 1891 census, I found William George Richard CLAY staying with his grandparents William and Ann PHILLIPS in Marazion.  He was 10 years old at the time and did his schooling in Penzance.  He had a Cornish accent and spoke and understood a little of the Indian language.  William again is seen in the 1901 census under the name William MILLETT at the age of 21. He returned to Cornwall after serving in the Anglo Boer War from South Africa just before the 1901 census and went to stay with his PHILLIPS grandparents in Marazion.   It is not yet known when he returned to South Africa where he was to make it his home.
This is William James MILLETT's grave in India: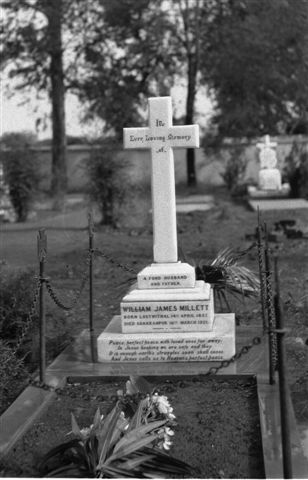 Details of W J M's burial are as follows: -
Ref Bengal N/1/451/303
Burial at the Govt Cemetery, Saharanpur (appears to be approximately 90 miles North north east of Delhi)
Died 16 Mar 1921; William James MILLETT; aged 63 years;
occ., Bridge Inspector NWR; buried 17 Mar 1921; cause - cancer.
Rev G F Buchanan, Chaplain.
In 1921, register of burials was kept at St Thomas's Church, Saharanpur
I have today located the burial details of Annie Millett!
Ref N/1/244/367 Burial at Jhelum
Died 12 Aug 1895 Annie Millett, 34 years; wife of W J Millett, Bridge Inspector of NWR. Buried 13 Aug 1895;
cause - epileptic seizure
J W Papworth, Minister & Chaplain of Jhelum.
(In 1895, Register of Burials said to be kept at the church or station of Jhelum within the Archdeaconry of Lahore)
105 miles N.N.W of Lahore.
June 2012
Dear Mr. Millett,

Your history of the Millett family in America is fascinating. I have
recently been digging into the Millett line of my family. (As another
person on your email page mentioned, "Millett" and "Appleton" have
become staple middle names among the more recent generations of my
family.) I have made it back as far as Daniel Appleton Millett, a
Denver businessman, and before Denver, an Arizona cattleman, and
before Arizona -- it appears -- a young banker from Chehalis,
Washington, and even before that, a student at the University of
Washington around the turn of the last century. I believe his people
may have gone west from Beloit, Wisconsin, but have not been able to
verify that.

It is my understanding that Daniel A. Millett married Ruth Garnett
Dickson (daughter of the Episcopal Rev. W.J. Dickson, of Chehalis, WA,
and surrounding areas), and by the time the couple landed in Denver,
they had several kids. One of those children was my grandmother, Ruth
Appleton Millett (not to be confused with the Nebraska Ruth Appleton
Millett).

Grandmother Ruth went on to marry my grandfather, Laurence Rumsey
Goodyear, of Buffalo, NY, where they settled, and their line of
Appleton/Millett/Rumsey/Goodyear has, since the 1930s, spread up and
down the East Coast and made forays into the West again.

However, I have yet to find anything definitive about Daniel Appleton
Millett's forebears and the link (if any) to your Milletts. I would
love to hear your thoughts on this!

All the best, Laurence G. Constable
FOLLOW-UP
Ruth Appleton Millett (marked #98 on your scanned page) was my
grandmother. She married into the Goodyear family of Buffalo, NY, and
raised her family there.

By the time my grandmother was starting her own family, both her line
of Milletts and the Goodyears she married into had gained some
affluence and prominence in their respective communities and beyond.
I find it very interesting to learn about the less talked about
history, for instance, the story of my grandmother's mother who was
the daughter of an Episcopal minister serving towns from the Puget
Sound into central Washington State at a time when that was truly the
"Wild West."
March 2014
Dear Family,
I finally succeeded in getting the footage of Helen and Karl's wedding day footage converted into a digital format.  The original footage was 8mm or 16mm film, that was transfered to Beta tape in the 1980's.
I recognize a few family faces in the shots, but I would love it if anyone can identify more people in the crowd.
Gregg and Kaila, I believe Dan Millett is featured in some of the wedding shots, and I believe he is our shared relative?
Thanks so much,
Best,
Matthew Karl Gale