Seven-Country, South-East Asia Friendship Mission Bike Trek
Seven-Member Team Led by Jin Fei Bao of Kunming (Yunnan), China
Eighty-Days, Five Thousand Miles
For more information and photographs go to -- Jesse's Blog & Dawey's Blog & Fei Bao's Website
To View Photo Videos of this Journey CLICK HERE
Tentative Route is shown below: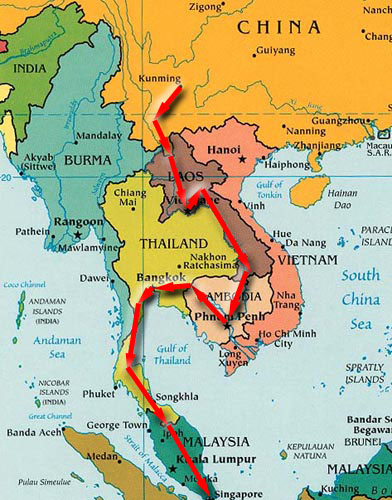 January 1, 2011 -- From the Kunming Daily Press
American, Jesse Millett. of New Lebanon, New York is invited to join the team.
American Young Man to be Kunming Mayor's Messenger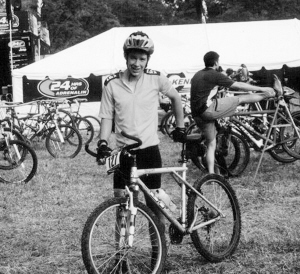 One rider is an American young fellow. One rider is a respected old man from Kunming. They both like to ride bicycles. They both adore the beautiful city of Kunming. They also both share the same desire: to become a messenger in the upcoming "Messengers of Friendship: Cycling Kunming - Southeast Asia, 2011" activity: American youth Jesse A Millett and Kunming native Song Chengkun.

Kunming is Jesse's second home.

"The people of Kunming have always been extremely welcoming. Every time I return to Kunming I feel as though I am returning home." Jesse A Millett says, Kunming really is his home away from home. "It is an honor to be part of the team that will deliver the Mayor of Kunming, Mr. Zhang Zulin's, letter's of friendship to the countries of Southeast Asia. My friendship with Kunming has grown to new heights and I look forward to delivering the kind words of Mr. Zhang Zulin to the wonderful countries of Southeast Asia." This is the young American lad Jesse's enrollment declaration.

In May, 2004, Jesse graduated with an Associates Degree from Simon's Rock College of Bard in literature. In 2006, he studied with the School for International Training in Kunming focusing on Chinese and ethnic minority cultures. Jesse is really interested in Chinese culture and the Chinese people and consequently has learned fluent Mandarin. "My Mandarin is almost as fluent as my English," he says. "I can also speak Spanish. When interacting with people of different cultural backgrounds, understanding and responding with ease is of utmost importance. As a messenger for Kunming, I believe my greatest strengths lie in my proven ability to freely communicate with people of different backgrounds."

Jesse already has valuable cycling experience having led adolescents on self-sustaining bike tours in America. He has also received extensive training in wilderness first aid and CPR. He says, "Besides being a remarkable foreign team member, I can also serve as the team's medical personnel."
Reporter, NiuShiYun (translated by Jesse Millett, who apologizes for some small exagerations in the story -- translation inflation!)
For the original story click on this link: http://times.clzg.cn/html/2010-12/30/content_177931.htm
January 8, 2011 -- So we depart tomorrow, and it seems as though the trip still hasn't quite materialized (at least not in my mind)!
In total we have seven (maybe eight) members: Our fearless leader, Jin Fei Bao, his brother Fei Biao, the team coordinator Xiao Feng, two reporters, an Austrian, David Hiebaum and myself. The eighth member of our team might be a representative from one of our sponsors, Fudian Bank, and another member, Fei Xuan, a Kunming geologist, might join up with us along the way.
Some of the members had a day of training, unfortunately I couldn't make it because I was being interviewed by www.gokunming.com. I'm not worried though, because our fearless leader hasn't even touched his bike yet! Haha! Fei Bao has spent the last week, constantly in meetings, either advising clients or searching for sponsors. I have seen everybody from architects, real estate companies, interior design companies and even an opera singer come and seek advise from the world explorer.
So tomorrow morning we will meet at our designated location to receive the letters of friendship from the Mayor of Kunming, Mr. Zhang Zulin. Afterwords we set off and a number of supporters will ride with us for a bit on the first day, including the Mayor himself!
Wish us luck! Jesse

And posted on the SOLO website --I recently attended the SOLO Wilderness First Responder class at Hulbert Outdoor Center and was unaware of how influential it would be. I have always loved being in the backcountry, whether it be to mountain bike, snowboard, climb or just to hike. I have extensive experience in the outdoors, but what I was lacking was some serious knowledge of wilderness first aid and rescue. Taking the SOLO WFR class has given me just that. The 9-day, 80-hour intensive course provided enough information and balance of in-class lectures and extensive hands-on practice and live scenarios. Though I had little medical background when I began the course, I emerged confident in my abilities to help and possibly rescue an incapacitated fellow backcountryenthusiast. Now I have entered into a different mindset when I am in the outdoors; one that is not only more aware of the potential consequences of my activities, but also one that is more confident about dealing with any emergencies if they should arise.

With this valuable experience, I am now embarking on an incredible journey– I will be cycling with a Chinese group from China to Singapore, passing through six other countries. Our trip has two main purposes: the first is to promote friendship ties between the countries of Southeast Asia and China, and of course the US; the second is to raise awareness of environmental concerns in the area and promote sustainable practices. With my newly acquired WFR certification, I am much more concerned with the welfare of my group and am hopeful that we will arrive safely with few problems. If something were to happen, SOLO has given me the confidence to safely aid my team members. The Kunming Daily Press has even gone as far as to name me the cycling team's medic!
January 9, 2011 -- And they're off! Report from Kunming
The starting ceremony for "2011 Kunming – Southeast Asia Bicycling: Messengers of Friendship" has being held successfully on January 9th. The ceremony was held at prompt 9:00 AM; the Kuming Mayor Mr. Zhang Zulin attended the ceremony and made a speech, talking about the mission of this event, and the goodwill to establish good relationships with passing cities. Of course, many Medias reports and Feibao's fans attended the ceremony as usual.
After the speech of the mayor, the president of FuDian Bank, Kunming Branch and the manager of JiaYuan Decoration Company (both of them are established corporations in Yunnan) made the speech respectively. After that, the Mayor Mr. Zhang Zulin handed over friendly letters to the team leader Mr. Jin Feibao, and encouraged the team to finish the mission safely and successfully. Feibao introduced the event details, the total distance is more than 7100kilometers, and the estimated time is 70 to 80 days. He said that "Though we know the hardship of the journey, it's a great test for all members to ride such a long distance, but we will live up to the expectations of our mayor, all Kunming citizens and all people who pay attention to us".
Finally the Mayor sent off the team for Laos, Cambodia, Thailand, Myanmar, Malaysia and Singapore by riding the bicycle. With all people's wishes and hopes, the team set off for their first station Yu Xi of Yunnan Province following the lead of famous explorer Jin Feibao.
During their bicycling journey, they will record the rich tourism resources and local customs of these countries, by writing down the beautiful sceneries and taking interesting photos. So let's wait for their fascinating records.
Best Wishes, Jin Feibao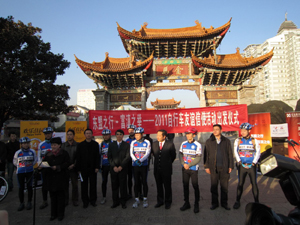 __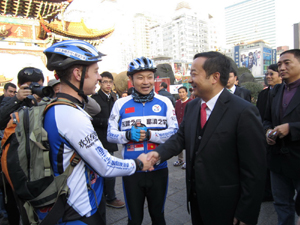 __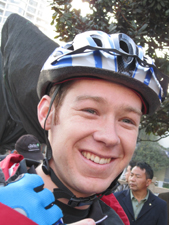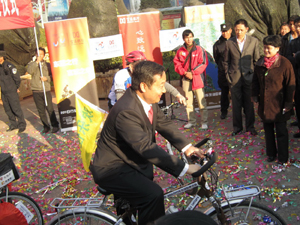 __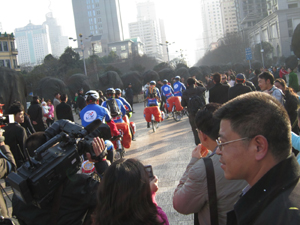 Farewell ceremony; Kunming Mayor Zhang Zulin wishes "be safe and successful;" Jesse Millett ready to go; the Mayor starts the trek; and they're off!
January 12, 2011 -- A great start and then the going gets a bit rough.
The two days leading up to our trip in Kunming were beautiful and even departing the city on the 9th the weather was gorgeous, probably peaking around 70 degrees. We had a great morning ceremony were the Mayor of Kunming sent us off and there were plenty of journalists, photographers, and interviews. The first morning we had plenty of supporters who accompanied us till lunch including some good friends from www.gokunming.com who are reporting our adventures as well. After that we were on our own and maybe for the best, as the road conditions and the weather turned to the worst.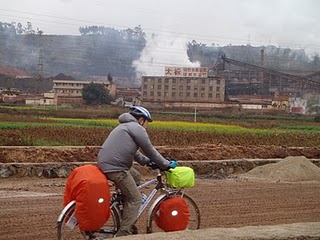 __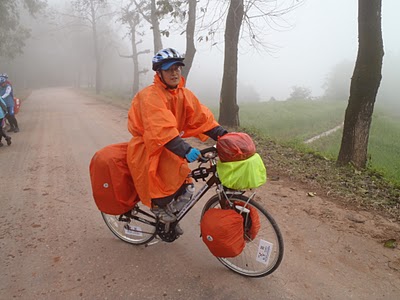 __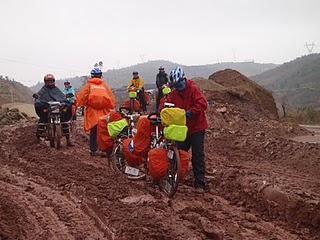 -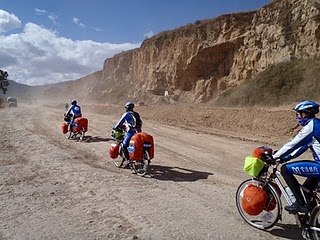 January 16, 2011 -- Into southeast Yunnan -- wine, coffee, tobacco, cabbage, mushrooms ...
After our big Day Four, we had a nice rest day in Mojiang, where we toured the local rice wine factory "Pure Yunnan "wine" and had a photo shoot at the Tropic of Cancer. It was a well needed rest, as the day before was brutal and the days before were just the same. Over the last three days of cycling, we have slowed the pace a bit, as the hills have been relentless. Today we have arrived in the famous city of Pu'er, and of course sampled their famous tea. Even more so, though, we sampled the local rice wine, as we seem to do every night! I'm not complaining, because every night from Mojiang to here we have been received by friends who have treated us to great meals, warm hotels, and today even a full body massage! The only down side of seeing friends every night (besides the slow morning recovery), is they keep giving us gifts to deliver to Southeast Asia and I already have enough weight as it is!
Still the rides have been amazing, with incredible views of the countryside and very personal interactions with the locals. Though we have had some really tough climbs, it makes it all worth it when a ten year old boy yells from the side of the road "Helloooo!"
The last three days we averaged about 80 kilometers a day, which isn't bad considering the mountains we are crossing. From Mojiang we biked to Tong Guan where we were met by the local Mayor. From Tong Guan we had a great cycle to Ning'er, and today we had a milder trek from Ning'er to Pu'er. There have been some incredible climbs, but even better descents, as long as it isn't raining, foggy, or covered with trucks (very rare to so far to not have at least one of these!)
Here are some more photos of our trip. I can't emphasize enough how we are riding through the heart of China. Once you leave the hustle and bustle of the cities you really begin to understand where it all comes from. Between the factories and the immense amount of agriculture, from coffee to tobacco, cabbage to mushrooms, we've passed it all.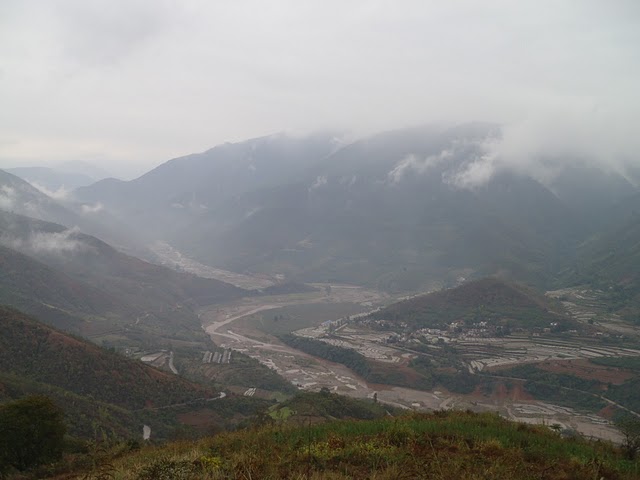 -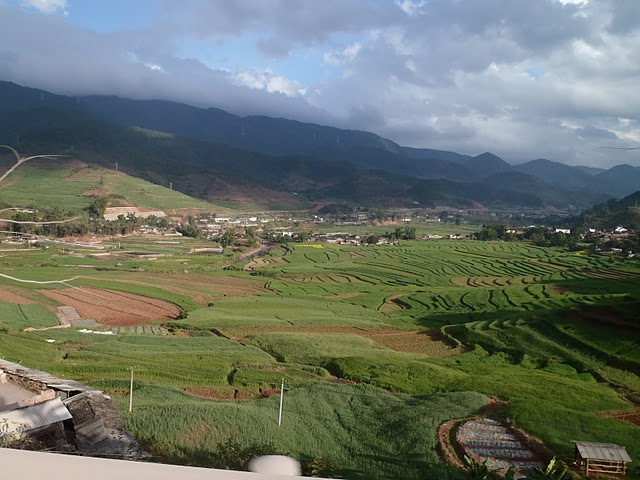 -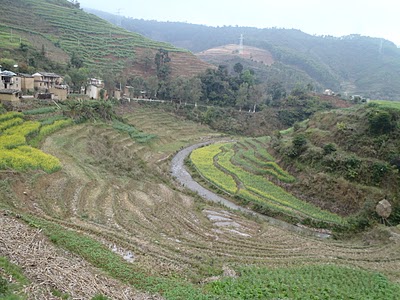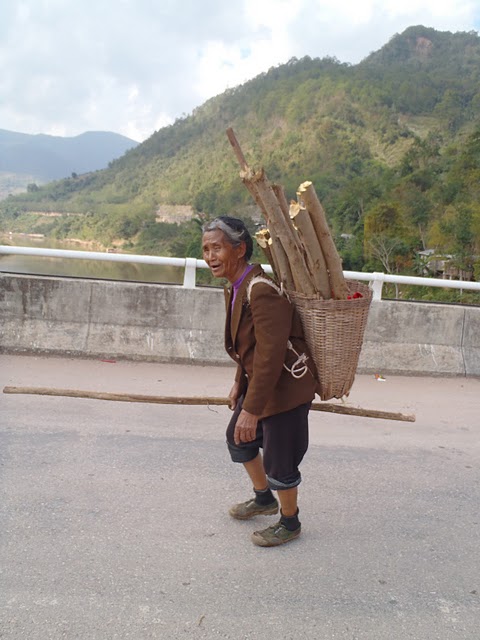 -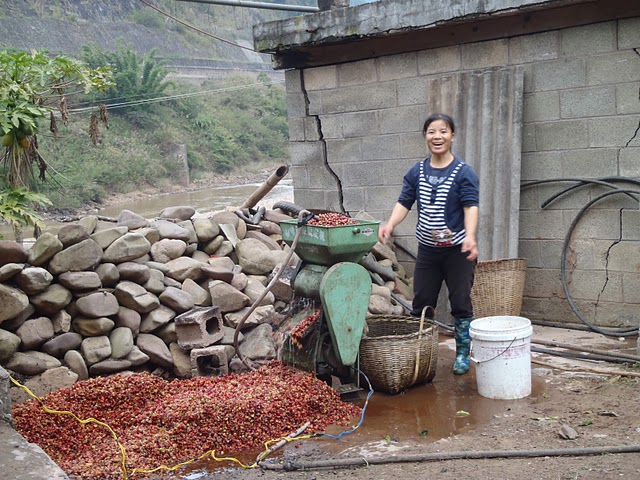 -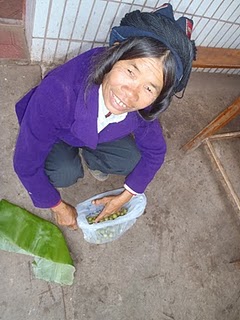 January 24, 2011 -- Xishaungbanna, Pu'er, Accident! and Third Day in Laos
Today we descended from tea country to the tropics of Xishaungbanna. The valleys began to be covered with banana trees, and signs everywhere warned us of wild elephants. The weather changed significantly too, as the clouds lifted (well I guess it was us that descended), the sun came out, and the temperature rose significantly. We arrived in Jinghong, the capital of Xishuangbanna, Wednesday, ten days after we started, to a mass of photographers and journalists on the bridge over the Mekong River. The next few days we will stay in Jinghong to bask in the nice weather, rest our muscles, but more importantly satisfy the influx of journalist, as well as entertain our main sponsors the Fudian Bank and the Happy Home's Interior Design Company.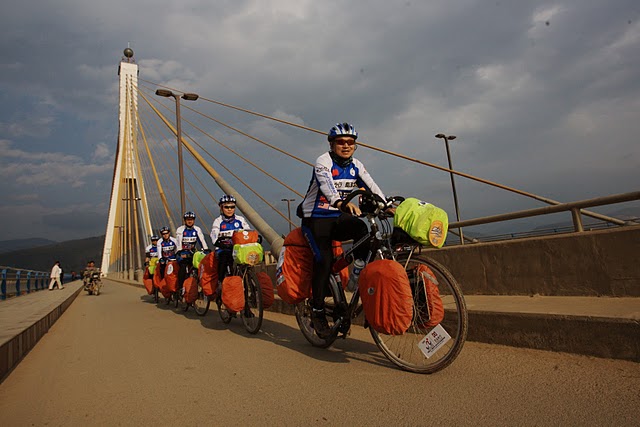 __
It took two days from Pu'er to Jinghong, and the night in between we stayed in a lively little town on top of a mountain called Dadugang. The scenery was spectacular, even though it has been continuously foggy and rainy since we left Kunming. Pu'er is famous for its black tea and the mountains surrounding the area are covered with terraced tea trees. Surprisingly, many of the mountainsides were mixed with tea and coffee trees, another specialty of Yunnan, but unfortunately very hard to find a place to drink it here as it is almost all exported.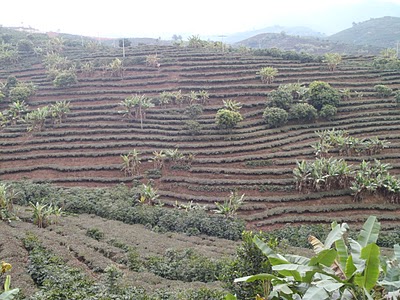 The road out of Pu'er was slick, and unfortunately Jin Fei Biao, Fei Bao's 50 year old brother, fell hard on a descent and seriously injured his shoulder. He continued riding for about 20 kilometers but at lunch we put him on a mini-bus to Jinghong to see the doctor, and by night fall he was on a plane back to Kunming for surgery. We already miss him dearly and hopefully he can rejoin us in a months time once everything is properly healed.
We are on our third day in Laos and I'm loving every minute of it! Just setting out now south of Oudomxai, in Northern Laos. David had the Internet all night so you can read more on his blog, or Fei Bao's blog (in Chinese, but click on the post titles to see more photos) or more from my trip in China at Gokunming.com.
Love to everyone, and peace from the Southeast!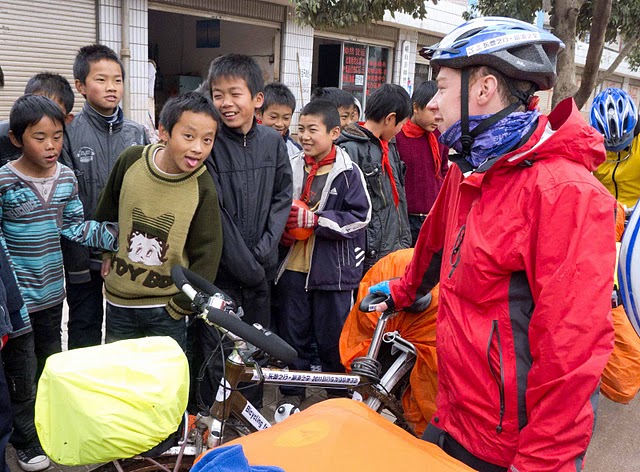 "Hello" -- "Hellooo"
January 29, 2011 -- From Fei Bao's Kunming Office: "Hot news about Feibao, Jesse and the team"

The six messengers of the bicycling team have handed the Kunming Mayor's first friendly letter over to officials of the Foreign Affairs Office of Luang Prabang Province, The Lao PeoPle's Democratic Republic, at 9 o'clock, January 27 in local time.
Several officials of the Foreign Affairs Office of Luang Prabang Province waited for the team after getting the news of the arrival, and warmly welcomed the visit of messengers. The team leader Mr. Jin Feibao handed friendly letters of the Kunming Mayor Mr. Zhang Zulin and the governor of Xishuangbanna Dai Autonomous Prefecture over to the general of the Foreign Affairs Office of Luang Prabang, Mr. Sounthone Pannavongsa, and then transferred the friendly greetings of Mr. Zhang Zulin and kunming citizens to Luang Prabang. The general welcomed the visit of the messengers on behalf of the Luang Prabang province and the citizens.
January 29, 2011 -- Update from Jesse Millett -- Jinghong, China to Luang Probang, Laos and our first exchange of friendship letters

We had a great two days in Jinghong, resting our legs and our sore butts, and refueling with lots of spicy Dai style food and Beer Lao. We were even lucky enough to receive a blessing from one of the head Buddhist monks at a Southeast Asian style temple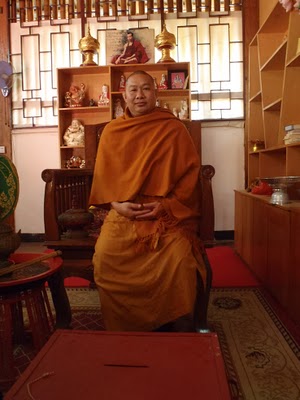 In Jinghong the governor of Xishuangbanna Prefecture also presented us with some friendship letters to transfer on our journey as Xishuangbanna is the hub between Southeast Asia and the rest of China.
The road from Jinghong was awesome. A newly built highway that runs all the way to the border, cutting right through the mountains and over the deep valleys. The scenery was gorgeous, but unfortunately 90% of the forests have been clear-cut and replaced with massive rubber tree forests.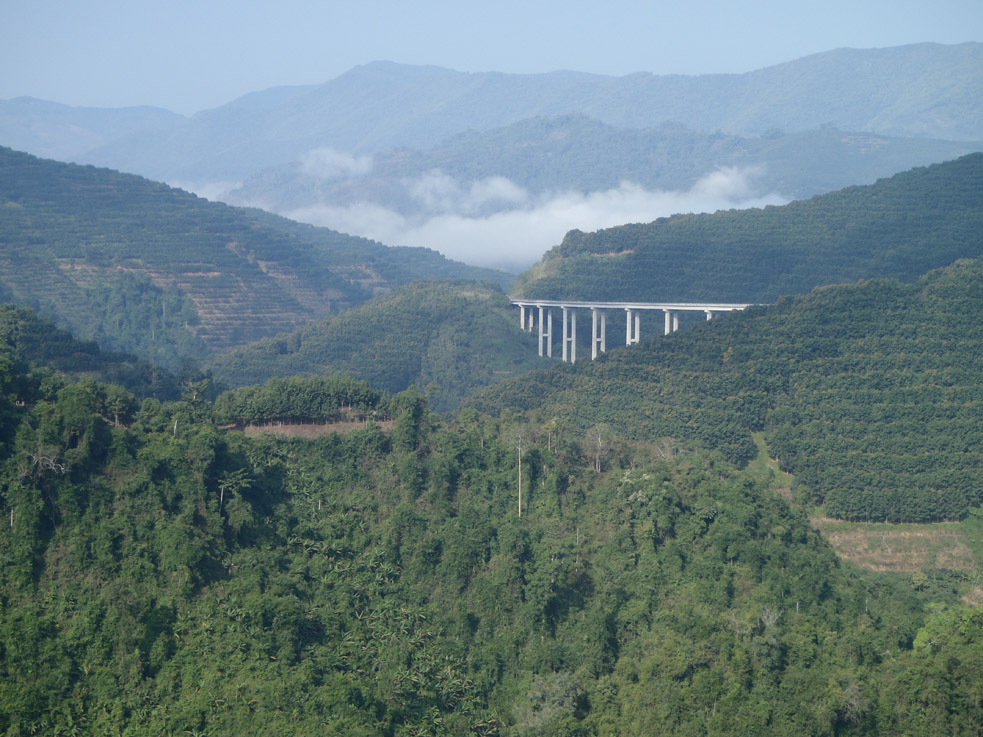 We took three days to reach the border of Laos, and both nights we stayed in some beautiful parks and natural reserves. The first night we stayed in China's largest botanical garden and Science Academy. After a lovely tour of the garden, a meeting was set up between the leading academics, the park officials, and us to discuss the purpose of our trip and the content of our environmental message, as well as seek advise from Fei Bao on how to better market the park so that environmental conservation promoted throughout China.

The next day we stayed at a wonderful tropical rainforest preserve containing both the largest trees in China, as well the highest canopy walk in the world. The park was very pristine, and also filled with loads of entertainment including: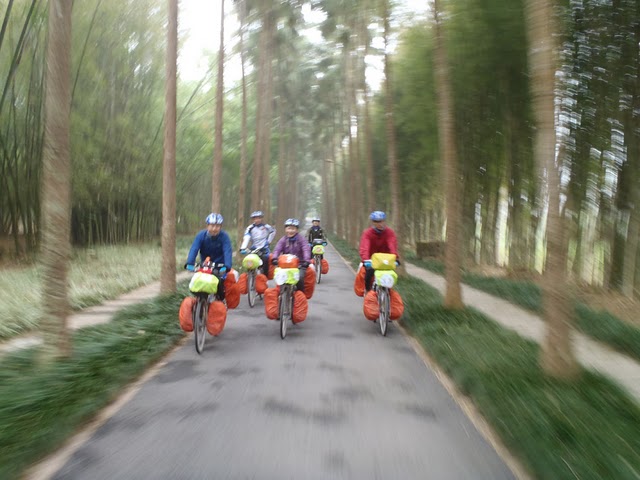 Fei Bao cycling the highest canopy walk in the world. A new world record?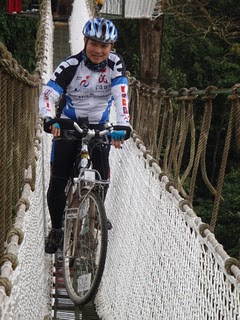 After three days of traveling in Xishuangbanna, we finally arrived at the border with Laos and I can't tell you how relieved I was to leave the chaos of China behind, especially the constant presence of reporters, and enter into a completely different world. Lao style of life is still totally uninfluenced by the West and as soon as we left the border town that became quite clear. Children playing naked in the streets, adults showering in public and no Internet anywhere within miles. Our group was lost without access to the outside world, but at the same time totally in awe.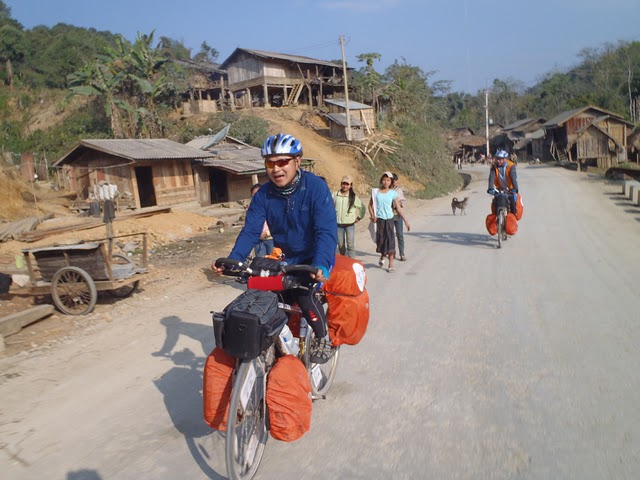 It took three plus days to get to Luang probang from the border, but we have enjoyed it all, even all the mountains in between. The scenery was spectacular and the outgoing friendliness of the local people is inspiring. Every person we saw greeted us with a "Sabaidee!" Lao for hello, and many children would run with us for a little while laughing and waving.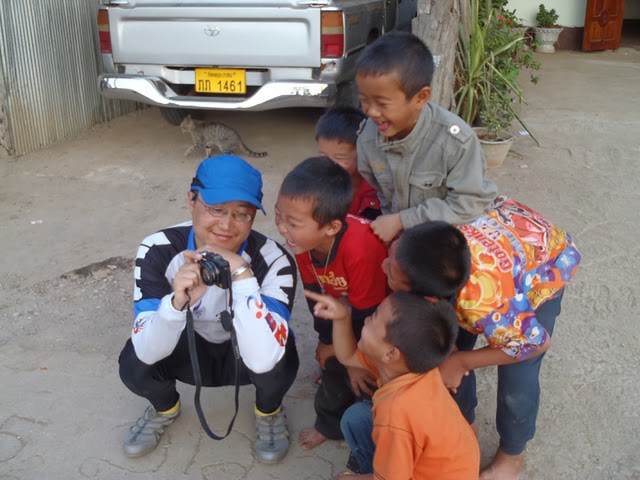 Images of the people and life in Laos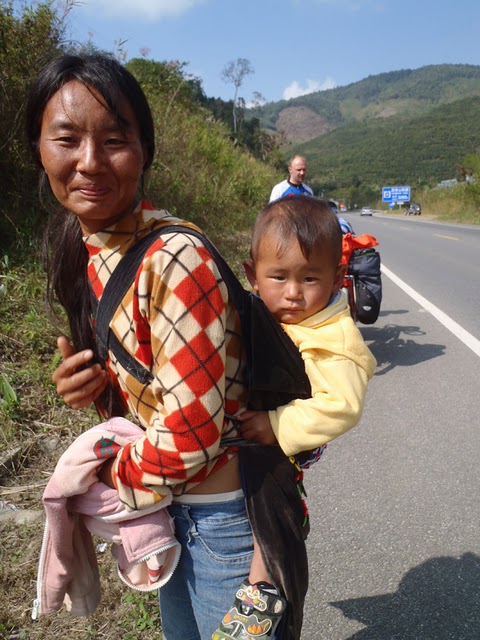 __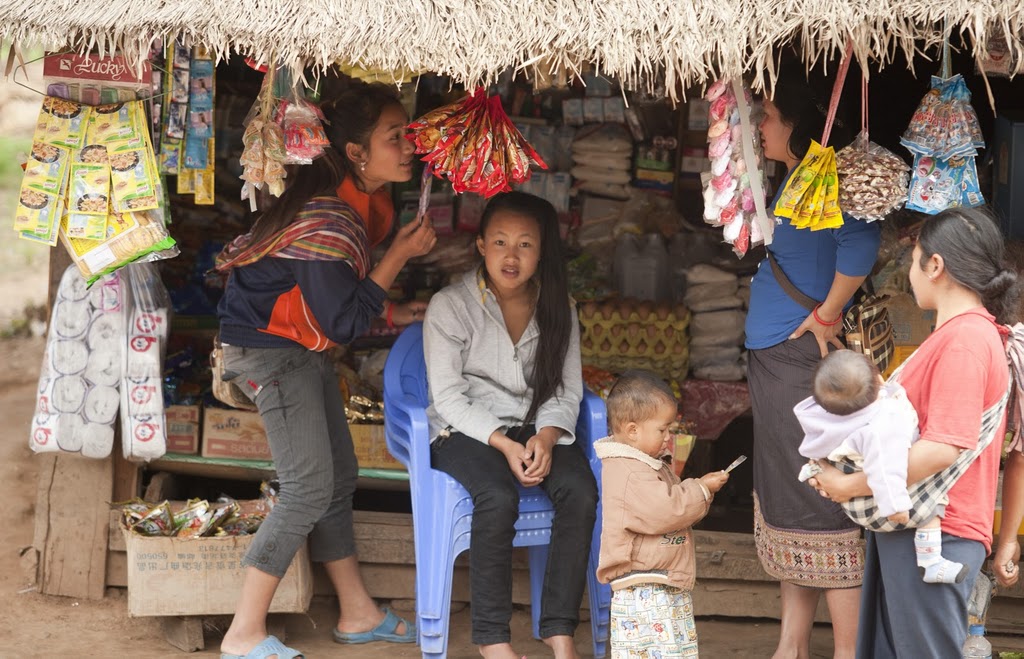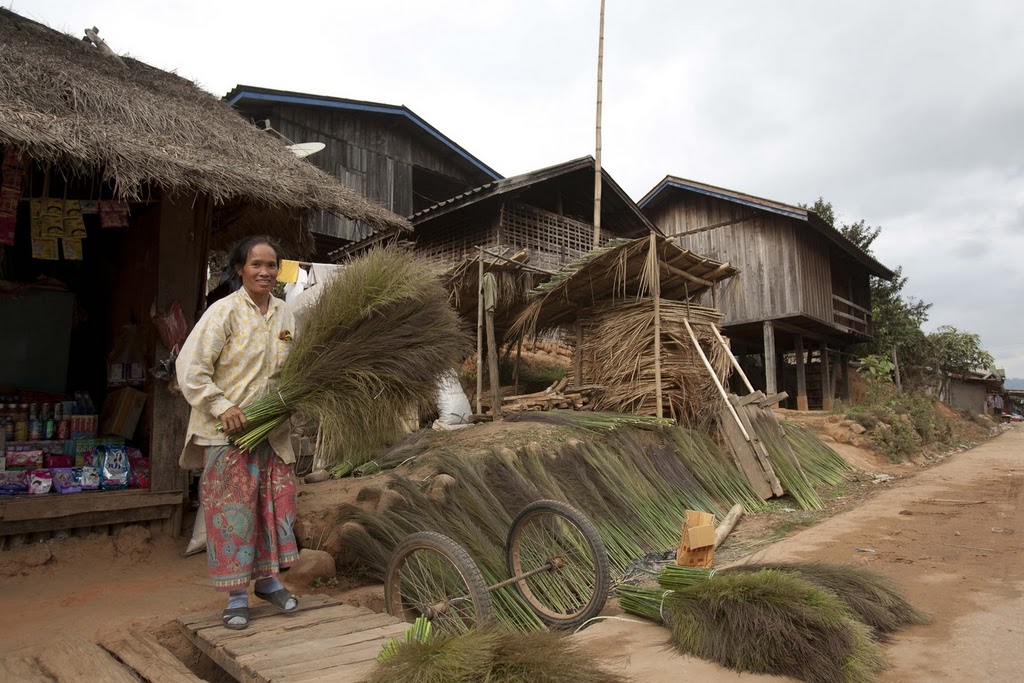 And today we exchanged our first friendship letters to the office of Foreign Affairs in the World Heritage Site of Luang Probang.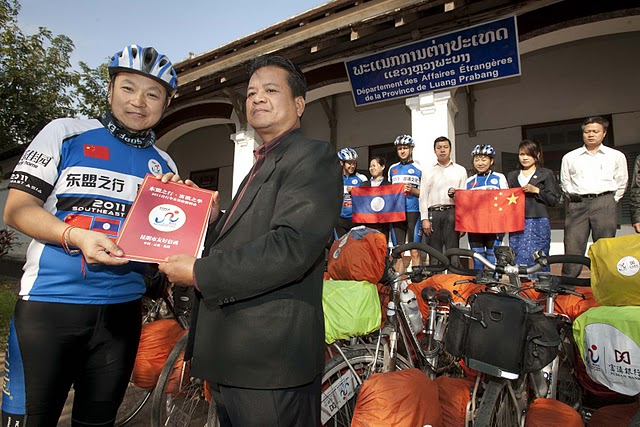 January 30, 2011 -- Longest Day Yet!
We cycled from Vientiane, the Capitol of Laos, to Pakxan today, totaling 150 kilometers, our longest day yet. It was a flat day and we all stayed close together to save energy, but my legs are still pretty sore. I'm enjoying a cold Beer Lao now after a filling dinner of sticky rice, steamed fish, shrimp stir-fry and scrambled eggs and tomatoes. Our hotel is just next to the Mekong River, and across the river is Thailand.
Peace, from the Southeast!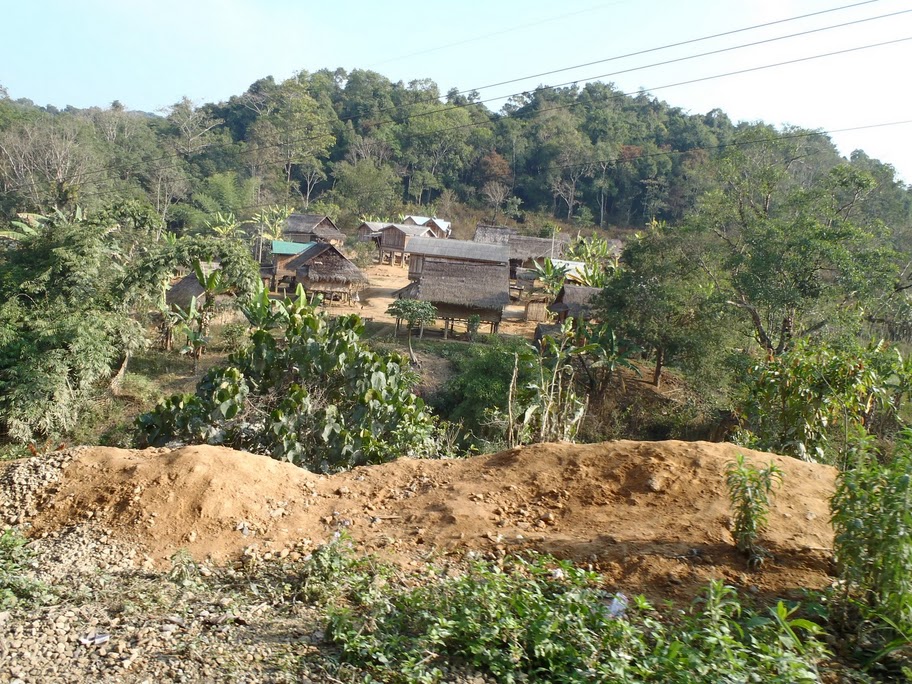 __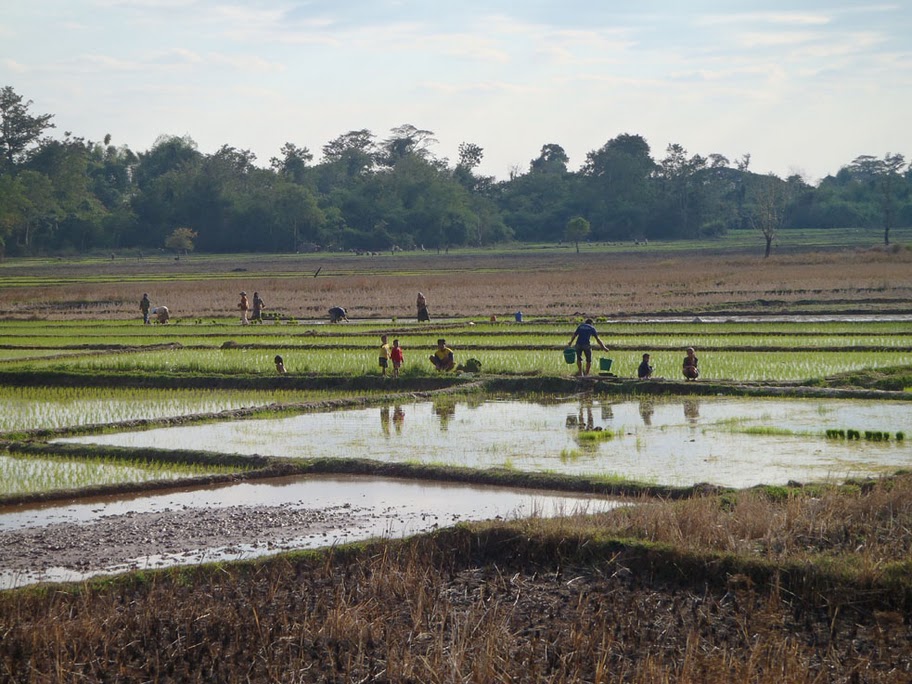 February 3, 2011 -- Cycling to the Chinese New Year!
In Vientiane we delivered our second friendship letter and were received with great hospitality. The streets were cleared and we were escorted by motorcycle police everywhere we went! It was pretty incredible, as everybody was waving and honking, even though they had no idea what we were doing. Still every time we stopped, people would come up and ask about our trip, and even if they only spoke Lao, we could still get the message across with basic words and the maps of each country posted on our jerseys. It's the best feeling when you really connect with people and see the expression on their faces.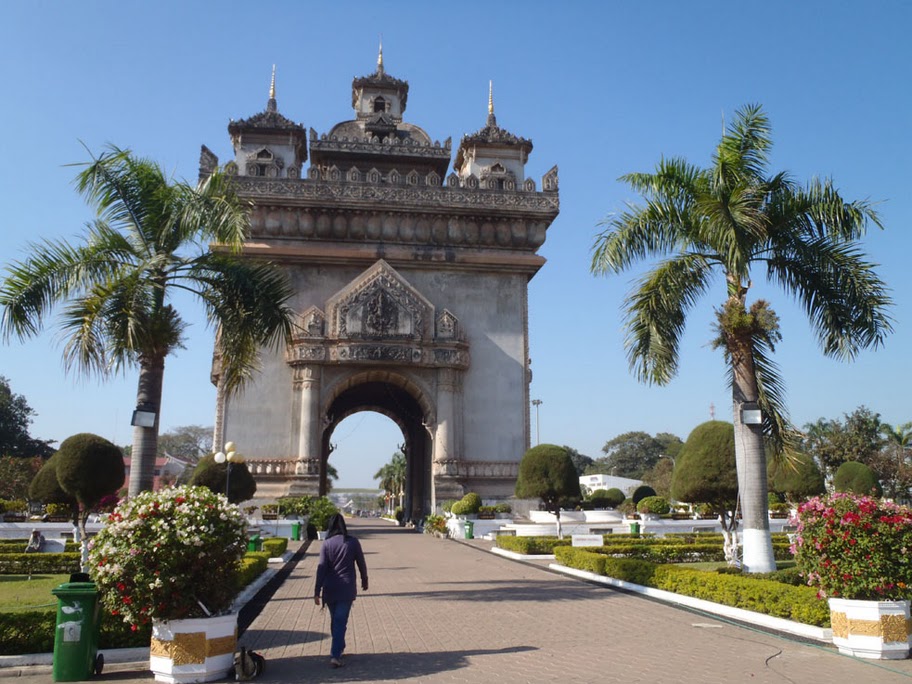 __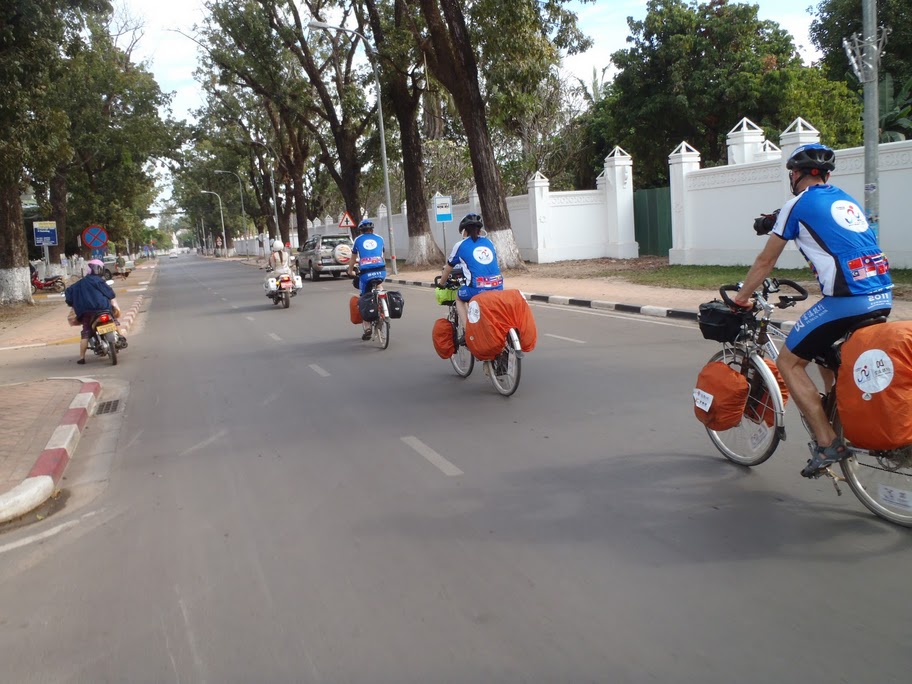 Nevertheless it was nice to get back out into the open country the next day where our real popularity is. I can't even count the adults, who when they see us coming, they quickly alert the children who stop whatever they are doing and run towards the street waving and shouting. The adults are just as fascinated, just maybe not as motivated. Seeing their smiles and laughs (sometimes maybe in jest, but nevertheless, lightening their daily life), is plenty of motivation to keep our spirits up throughout our long days.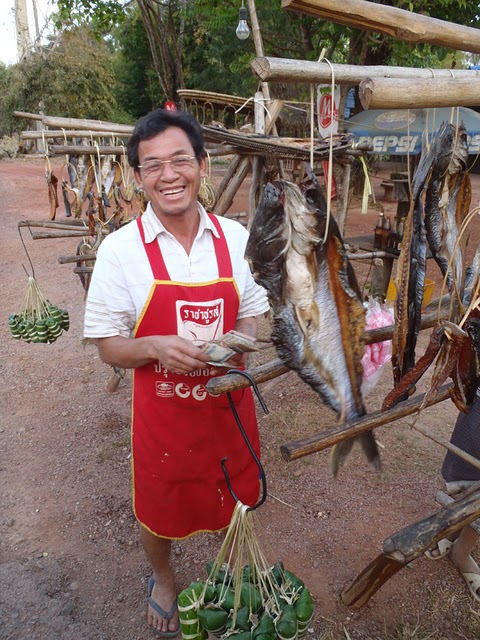 __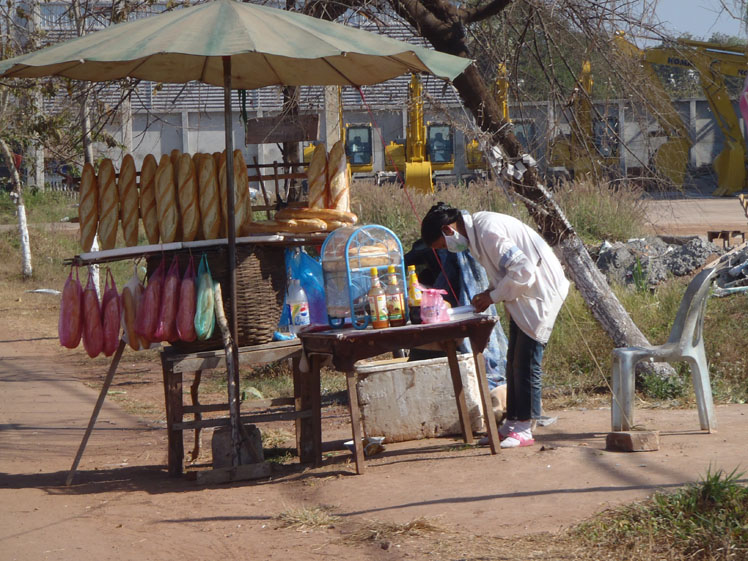 __
So in the last four days we have covered some serious ground, totaling almost 500km. We arrived in Savannakhet yesterday, beat from the scorching sun and long days, but happy to have arrived in the beautiful, yet still quite remote city to spend the most important Chinese holiday, Spring Festival. Even though Laos celebrates their own new year in April, there were still some minor celebrations around, as Vietnamese and Chinese influences are quite prevalent, and we finally broke out the bottle of rice wine I had been carrying since Yunnan! So from the banks of the Mekong River: Happy Chinese New Year! (below -- the team is getting water from a local well and Jesse is showing Fei Bao how to use the SteriPen).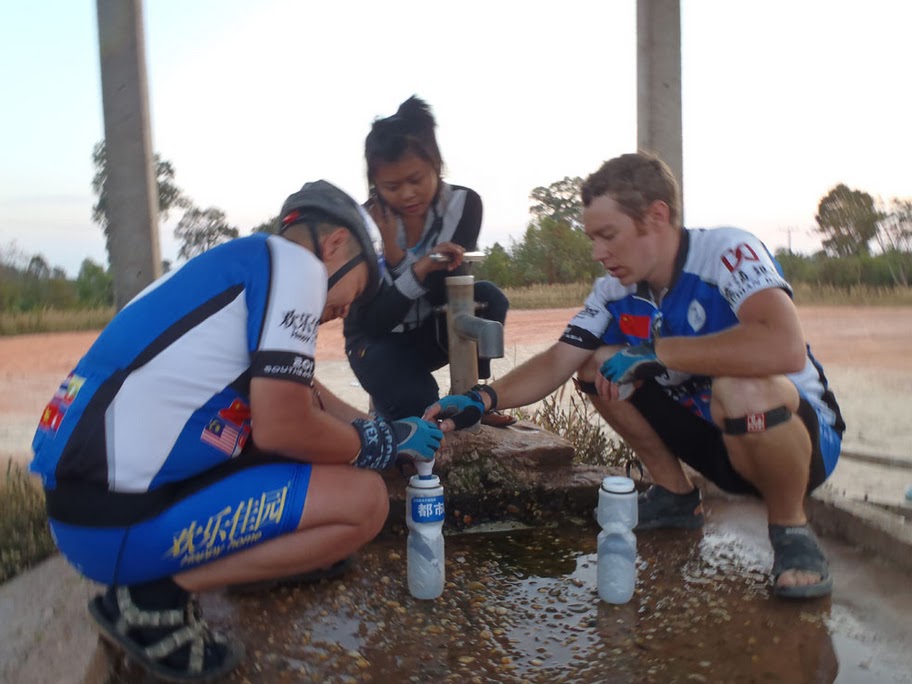 __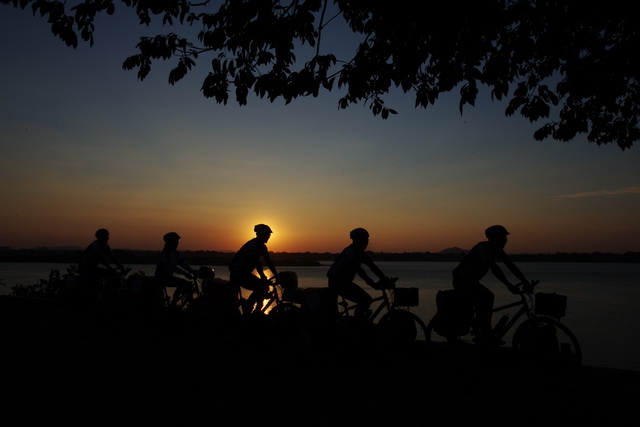 February 9, 2011 -- Laos on Bicycle -- Sustainable, Ethical and Culturally Friendly
There is no better way to travel Laos, than by bicycle. It is convenient, affordable, healthy, but most importantly environmentally and culturally friendly. We cycled from the Chinese border at the Nam Ha National Forest Preserve in the north to the Cambodian border at the Mekong River's 4000 Islands in the south, totaling over 1500 kilometers. This experience has left a lasting impression on me, not only because of the incredibly rich and friendly culture, but also because of the convenient and sustainable nature of cycling.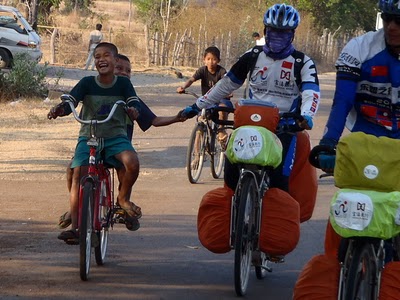 __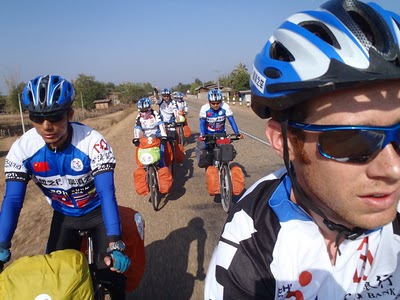 __
Highway 13 runs the entire way, and except for a few small sections (one or two days) in the north, it is in exceptional condition, with very little traffic. Car and truck drivers alike are friendly and polite, slowing down and giving you plenty of room as they pass. They even often wave and honk; not the "get the hell out of my way before I run you over" honk that we got all through China, but an encouraging and friendly "hello" honk.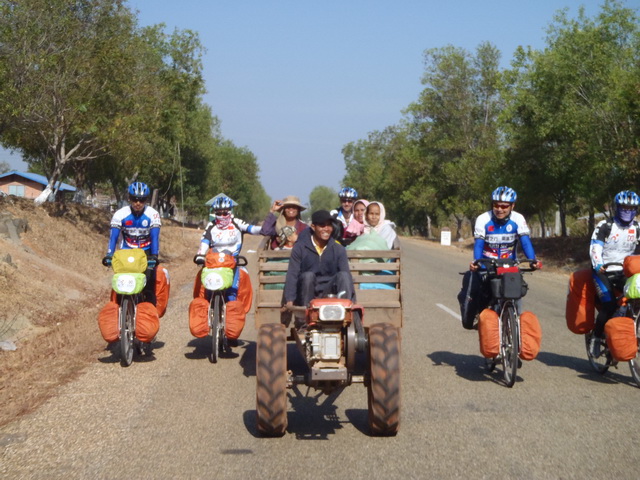 __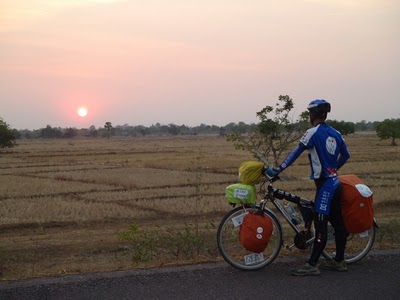 The friendliness resonates throughout the entire country. As soon as you cross the border from China you can see an immediate change. It is clear that Laos is a very poor country, but that their spirits must be of the richest in the world. Children stop whatever they are doing to run out and greet you with an ambitious wave and shout "Sabaidi!" It is not uncommon for an entire school yard to clear out to slap your hand as you pass by and quickly practice any English words that they know: "Sabaidi! Thank you!"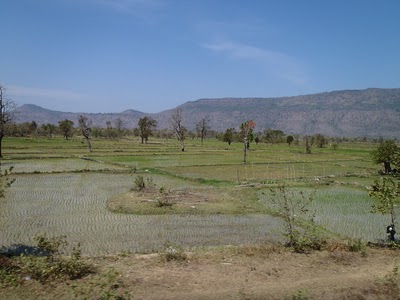 __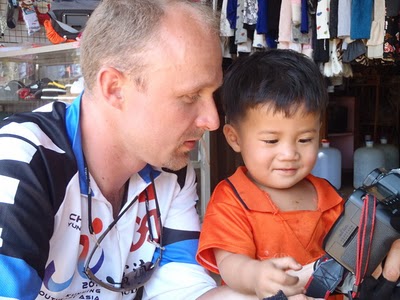 We were met with this friendly and hospitable nature everywhere we went in Laos. From north to south, there were always services every few kilometers welcoming us in, and we never had a problem finding a place for lunch around noon, or a guesthouse in the evening. On top of this we were always welcomed in with open arms and gracious hospitality.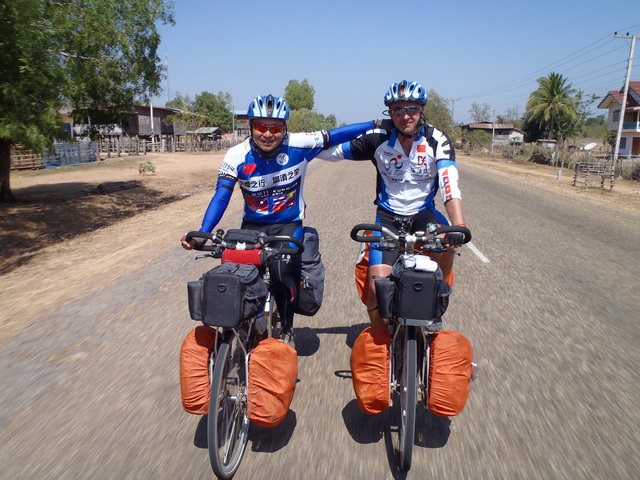 Finally, cycling allows you to really experience and respect Lao culture and their environment. Rushing though on bus from one city to the next, from one tourist destination to the next, you never really get the time to enjoy it all and experience the true culture and pristine environment. The Lao lifestyle is much slower than Western culture, so take it slow, take it in, and give yourself the opportunity to genuinely support cultural exchanges. On a bicycle Laos will leave you with a lasting impression of peacefulness and friendship, while you leave nothing else but your cultural exchanges and smile.
February 12, 2011 -- "Network" Updates
From Robert Burch in Montreal:
Hi Gregg,

I just got a phone call from my little daughter Saren in Cambodia. She tells me that Fei Bao and the team arrived there (Siem Reap) last night and will stay a few days to visit the temples. Today they are at the main temple complex of Angkor Wat, Bayon and the Leopard Terrace. Saren says Fei Bao is always smiling. She will take them to Ta Phrom (my favourite temple) which is the one I gave you a photo of some years ago.

Best regards, Bob


And From Cherry (Fei Bao's interpreter in Kunming):
The six messengers of friendship have arrived at Savannakhet, Laos after over 2000 kilometers cycling. During their cycling journey, they set following interesting records:1. The quickest climbing speed: When climbing the Hua Nian Slope in Eshan Yi Nationality Autonomous County of YuXi Prefecture, they climbed 900 meters and cycled about 30 kilometers within 4 hours. When they finally arrived at the top of the slope, they felt their buttocks were no longer a part of their bodies.2. The slowest climbing speed: they had to climb a long and steep slope before arriving at DaDuGang, their speed once was as slow as just 5 kilometers per hour, which is almost same as the speed of walking.3. The fastest cycling speed: In the continuous descending slope from XiShuangBanNa to Meng La, their fastest cycling speed reached to 68 kilometers per hour, and they overtook many trucks and motorbikes.4. The longest cycling distance in a single day: They cycled 152 kilometers from Vietiane, Laos to Paksane. After checking into the hotel, they have to use the handrail for going upstairs.5. The longest cycling distance at night: During their journey from Muong Say, Laos to Bamoun, the continuous upslope is nearly 40 kilometers. It is already dark when they arrived at mountain pass, but they cycled 28 kilometers at night in the remote mountain areas in order to accommodate in Bamoun County, finally they arrived there at 21 o'clock.6. The fastest average speed: It's a wide

expanse

of

flat

land from RongKang to DaTaQu, and it is a rarely cloudy day, so they cycled 32 kilometers in the speed 29 kilometers per hour, and left many agricultural-oriented tractors behind them. 7. Each team member needs 5 liters fresh water, cycles 9 hours (including the rest time) each day, and take 3 meals and 2 lunches, because they usually feel hungry after riding 20 kilometers. So this is the reason why they rode 2000 kilometers and haven't achieved the goal of losing weight.It's still 5100 kilometers before arriving at Singapore, so all messengers have confidence to set new records and refresh existing records.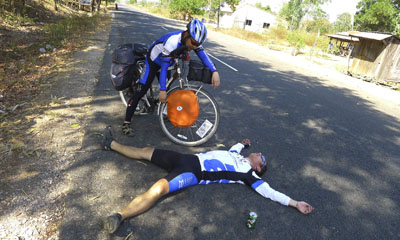 __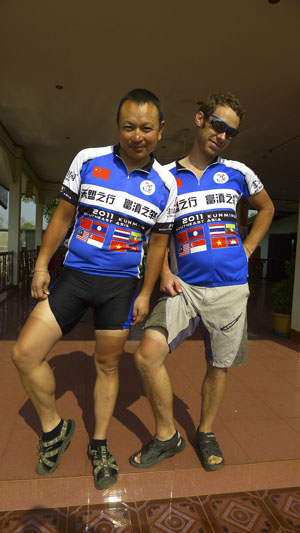 February 18, 2011 -- Cambodia: Exchanging Peace
We only spent about ten days in Cambodia, but it left an unforgettable impression. The roads were in good shape, the sun was always out,and we were always met with smiles. The toughest times came when we would cycle for an hour or so and not see a single person, only dried, burnt rice fields and the seldom home left abandon.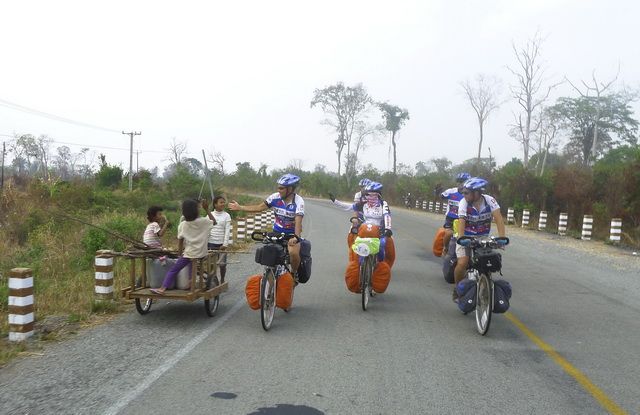 Though we are a team of six we often find ourselves cycling in solitude, and it leaves me with no choice but to ponder, in this case over Cambodia's turbulent history. Cambodia has seen its share of war. Since early times, they were always threatened by their neighbors, Thailand and Vietnam, and were constantly fighting over land. In the 1863, the French colonialists came to offer their protection in exchange for completely taking advantage of the country and it's people for almost 100 years. The Khmer (the major ethnicgroup of Cambodia) finally revolted, only to be bombarded by the American imperialists for four year during the Vietnam War. And then, in the 1970s, as arguably a result of the bombing campaign, they began fighting themselves, when Pol Pot and the Khmer Rouge murdered a quarter of the population, through slave labor, starvation, and mass executions. Cycling through the desolate northern part of Cambodia, I could only imagine what had happened here in the past. For an indepth insight on modern Cambodian history, check out Elizabeth Becker's book, When the War Was Over: Cambodia and the Khmer Rouge Revolution.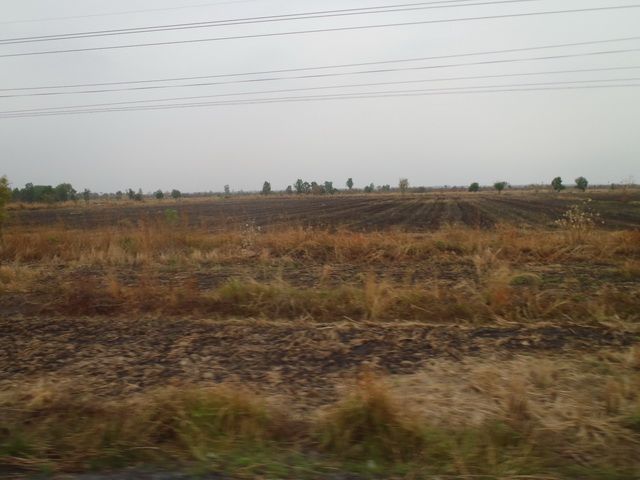 __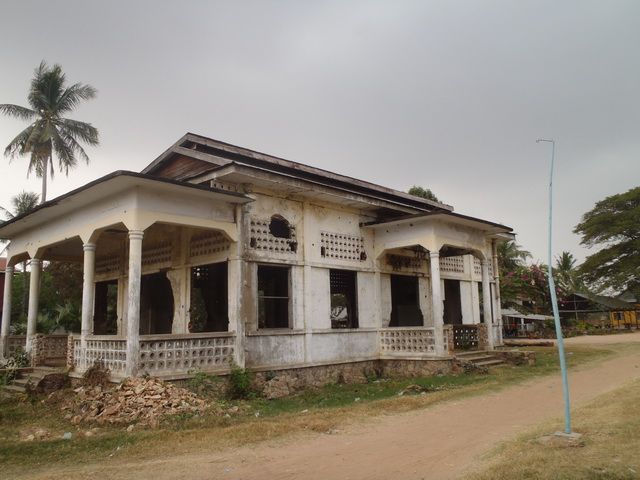 Nevertheless, we felt very welcomed in Cambodia, as everyonewas very curious and enthusiastic about our trip. People would proudly invite us into their homes and temples to show us how they are getting along. Even though they were incredibly friendly and always smiling, I could sense that there lives were still very troublesome. It was very often that we saw people missing limbs, and orphanages are common in every town. We were lucky enough to visit one orphanage in Siem Reap. The founder was an orphan himself and he started the orphanage to give kids a place to stay and an opportunity to study. At the orphanage, the founder provides English classes, as well as basic needs, and is committed to sending them to public schools no matter the costs.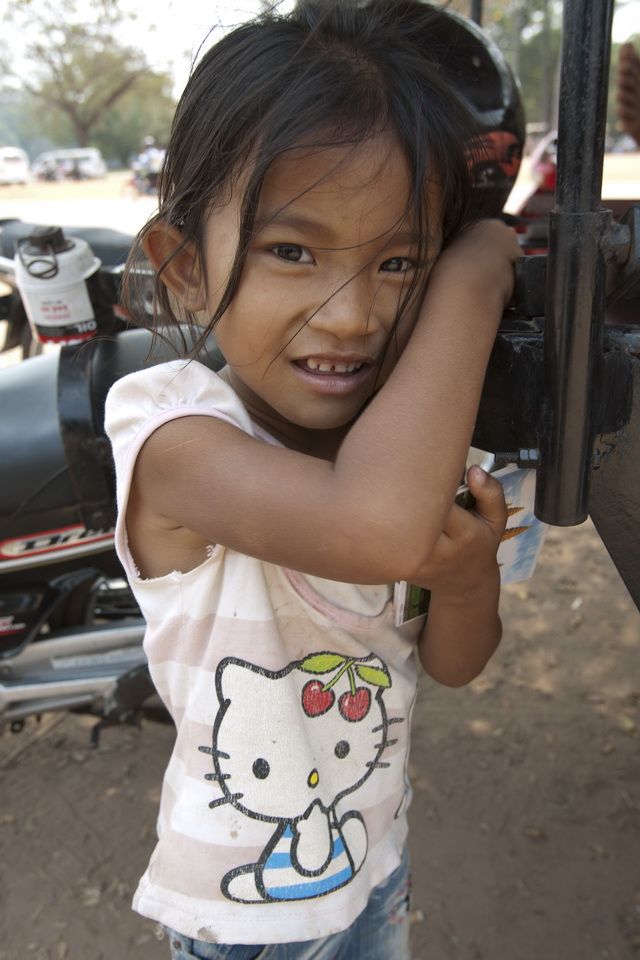 __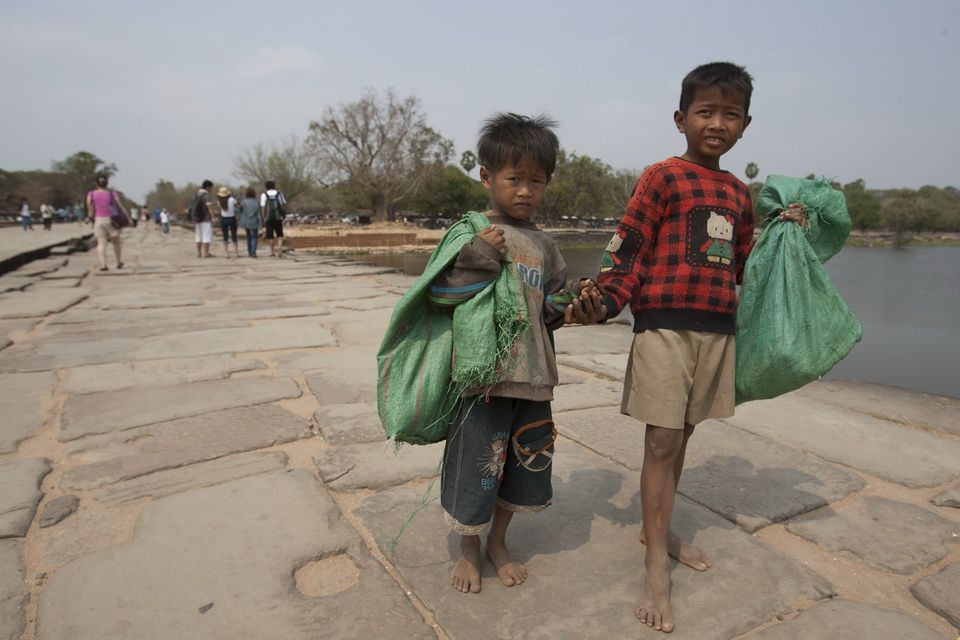 We arrived in Phnom Penh, the capital of Cambodia, after just three days in the country and we were immediately surprised by the contrast to the countryside. The city is a thriving, bustling metropolis with a large variety of people from all over Southeast Asia and the world. The culture is still very prevalent and huge temples and pagodas, as well as the national palace, distract you from the ugly western style buildings.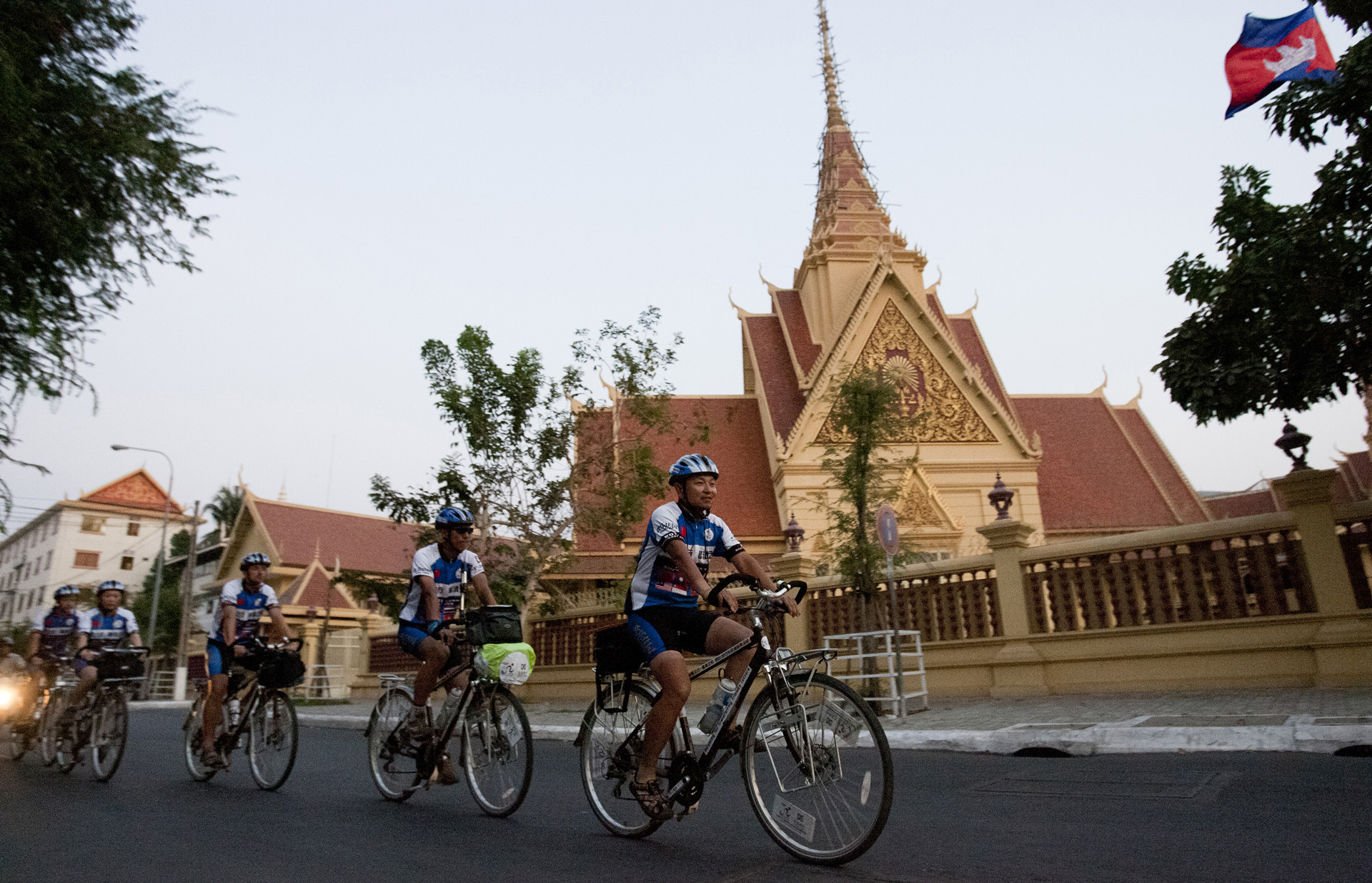 Our second day in the capital we met with the Vice Governor of Phnom Penh, who apologized that the Governor himself could not meet with us.
At that time the government was very busy, as Thailand and Cambodia were fighting over a World Heritage Monument in northern Cambodia, near the Thai border. Reports have said that up to 20 people were killed in the fighting and many people I spoke with believe the numbers were greater. The Vice Governor was very welcoming and was excited to promote relations between Yunnan and his city. He was also very enthusiastic about our trip and hoped that we could send a message of peace from Cambodia to the world. "Cambodia and the Cambodian people wish to only have peace. Peace with Thailand, peace with China, and peace in the world."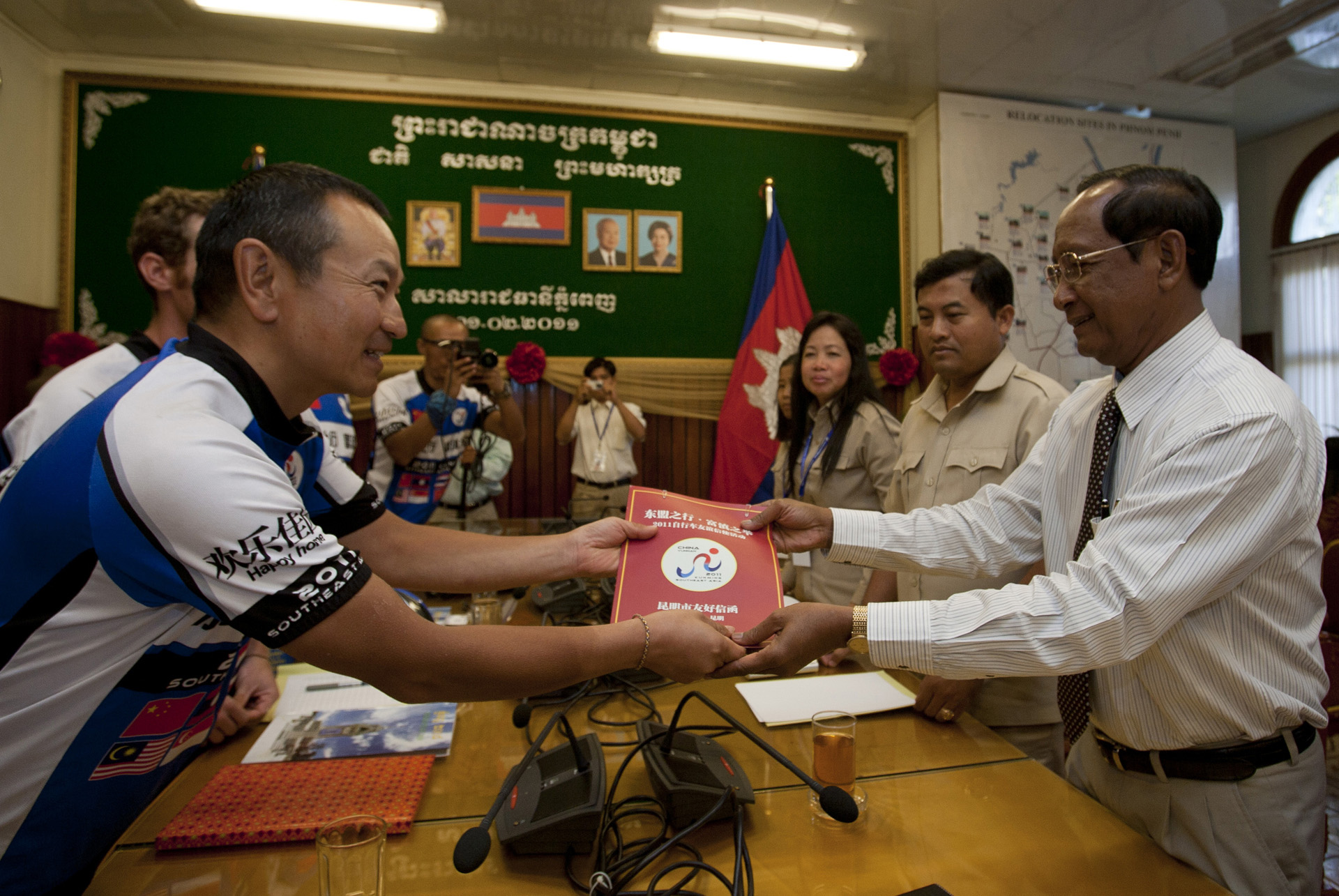 __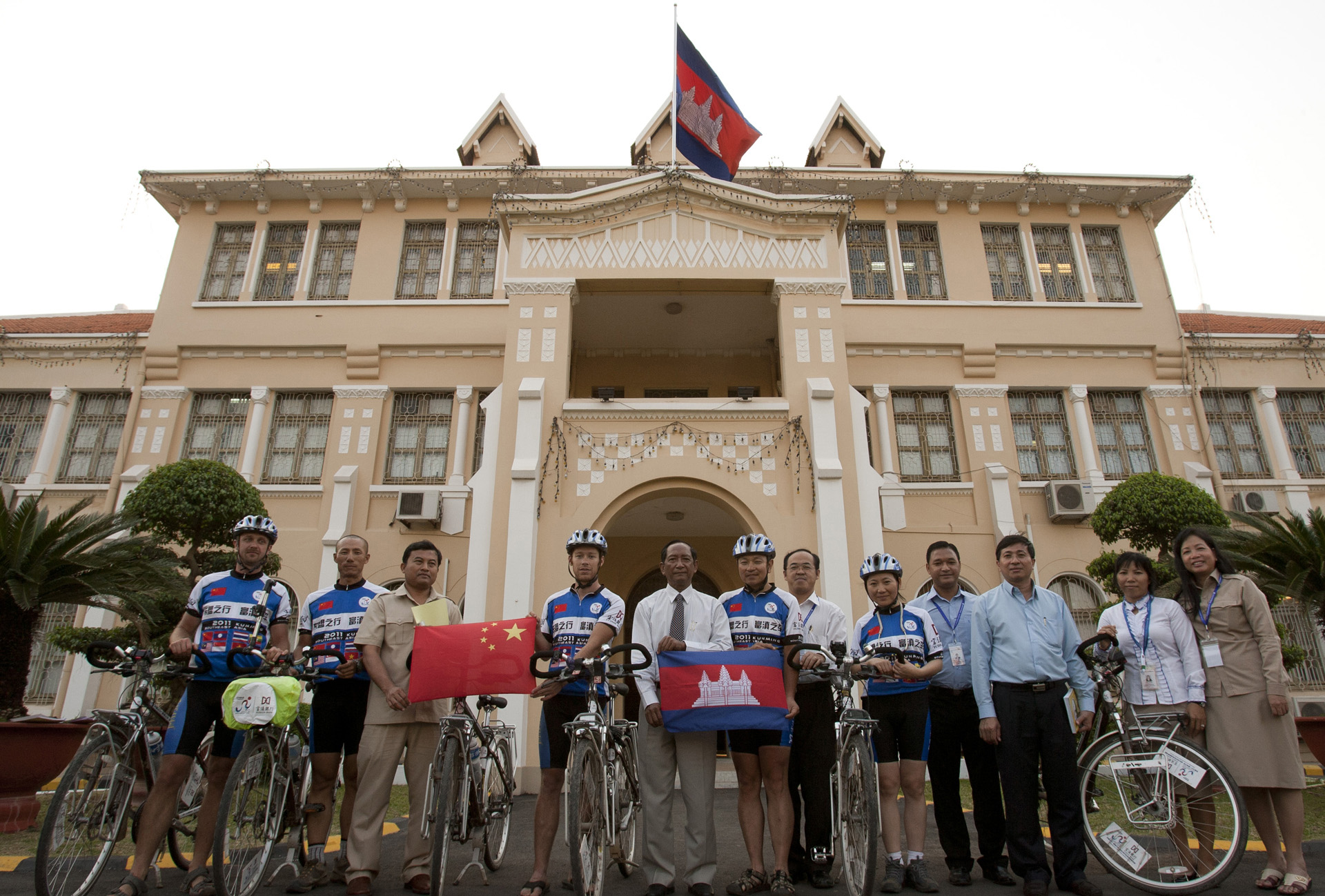 Our only other time to rest was in Siem Reap, to explore the incredible temples of Angkor Wat. During the 9-13thcenturies the Khmer had a vast civilization here, but due to threats from neighbors, they were
forced to abandon the area, and its history became lost until the French began restoring it in the late 19th century. The French began researching and renovating the incredible city and temples and discovered that the civilization was much more advanced in Science, Philosophy, and Religion than most anywhere else at that time. Ironically, their research instilled pride back into the Khmer people, who eventually revolted and threw out the French colonialists. Angkor Wat and the surrounding ruins are now a national pride and a world treasure. Angkor was the world's largest pre-industrial city, and to this day still contains the world's largest religious monument.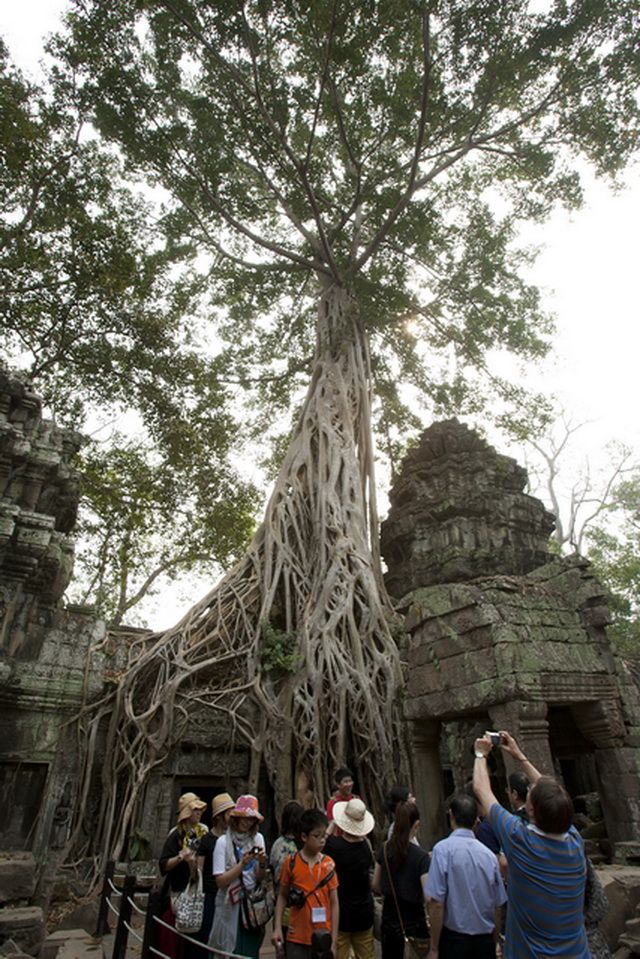 __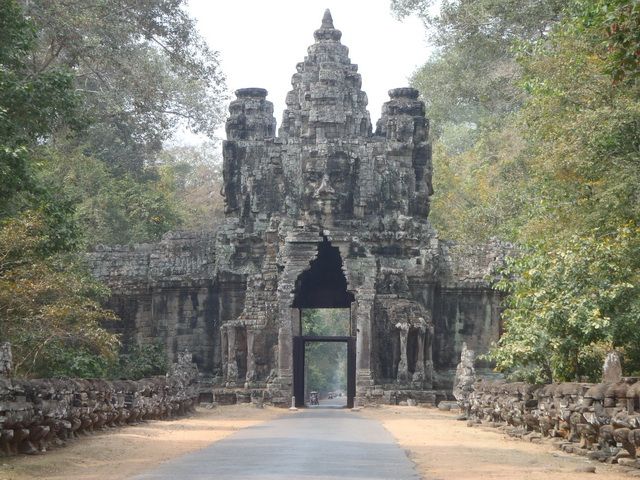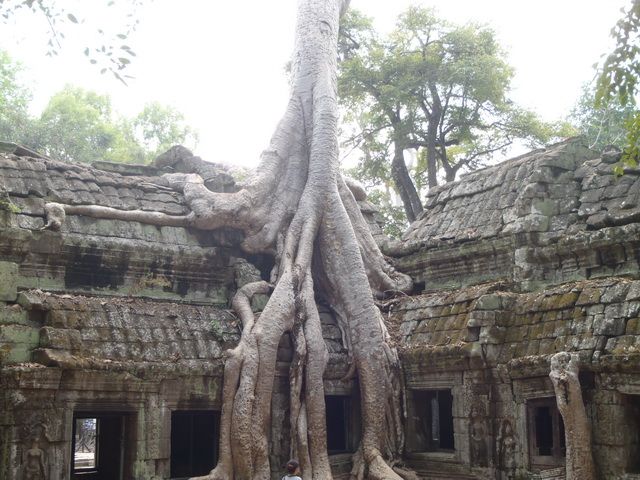 __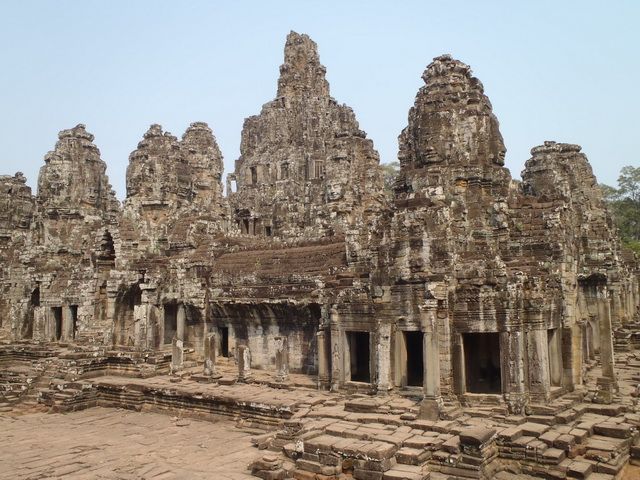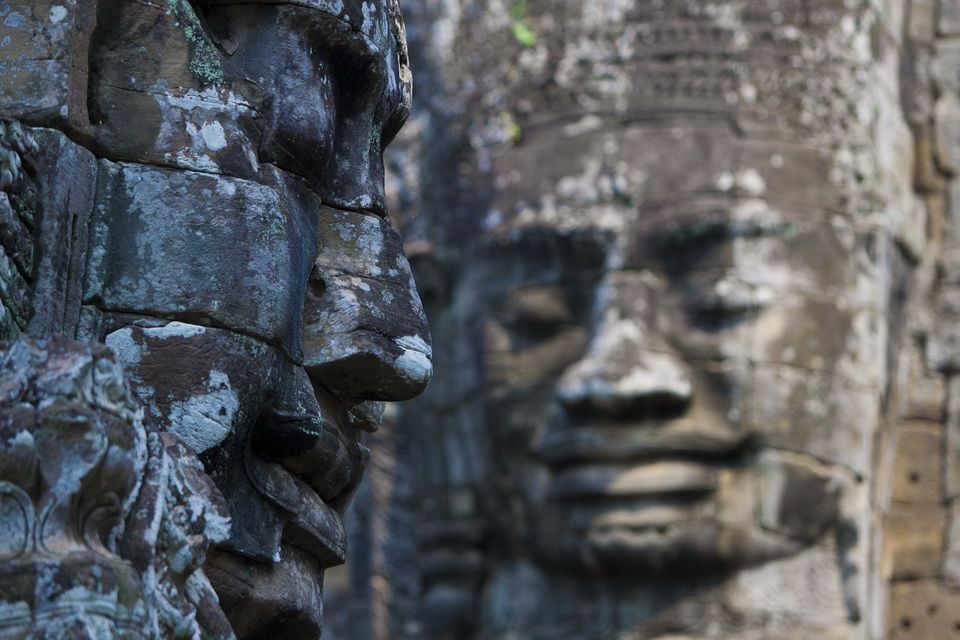 We could have easily spent a week here, but unfortunately we
had to move on, to continue our journey and spread our messages of peace and
friendship.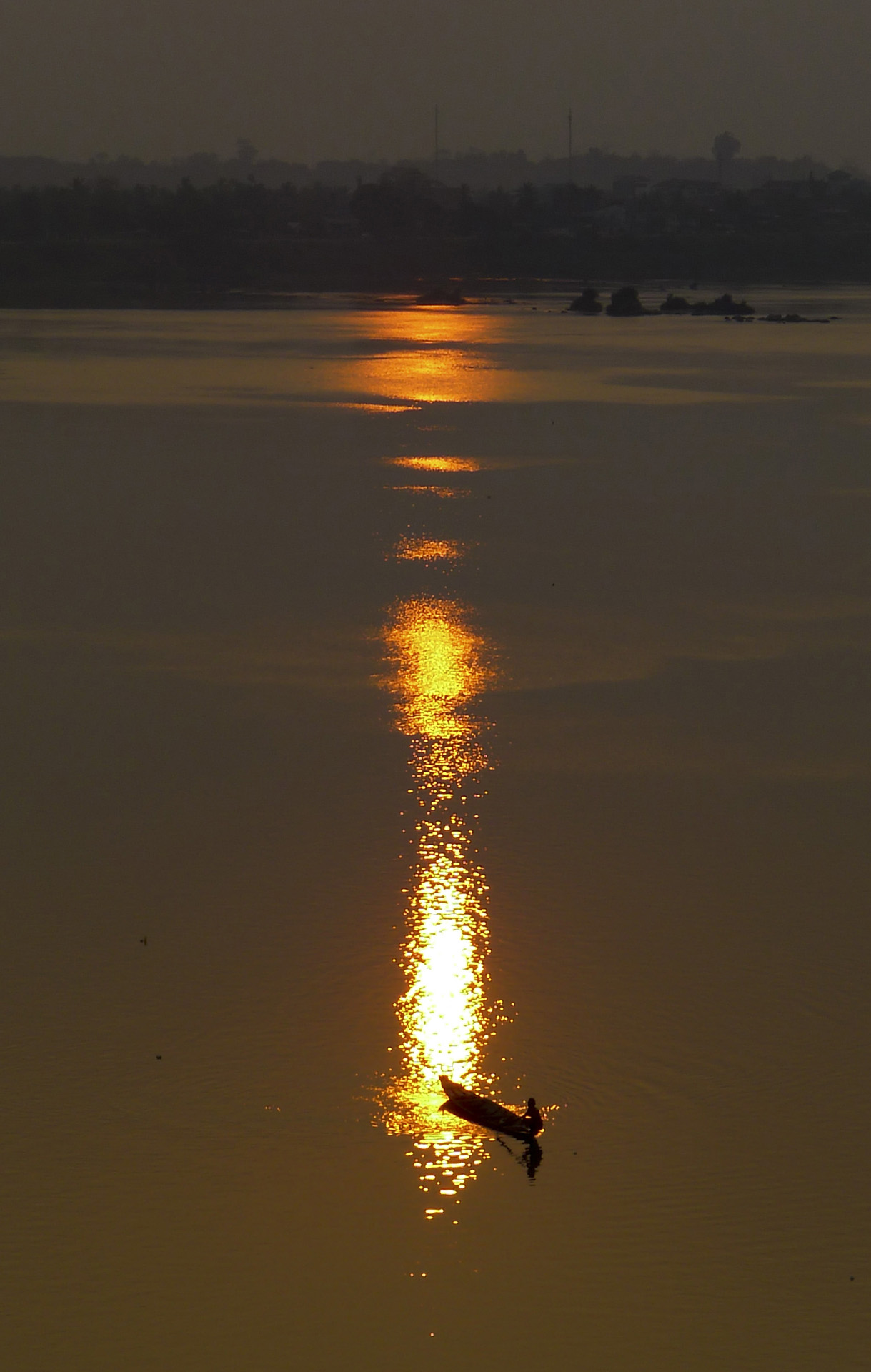 And who is Saren? -- Jesse and Fei Bao in photos with Saren in Cambodia.
__
Jesse wrote to Robert Burch of Montreal, Canada:
"Hey Robert, just wanted to quickly let you know that we had a wonderful stay in Siem Reap. Saren was great and she really enjoyed showing us around. and of course we were thrilled to have her with us. I only wish we could have stayed longer. two days was not enough to explore all of Angkor, but as you suggested, Tha Prohn was spectacular. Thanks for all your help and advice!"
And Robert wrote back to Jesse:
"Thank you so much for taking time out to write to me about Saren. I am guessing that between your hectic schedule, lack of sleep, social responsibilities, internet where you find it, and long hours of cycling - that it is a luxury to find time to do anything like sending an email.
Yes, Saren was very very excited over meeting all of you. She even called me the evening of the day you arrived, so I was able to relay the news that you were in Siem Reap to your uncle. Saren is my very special little girl. I have watched her grow up from 12 years old to the little lady she is today. Yes, she was just another one of those ragamuffin kids you saw at the temples - orphans, latchkey kids and no opportunity. I'm sure you saw the spark in Saren's eyes that I saw back in 2003 when I decided I would give her an education. I wish I could help more of them - I'm sure that many of those kids have the intelligence to succeed, but not the opportunity.
Saren felt very honoured and rather special to have received all the attention that you, Dawey, Fei Bao and the others bestowed on her. So please accept my heartfelt thanks for all the kindness that you and the others extended to her. You really made her day and you made mine too. Saren just sent me some photos of all of you and her with you, so I can see she really had a good time."
So I wrote to Robert and asked him to tell me more about Saren and he wrote back:
On the global tourism map, Cambodia's Angkor Wat is a giant. Hundreds of thousands of tourists visit these magnificent 1000 year old temples each year. However, the guide books and the travel agents seldom prepare visitors for the poverty that characterises much of Cambodia, due in part to the horrendous events of her recent history. Legions of children, many of them orphans, hawk souvenirs at the temples, earning a few cents each day to buy a bowl of rice. And then there are the many amputees, victims of land mine accidents which are yet another legacy of the not so distant past.

One reaction is to turn a blind eye to these negative sights, but when you actually spend a bit of time with some of these kids you discover intelligence, ambition, language skills, cheerfulness, honesty, sincerity, and above all, a wonderful innocence that is in constant danger of becoming lost. I met young Saren Nim when she was 12, an orphan living in a Buddhist monastary who walked 7km every day to the temples to sell post cards and then back again to the monastary in the evening. The day I met Saren I hired her and a slightly older friend of hers to carry some cameras around for me and to guide me through some of the temples. These kids are capable of much more than selling trinkets. I was amazed at how much knowledge they had of their own ancient history.

But school is not free in Cambodia. Like many developing countries, children must pay to attend school, including school fees and uniforms plus books and supplies. For many, school is but a dream and without an education their future is bleak. With Saren it began with a bicycle so that she could make the daily journey to the temples in less time. And then before leaving Angkor on that occasion I also enrolled her in a private school for English language lessons and other basic courses.

It is now nearly 8 years later and that 12 year old girl has matured into a charming young lady. She now attends a private higher learning English language school run by Australians and has found a part time job in a small clothing shop. She is confident, ambitious and always eager to learn and experience new things. On several occasions I have connected visitors to Angkor with Saren who is always enthusiastic over meeting new people. And so it was with Fei Bao and the cycling team from China. Saren now has a future and I am grateful to all those who actually meet her and share their company and time with her. She feels very special when people from far away seek her out.

I don't need to say what happens to many young girls who will never have the chance at an education in Cambodia - and to some degree, the boys too. Cambodia unfortunately has a rather negative reputation for child exploitation and sadly, it is all too real. If you want to make a real difference in someone's life, search the internet for orphanages and schools in Cambodia. You will find many opportunities to support worthwhile institutions that are dedicated to improving the lives of kids in Cambodia.

Photo of Saren at age 12 with her new bicycle:

And who is Robert?
As a result of my father's photo exhibition in Kunming, we discovered that Robert Burch, living in Montreal, Canada, also had a father who took colored WWII era photographs of Kunming. Working with Jin Fei Bao, we combined our fathers' photographs for the second exhibiton in Kunming in 2004.
Robert is an accomplished photographer and travel writer whose work has appeared in many publications. Since the late 1990's he has had a deep fascination with the people of South East Asia and he has traveled there many times. When he learned that Jin Fei Bao was planning his S.E. Asia cycling trip, he offered some advice and suggested that the team contact Saren while in Sian Reap, Cambodia. Robert's website is worth a look! -- www.burchcom.com.
For the most recent update CLICK HERE