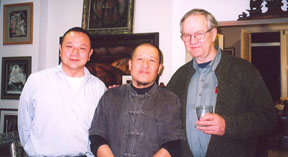 Profile of Gregg Millett
That's me on the right with Mr. Jin and Mr. Lau at Mr. Lau's studio --Kunming, China -- November 2004.

I live in the Capital Region of New York State in the U.S.A. The Capital Region includes the cities of Albany, Troy and Schenectady and is 2 hours north of New York City, three hours west of Boston and 4 hours south of Montreal, Canada. The Capital Region is situated along the banks of the Hudson and Mohawk Rivers which were once major avenues to the Western United States. There are many nature areas, parks, trials and bikeways along these rivers as well as boating. Although the area is prosperous, with many people working for the State of New York, many manufacturing jobs have moved to other areas. We have many libraries, museums, performing arts theaters and restaurants. Many people live in suburbs and small towns and drive to work, however, the three major cities all have large downtown areas. We have significant change of seasons -- spring, summer, fall and winter with cold temperatures and lots of snow in the winter. Skiing is a popular activity in winter. The weather is temperate and beautiful in the Spring, Summer and Fall and the Adirondack Mountains to the north offer magnificent outdoor opportunities.

I grew up in the state of Nebraska (born in 1938) and attended Dartmouth College, the University of Nebraska and Stanford University where I earned a Ph.D. in 1965. I have lived and worked as a teacher in Nebraska, California, Texas, Nicaragua and Costa Rica and was a homesteader in Nicaragua for 10 years.. For the past 20 years I have lived in New York.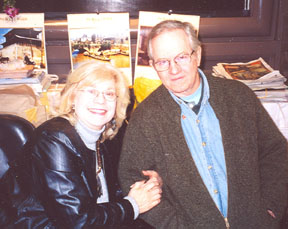 I have been happily coupled since 1986 with Ann Parillo, who I met through Singles Outreach (pictured on the right). Our joint familes include 9 children and 15 grandchildren! My hobbies include tennis, bridge, chess, reading, building, snowshoeing, walking my dog and contemplating the nature of man and the state of the world. We live in a suburban area with the front facing a neighborhood street, where buses pass daily picking up children for school, and the back faces a creek where ducks, deer and even an occasional coyote pack and lone fox roam freely.
In 1983 I founded Singles Outreach, an activities network for singles, which has included more than 24,000 members and in 1993 I founded Compatible Connections, a dating service, which is currently owned and operated by my daughter and granddaughter. My current labors of love include serving as technical director for Ann's weekly TV show; building friendship bridges to Kunming, China; and leading Monday Night Live, a weekly discussion group for singles.
You can contact me by sending an e-mail to Gregg Millett.