Clinton Babbit Millett (1874-1946) and Annie E. Gregg Millett (xx)
-- Developing the West and Nibbling at Empire --
(8) The Eighth Millett Generation
James Appleton Millett (1834-1918) and Louise Sara Washburn Millett (1842-1903)

 
James was born May 10, 1834 in Salem, Mass and died March 14, 1918 at Tampa, Florida at age 84. Married September 18, 1862 at Beloit, Wisconsin to Louise Sarah Washburn. She was born May 9, 1842 in Beloit, Wisconsin and died February 27, 1903 in Lincoln, Nebraska at age 61 (she was the daughter of Ira Ferrel Washburn and Jane Pratt).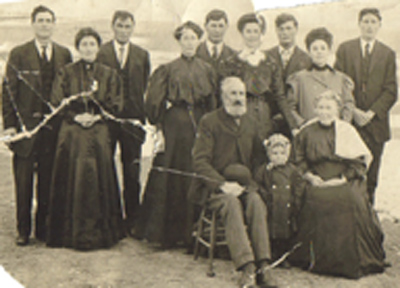 Back of photo: "Morefield, Nebraska -- Dec. 1909. Gregg Family. Taken 4 weeks before Clinton C. was born. Little boy is Gregg Millett" On the left is Clinton Babbitt Millett.
James and Louise had 7 children between the years 1864 and 1879 (15 years): James Appleton (Beaufort, S.C.)
Anna Osgood (died in infancy) (S.C.)
George Washburn (6) (Beloit, Wisconsin)
Maud Lousie (Beloit)
Ruth Appleton (36)
Stephen Caldwell, Norman, Kearney Co., Nebraska
Clinton Babbitt, (72) (Norman, Nebraska.
Born in Salem, MA, married in Beloit, Wisconsin, lived in Beaufort, South Carolina, Norman, Nebraska and died in Tampa, Florida, 84. He had 7 children (4 lived to adulthood). The 3 sons are James Appleton, Jr., Stephen Caldwell and Clinton Babbitt all grew up and raised families in Nebraska. The daughter, Maud Louise, was born in Beloit, Wisconsin.
In the early 1860's James and his brothers Stephen Caldwell, and John Henry Hobart went to Beaufort, S.C. where Stephen built the railroad. Two towns to the north are Appleton and Millett. John Henry Hobart was a minister at the St. Helena Episcopal church in Beaufort and Stephen Caldwell has a large memorial in the church cemetery. Steven was born about 1841; builder and president of the Port Royal Railroad, between Yemassee, Beaufort, and Port Royal, completed in 1874. He died February 24, 1874, at age 33. "a young carpetbagger"
A Family member goes down with the Titanic
Mr Francis Davis Millet, 65, was born on 3 November 1846 in Mattapoisett, Massachusetts.
Accompanying his surgeon father to the Civil War, Millet served as a drummer boy to a Massachusetts regiment and later served as a surgical assistant. A brilliant student at Harvard, he became a reporter, then city editor, of the Boston Courier. From a pastime of lithography and portraiture of friends, he decided to devote himself to art. Entering the Royal Academy of Fine Arts at Antwerp, Belgium, he won an unprecedented silver medal in his first year and a gold medal in the second. A constant traveller, Millet kept his newspaper contacts open, and during the Russian-Turkish War he represented with distinction several American and English newspapers. He was decorated by Russia and Rumania for bravery under fire and services to the wounded. Millet's literary talents led him to publish accounts of his travels and, besides writing short stories and essays, he translated Tolstoy's Sebastopol.
Millet's work as a decorative artist includes the murals of the Baltimore Customs House, Trinity Church of Boston, and the Capitol Buildings of Wisconsin and Minnesota. His paintings are found in the Metropolitan Museum, New York City, and the Tate Gallery, London (see illustration above). In addition, his administrative skills, won him acclaim as superintendent of decoration at the World's Colombian Exhibition in Chicago (1893), and as organizer of the American Federation of the Arts for the National Academy. At a memorial for Millet in 1913, Senator Elihu Root said:
"He must have been born with a sense of the beautiful and a love for it, for he devoted his life to it....He was one of the most unassuming and unselfish of men....He was a man of great strength and force, decision and executive capacity....He always pressed on to the accomplishment of his purposes, purposes in which self was always subordinate...."
In 1912 Millet resided in East Bridgewater, Massachusetts. He boarded the Titanic at Southampton as a first class passenger (ticket number 13509, £26 11s) He occupied cabin E-38. He accompanied his friend Major Archibald Butt.(See Passenger List).
While on board the Titanic Millet wrote to a friend, the letter, which was posted in Queenstown. In the letter he complains about his fellow passengers:
Queer lot of people on the ship. There are a number of obnoxious, ostentatious American women, the scourge of any place they infest and worse on shipboard than anywhere".
He also observed a number of passengers that had brought their pets with them:
"Many of them carry tiny dogs, and lead husbands around like pet lambs."
Millet died in the sinking, his body was recovered from the sea by the crew of the MacKay Bennett
For general facts about the Titanic go to: Titanic Facts
Clinton Babbit Millett (1874-1946) and Annie E. Gregg Millett (xx)