Go to The Tenth Millett Generation
-- World War I and The Great Depression --
(9) The Ninth Millett Generation
Clinton Babbit Millett (1874-1946) and Annie E. Gregg Millett (xx)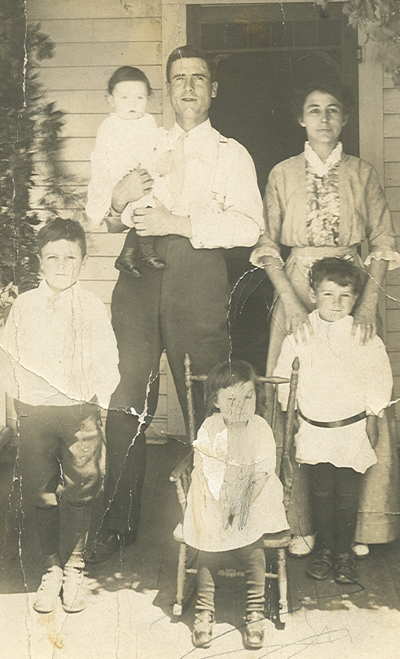 Photo shows Clinton, Annie and their four children -- Gregg, Clinton, Eleanor and George -- 1914.
Clinton was born February 26, 1879 at Norman, Nebraska; died in 1946 at Omaha, Nebraska. Married June 7, 1905 at Elsie, Nebraska to Annie E. Gregg, born at Bracebridge, Canada, daughter of George Gregg and Ann Jane Hume.(from George James) Clinton Babbit managed a grain elevator in Morefield, Nebr. In 1912 he went into the grain business on his own in Bridgeport, Nebr. and had a grocery store in Bridgeport. For a time he had a Reo Speedwagon dealership and a Buick dealership. He once sold 5 touring cars and they all went to the Airshow in Alliance, Nebr. He had to teach everyone how to drive! In 1921 the family took a train trip to Alhambra, California. In 1925 the family moved to Eugene, Oregon to "check out the territory" while Uncle Henry managed the businesses in Nebraska. In 1927 they moved back to Bridgeport, Nebraska. Bought 2 movie theaters there where Eleanor sold tickets. Geor ge worked in the bank. Clinton Babbit was on the Board of Directors of the Bank, which in 1928 went bankrupt. In 1940 Clinton and Annie Gregg moved to Omaha where he managed the Pullman Hotel. It was always assumed that all four children would go to college! Parents of Annie Gregg were George Gregg (1838-xxxx) and Anne Jane Hume. (hand written note from Clinton Charles) -- George Gregg born in Yorkshire, England, 1838. Moved to Brockbridge, Ontario in 1869. Moved to southwest of Wallace, Nebraska in 1886. George and Ann had eight children, one born in Liverpool, England and 7 in Ontario. George came to homestead: went to Wallace, Spring of 1886; by rail to North Platte; then walked to homestead (40 miles) and back and filed on it. He built sod house then moved the family in the fall of 1886. Bought oxen team from neighbor and hauled water in barrels on a sled. In 1890 he got one horse and later a second. He worked out some and after a while got 4 cows and they shipped (leather?) to Omaha in 25 lbs kegs at 11 cents a pound.
Children of Clinton Babbit and Annie E. Gregg Millett, were as follows:Fay Gregg: Born April 19, 1907 at Moorefield, Frontier Co., Nebraska .
Clinton Charles: Born January 16, 1910 at Moorefield, Nebraska.
Eleanor Louise: Born July 25, 1911 at Wallace, Lincoln Co., Nebraska. Died 1962, Glendale California..
George James: Born September 15, 1913 at Bridgeport, Morrill Co., Nebraska.
Go to The Tenth Millett Generation

Return to Millett Family in America